Posts tagged
smartwatch
A Book is a Book: What is a Book? (Dear Author) When you hear the word book, what comes to mind? TeleRead Take: It's a fair question. eBooks have been challenging the question. I think about it when I "report" finished books to Goodreads. Most of the time, I don't bother with "books" which are really short stories. I suppose it skews the numbers, but who really cares but me? Pebble Time review (Android Central) Can the Pebble Time stand against the likes of full-touchscreen Android-based watches from the big players who make our Android phones? That was my question going into things. In...
An announcement on the Google Official Blog has signaled the arrival of an update to Google's Android Wear smartwatch platform, which addresses some notable shortcomings of the series, particularly Wi-Fi support. "Now Android Wear supports watches with built-in Wi-Fi," states the blog. "As long as your watch is connected to a Wi-Fi network, and your phone has a data connection (wherever it is), you'll be able to get notifications, send messages, and use all your favorite apps." Other improvements in the update include always-on screen apps, gesture control (wrist flicks to scroll through alerts), and emojis. The Wi-Fi update means that for...
How Other Smartwatches Stack Up to Apple Watch (Re/Code) Smartwatches are quickly evolving from geeky, ugly devices into user-friendly, stylish wrist computers. *** Terry Pratchett's Final Discworld Novel Will Publish September 10 (GalleyCat) The release date for the late Terry Pratchett's final novel has been revealed. The Shepherd's Crown, will be published by Penguin Random House on September 10th. *** 3 Ways For Self-Publishers to Break Into the Public Library Market (The Book Designer) With the gradual disappearance of many retail bookstores, libraries are becoming more important as places where our books can be discovered. *** YouTuber Angry Joe Swears Off Nintendo Videos After The Company Claimed His...
Academy Awards 2015: Top 10 Works in WorldCat By Oscar Nominees in Five Categories (InfoDocket) More interesting (and fun) "WorldCat Mining" from the team at OCLC Research in a new "What in the WorldCat" post. *** Have We Figured Out What We Want in a Smartwatch Yet? (GigaOM) Next month will be the one-year anniversary of Google's smartwatch platform introduction. And the month after that will see the Apple Watch ship to its first buyers. *** My Thoughts on Amazon Debate (Joe Konrath) According to those voting in the audience, my side (Amazon is for readers) lost 43% to 50%. According to the online poll, we...
An interesting trademark application under the heading "G Scrawl," together with another one reported under the heading "LG G Pen," suggest that LG could be taking the Anoto route and going for standalone stylus solutions that work not on a phone or tablet screen but independently, and that may well be designed to sync with the new Android Wear LG G Watch and other wearable devices. Writers of the future might actually be scrawling close to their wrists if this does work out. The application's "For" section kicks off with "Smart watches; Watches; Wrist watches; Watches with the function of measurement/analysis/storage/transfer of the...
For anyone following the checkered history of digital wearables and smartwatches, the advent of the Apple Watch drips with bathos. It's like watching a flabby, ageing Mr. Incredible-style former superhero lumber up for the big confrontation, only to discover it's all over. Apple's days of identifying and defining entire new consumer product categories are long in the past. The window was wide open for years, well signposted, speculated on - and Apple missed it. Financial markets and analysts alike were less than overwhelmed by the Apple Watch and the companion iPhone 6. The Register tracked Apple's stock price initially hiking to $102.92...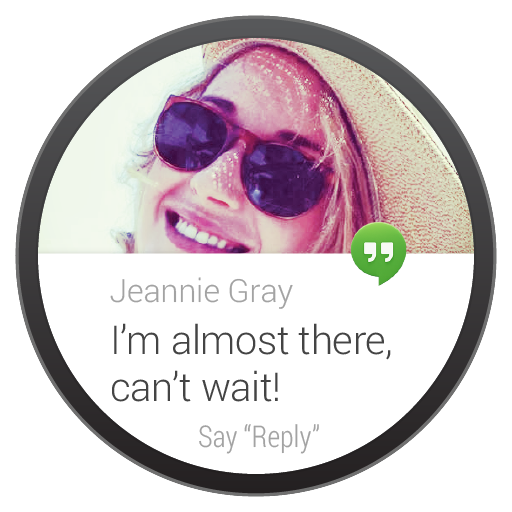 The full-force all-channel multi-announcement multi-product rollout of Android Wear and its supporting devices looks to have conquered the emerging smartwatch product category. Chris Meadows tagged the emerging Google smartwatch platform as the one to watch in this space a while back, and it looks like his call has been vindicated. And meanwhile, the much-vaunted iWatch is nowhere. " Today we're announcing Android Wear, a project that extends Android to wearables," announced Sundar Pichai, SVP for Android, Chrome & Apps, on the official Google blog. "And we're starting with the most familiar wearable—watches." Google already has a developer preview up and running with...
[caption id="attachment_95923" align="alignright" width="209"] Nice concept, not quite there yet.[/caption] With data on smartwatches  reported on often of late, it's interesting to start seeing some numbers against all the buzz. According to a bulletin from International Data Group (IDG), smartwatch shipments worldwide hit 1.9 million units in 2013 for the first time, versus just a few hundred thousand units in 2012. Around 61 percent of the budding platform runs Android, according to Strategy Analytics. Much of the Android lead is attributed to Samsung's Galaxy Gear, but in such a still limited market space, there is of course still plenty of chance...
Apple co-founder and latter-day peripatetic tech guru Steve Wozniak pronounced, courtesy of the BBC's Click technology program, on how he thinks his old buddies at Apple should learn to share - as should Google, Samsung, and all the rest. "I wish everybody just did a lot of cross-licensing and sharing the good technology, all our products would be better, we'd go further. I do wish they were more compatible," said Woz. And obviously, the putative iWatch and wearable devices were top of his mind. "I want a full smartphone type capability on my wrist," he said. But Woz also remarked that...
The news that Google has quietly been the owner for a year now of smartwatch startup WIMM Labs confirms the prospects for a new generation of smart wrist devices that I highlighted earlier in TeleRead. And with Samsung's Galaxy Gear wrist device now only days away from launch, it looks like this new generation will be rolling out with at least some of the devices running varieties of Android, with access—at least in principle—to the library of e-reader apps on the Google Play Store. WIMM Labs already has one device, the WIMM One, based on Android. And although this unit hardly challenges...
With the blogs and newswires buzzing over Google's update of its hugely popular Nexus 7 tablet, as well as Google's release of the new ChromeCast HDMI dongle, it's not hard to conclude that quite a lot is happening in the world of Android. The Nexus 7 tablet, after all, was arguably the device that really put Android tablets on the map over the iPad. And the new ChromeCast dongle, for those of you who may not be familiar with it, essentially turns any mobile device (Android or iOS), or any Chrome browser-equipped PC or laptop, into a video-streaming hub able to feed media...
Excitement over the new trend toward smartwatches seems to be reaching a crescendo, with Apple's rumored iWatch supposedly due to debut in 2014, while Sony brings out the latest generation of its less-than-rhapsodically-received Android SmartWatch series, startup Pebble retails its own customizable e-paper watch, and almost every device vendor from Microsoft and Samsung on down is supposedly working on touch-sensitive wearable devices. But could you read a book on one? Hardware shouldn't be much of a barrier, in principle. Memory, battery life, display technology, and touchscreen interactivity have long ago converged at the point where something at least as capable as a...
If you follow TeleRead regularly, you may know that aside from recently developed something of an obsession for the new smart watch trend, we're always fascinated by nearly any product that incorporates the technology of the E Ink Corporation into its design. Well ... remember the Kickstarted e-paper Pebble wrist watch? As promised, the company, Pebble Technology, announced Wednesday that they will begin shipping Pebble watches today, Wednesday, January 23. Although backers should be receiving their Pebbles in the mail shortly, the company has a few cautionary messages to announce. Listed as published on the Pebble blog, they are as follows: Notes: ♦ Pebble iOS App is not...