Posts tagged
New York Times
Some New York Times Articles to Appear Free on Starbucks App (New York Times) Beginning in the first half of next year, Starbucks loyalty members will be able to read daily and weekend briefings from The Times, as well as other articles recommended by Starbucks, using the coffee company's mobile app [shown here---link added]. The TeleRead Take: The Grey Lady has long been one of the big boosters of paywalls, but that doesn't mean they can't make some content available for free if they think it will gain them more readers. I'm personally a little dubious of their chances, though. People who read...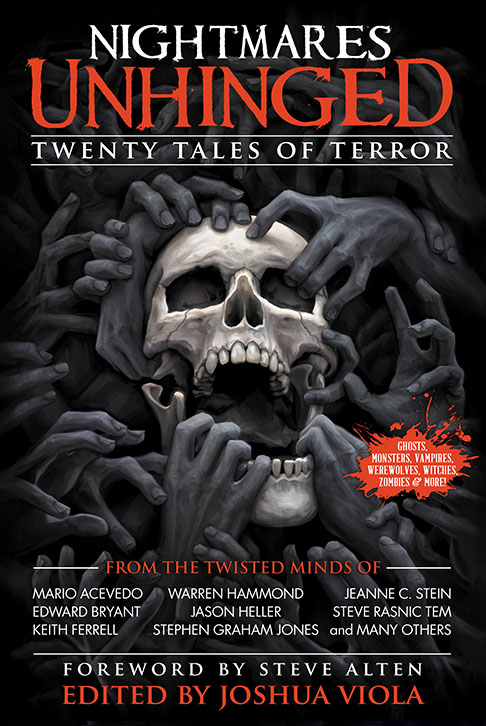 Hex Publishers, a new Denver, Co.-based independent publisher "founded by award-winning author Josh Viola and longtime bookseller Dean Wyant," has announced its first anthology, Nightmares Unhinged, due for publication in September 2015. According to the publisher's announcement, "Nightmares Unhinged will feature eighteen tales of dark and twisted fiction written by a roster of award-winning and bestselling authors," including "Mario Acevedo, bestselling author of the "Felix Gomez" vampire series; Nebula Award winner Edward Bryant; New York Times bestseller Keith Ferrell; Jeanne C. Stein, bestselling author of "The Anna Strong Vampire Chronicles," and Bram Stoker Award winner Steve Rasnic Tem. New York Times bestseller Steve...
A recent post in the New York Times fingered the Stateside obsession with the Great American Novel, that white elephant that has crushed many literary aspirations and engendered all kinds of weird mutants that sprawl around the landscape. Indeed, there have been whole books written about the Great American Novel, as well as novels titled, modestly, The Great American Novel. In the NYT, however, Cheryl Strayed concluded that "the idea that only one person can produce a novel that speaks truth about the disparate American whole is pure hogwash." And Adam Kirsch declares that "The GAN, to use the acronym...
The New York Times has an interesting piece about Hana Beshara, who ran pirate web site and chat community NinjaVideo from 2008 to 2010 until she was arrested and served 16 months in prison. Beshara still doesn't believe she did anything wrong. Her position isn't exactly helped by the fact that the site made about $500,000, of which she kept nearly half, but Beshara said for her it was more about being part of the online community than about the money. The story takes a reasonably balanced look at Internet piracy these days, mainly in terms of...
Jonathan Franzen is not dead. It's sad news for the world of English letters, I know, but he is still alive, writing (presumably), and talking (when his foot is not wedged firmly in his tonsils). Sad news for Oprah too. And for XX-chromosome-bearers who have the temerity to decipher words. But Jonathan Franzen is, in fact, among the living. Why, oh why, then, has someone writen a literary biography about him? Why, oh whyer why, did somebody at Bloomsbury actually agree to publish it? And no, it's apparently not some Dunciad-style exercise devoted to immortalizing another overpromoted talentless mediocrity as the...
Kobo Aura H2O Available Today (GoodeReader) The new Kobo Aura H2O is now available in Canada at major bookstores such as Chapters and Indigo. Americans who have pre-ordered it from the main Kobo website have their units shipped out today and international markets will be getting it soon. *** Not Just Consumers Cutting The TV Cord: Small Cable Companies Dropping TV Also (Techdirt) A bunch of smaller/regional cable companies are dropping TV from their offerings as well -- and the reasons are similar: the cost to offer TV channels keeps going up and up, and focusing on just internet service is a better deal...
No one could accuse David Gaughran of being afraid to take a stand, or of supine impartiality in his readiness to listen to every side. And the author of Let's Get Digital and Let's Get Visible doesn't leave much room for ambiguity in his latest title: "Publishing Is Rotten To The Core." Admittedly, this is a post as much about media bias as about the publishing industry itself - or rather, the partiality of mainstream media to anti-Amazon, pro-trad publishing stories - as it is about conditions where print meets paper. But there's plenty to go around nonetheless. Gaughran doesn't mince words...
Best-selling crime author Chelsea Cain appears to have gone into social media meltdown in a really bad case of Author Meets Facebook. In a series of posts, she managed to diss on her readers for their asinine behavior and intrusive questions. She then managed to compound the damage. Her initial posts were taken down pretty promptly, apparently at the behest of her publisher. So the following is not first hand. But it is based on direct copies of the original posts like those you can see in this article, which have been widely corroborated. Cain wrote: I am not your personal customer service...
Class, today's math question is: How many UK authors can you buy for the cost of a single full-page New York Times ad? And we're going to compare the average median income of a British author, as calculated by the the UK Authors' Licensing & Collecting Society (ALCS), with the cost of a full-page ad in the Sunday edition of the New York Times, as provided by ... the New York Times. "The Times ad, which cost $104,000, was paid for by a handful of the more successful writers," states the NYT. "In 2013, the median income of the professional author...
The open letter against Amazon from Authors United, the group steered by founding author Douglas Preston, seems to be getting a lot of column inches. And just to make sure, Authors United is buying its own. That is, a full-page ad in the Sunday edition of the New York Times to get the message across. Yes, authors are paying publishers (in this case, a newspaper publisher) to print their words - but no one seems to be crying "vanity press" this time round. (Well, maybe "vanity," but of that, see more below...) Evidently the grating irony of authors - those proverbial...
A widely quoted report in the New York Times details a partnership between Barnes & Noble and Google to create a same-day book delivery service utilizing Google Shopping Express. According to the report, "book buyers in Manhattan, West Los Angeles and the San Francisco Bay Area will be able to get same-day deliveries from local Barnes & Noble stores through Google Shopping Express." Barnes & Noble is already up on the icon panel of Google Shopping Express partners. With the Amazon/Hachette spat still unresolved, the NYT unsurprisingly chooses to put an anti-Amazon spin on this news, claiming that "Amazon poses a...
This is a book non-review, because it's in large part a review of a book cover. And I apologize unreservedly to any genuine worth in the contents that I may have traduced - but I won't hold my breath. Because wouldn't life be wonderful if every book cover in the world, physical or digital, told you unerringly that its contents were crap?  Plus, if you're going to try to stoke a moral panic, you'd better make sure you get it right from the off, or you're likely to wind up looking virtually ridiculous. I is a writer. I tries to be...