More on TechnologyTell: Gadget News | Apple News
Posts tagged
innovation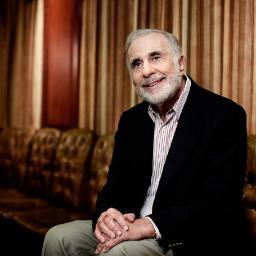 Activist investor Carl Icahn has put Apple fairly in his sights with a tweet and subsequent interviews that confirmed he has taken up a large position in the Cupertino giant's stock - in the expectation of pushing it into escalating its share buyback program, which would deliver a handsome return to shareholders. "Having purchased $500 million more $AAPL shares in the last two weeks, our investment has crossed the $3 billion mark yesterday," he tweeted, following this with: "We feel $APPL board is doing great disservice to shareholders by not having markedly increased its buyback. In-depth letter to follow soon." As quoted...
A just-released survey of media industry opinion, conducted under the auspices of the Frankfurt Book Fair in the long lead-up to the European publishing industry's number one event in October, finds the media sector caught on the cusp between past and future, and highly uncertain about which way things will go. Carried out by Frankfurt StoryDrive (an initiative that "bursts the boundaries between narrative worlds") and newthinking communications GmbH, the "Market Climate Survey on the Future of the Content and Media World" polled 1,400 media pros, asking them broadly: "What will the [media] world look like in 10 years ?" The resulting survey...
How does agency pricing affect author royalties? Sharp-eyed blogger Brian DeFiore spotted a clue in a slide from HarperCollins's latest investors' meeting pointing out that, under agency pricing and the now-standard 25% e-book royalty, publishers are making considerably more and authors considerably less for each agency-priced e-book sale than for each hardcover sale. $27.99 hardcover generates $5.67 profit to publisher and $4.20 royalty to author $14.99 agency priced e-book generates $7.87 profit to publisher and $2.62 royalty to author. So, in other words, at these average price points, every time...
I'm doing my holiday shopping this week, and it struck me how in some ways, the changes the publishing industry faces right now are a lot like the changes a family goes through as people evolve and grow. In my family, we don't buy for adults but we do buy small presents for little children, and the puzzle this year has been what to do about the baby niece. Her toddler brother is no problem; he's old enough to have a personality and is obsessed with dinosaurs right now, so we'll be buying him something dinosaur-themed. But his newborn sister doesn't...
Is publishing "dying"? On FutureBook, Vicky Hartley expresses doubt. She points to a number of great new multimedia apps on tablets that demonstrate some publishers are finding ways to use the new capabilities of tablets to reach out to readers better than ever before. Heuristic Media's London – A City Through Time is one example, and the works of children's book-based-app publisher Nosy Crow are another. I'll admit to being rather impressed by the trailer on London's website, but I think it might be a bit premature to generalize from just a few book-related apps like this to...
That's the title of an article by Sophie Rochester in The Literary Platform.  Here's a sampling: ... … While it's the start-ups who appear to be more agile and bold when it comes to creating innovative digital publishing business models, our established publishers still hold the key to producing some of the best quality content. We've listed ten things that we feel create the biggest challenges to publishers when it comes to digital innovation. This Thursday we'll be holding the second annual FutureBook Innovation Workshop in association with The Literary Platform. Our Innovation Workshop speakers will demonstrate how they are currently dealing with some...
Venture capitalist Bill Gurley's personal blog, Above the Crowd, has a post pointing out why Dropbox is a "major disruption" (that is, a disruptive innovation—"an innovation that helps create a new market and value network, and eventually goes on to disrupt an existing market and value network (over a few years or decades), displacing an earlier technology" per Wikipedia) in the industry. Prompted by a new feature Dropbox added, to allow Android devices to synch photos automatically, Gurley points out that it's easy to underestimate the importance of what Dropbox has done. He explains that Dropbox was the first...
On FutureBook, Shane Rae wonders if the education publishing industry is failing to innovate as it should. He describes the legacy model of education publishing, which involves prototyping, trial, feedback, and development to make sure that what gets published is completely finished before it sees print or CD-ROM, forms of media with a long shelf-life. The problem Rae sees is that this often leads to trying to match competitors' products rather than better them—creating the thing that users want now, rather than what they might want down the road. Now, in the age of online applications...
I'm writing this today from the coffee shop at a Borders, one of the superstore locations in the middle of the U.S. to survive the company's recent bankruptcy and ensuing real estate culling. I was the first person in the store this morning, and in the past half hour nobody else has come in, which seems too bad: here are thousands upon thousands of books, comics, and magazines, and nobody to browse them. John C. Malone, who wants to buy 70% of Barnes & Noble, told the New York Times earlier this week why he thinks bookstores still matter (emphasis mine): "We...
India's publishing industry is exploding, writes Akshay Pathak at Publishing Perspectives. An estimated 90,000 titles are produced each year, with annual growth estimated to be around 30%. Production standards are improving, there's fresh investment in retail, and there's a growing consumerist middle class. But there's not a lot of hard data yet. Bookscan only covers some of the bigger bookstore chains, and while there are an estimated 19,000 publishers today, no single professional association has more than 1,000 members. Pathak—who works from New Delhi with the Frankfurt Book Fair—identifies some areas for growth. India needs more editors who are better trained, he...
Overseas attendees at this week's Tokyo International Book Fair can leave their phrase books at home since they will only need the line "atsui desu ne?", the ubiquitous Summer greeting that means "It's really hot, isn't it?". Temperatures in the high 80s will be compounded by crushing humidity that can stifle even the liveliest of debates. The eBook International Session boasts three respected executives for its speakers but these speakers may find the session's agenda is more of a hindrance to debate than the weather at Tokyo Big Sight. The session blurb promises answers to questions such as...
The Bookseller reports that in an address to the World e-Reading Congress, Random House's deputy chairman Ian Hudson said that he expects e-book sales to exceed 8% of trade publishers' sales in 2011, and possibly to reach 15% next year. He also reported that e-book sales in 2011 were so far outstripping 2010's by a factor of 10 overall, though some titles sell better electronically than others. Hudson argued that traditional publishers are still going to be necessary into the e-publishing future because certain things such as editing will always be necessary to produce a readable book, and publishers...