Posts tagged
display technology
RIP Pixel Qi?

January 14, 2015 | 12:25 pm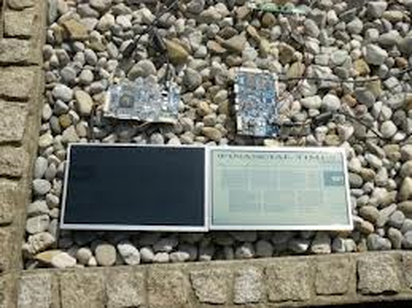 A report on Good eReader seems to have twigged the web to the demise of Pixel Qi, the once-feted low-power display producer. I'm puzzled as to exactly why this is seen as news, since as Michael Kozlowski points out, the key events in the de facto dissolution of the company - the departure of husband-and-wife founders Mary Lou Jepson and John Ryan - happened back in 2013. And as Chris Meadows reported back in mid-2013, even then Pixel Qi was already in the "where are they now" crowd. All the same, it seems to have jogged the memories of an awful lot...
E Ink made quite an eye-catching appearance at this year's CES - literally. The pioneering electronic paper display company debuted some of its most striking color epaper technology to date in the shape of E Ink Prism, a series of "unique and dynamic materials for architecture and design incorporating its new color changing electronic ink technology." This move confirms E Ink's shift out of the dedicated ereader display space, where it has seen falling demand, and into rather more physically ambitious solutions. "E Ink Prism bridges the gap between traditional static materials and digital technology with dynamically changing materials," the company explains. "Architects...
A technological breakthrough by Oxford University scientists, just announced in Science Daily, apparently "will make it possible to create pixels just a few hundred nanometres across that could pave the way for extremely high-resolution and low-energy thin, flexible displays for applications such as 'smart' glasses, synthetic retinas, and foldable screens." Including, of course, screens for ereaders and tablets. The breakthrough apparently came quite by chance while scientists were exploring a different line of research. "We were exploring the relationship between the electrical and optical properties of phase change materials and then had the idea of creating this GST [Germanium-Antimony-Tellurium] 'sandwich' made...
Among other studies to prove that ebook reading harms our health - by,  for instance,- discouraging us from using our hands to lift heavy paperback blockbusters and our lower limbs to step into bookstores - the News Feed of The Bookseller in the UK has come up with a beauty: A study courtesy of Mediabistro which claims to demonstrate that "Smartphones and Computer Use Are Hurting Our Sleep." "Artificial light exposure between dusk and the time we go to bed at night suppresses release of the sleep-promoting hormone melatonin, enhances alertness and shifts circadian rhythms to a later hour—making it more...

It's brain-dead obvious that display quality and clarity is key to the reader experience of anyone reading ebooks. And in that respect, ereading enthusiasts are becoming very lucky people. Because tablet and ereader manufacturers are now pushing their technologies to new levels and ever closer to the realm of print. DisplayMate, "The Standard of Excellence for Image and Picture Quality," offers the following demonstration, in its "Flagship Tablet Display Technology Shoot-Out," pitting the Amazon [easyazon-link asin="B00BHJRYYS" locale="us"]Kindle Fire HDX 8.9"[/easyazon-link] against the new Apple iPad Air and the now ageing, but still very highly specced,  [easyazon-link asin="B00ACVHKSC" locale="us"]Google Nexus 10[/easyazon-link], with...
Family friends in Edinburgh introduced me to Madeline Miller's "The Song of Achilles," and while browsing through the book (on paper, for a change), I came across her concluding text on the book's font, "A note on the type": "The text of this book is set in Baskerville, and is named after John Baskerville of Birmingham (1706-1775). The original punches cut by him still survive. His widow sold them to Beaumarchais, from where they passed through several French foundries to Deberney & Peignot in Paris, before finding their way to Cambridge University Press. "Baskerville was the first of the 'transitional romans' between...
An article by Christopher Mims on Quartz, "Amazon is working on displays that Apple and Samsung can't match," is claiming that ... well ... Amazon is working on displays that Apple and Samsung can't match. His article buffs the credentials of Amazon as a technology innovator, as opposed to just a marketing and distribution dreadnought, and one focused particularly on displays. Amazon's work around the E Ink substrate of its Paperwhite display, according to Mims, shows that Bezos's behemoth is positioning itself to take the high ground in color tablet displays, by applying similar light guide principles as in the...
The LCD vs e-ink eyestrain debates have been going on for some time, but one factor in the difference is the refresh rate. E-ink sits still like paper once it's set. It doesn't refresh until you turn the page. LCD, on the other hand, refreshes dozens of times per second, whether it's on a TV, a monitor, or a tablet. But that could be about to change. Nikkei Electronics's "Tech-On!" reports on a new LCD display panel technology under development that will reduce the necessary refresh rate from 60 per second to 1 per second or less when showing...
We've carried a few stories in the past about Korean electronic manufacturer LG developing flexible e-ink displays. It first announced it had created such a display all the way back in 2006 and 2007, and in 2010 announced plans to begin mass-producing them. Now CNet's "Crave" blog reports that LG has indeed begun mass production of the displays, which could be seen in devices as early as next month in the European market. LG plans to focus on e-book readers at the moment, though may use the technology in other products in the future. The 6-inch,...
3M is investing in Mary Lou Jepson's Pixel Qi company, which produces dual-mode transreflective displays that can operate in LCD color or low-energy monochrome e-ink-like modes. Engadget has the press release and some commentary. So far, while the Pixel Qi displays have seemed fairly impressive in what they could do, they have not yet been produced in large numbers or used in any very successful hardware. The infusion of an undisclosed amount of cash by a major corp like 3M might just change that....
I'm not sure if I buy this, but Dave Zatz of "Zatz Not Funny" is reporting a rumor that suggests Amazon's upcoming Android tablet could have a very interesting, idiosyncratic screen display format. According to a friend of Zatz's who was seated on a flight next to someone who claimed to be a highly-placed Amazon exec, the tablet will feature both a color LCD and an e-ink screen—but unlike the Nook and the Alex, these screens will not be on the same surface. Instead, they will be on opposite sides of the device, like the faces of a coin. ...
The Android Police blog features a couple of five-minute demonstration videos of the Adam device from Notion Ink, showing it being put through its paces. The videos mostly cover the same territory, but one of them is, fairly impressively, shot in direct daylight, and the Pixel Qi screen is only slightly washed out—considerably more readable than my iPad in those conditions. The Adam looks fairly impressive from the videos, though of course it would take a hands-on session to get a really good idea of how usable it will be. Tantalizingly, both videos showed an e-book reader screen, but...