Posts tagged
wrist watch
An announcement on the Google Official Blog has signaled the arrival of an update to Google's Android Wear smartwatch platform, which addresses some notable shortcomings of the series, particularly Wi-Fi support. "Now Android Wear supports watches with built-in Wi-Fi," states the blog. "As long as your watch is connected to a Wi-Fi network, and your phone has a data connection (wherever it is), you'll be able to get notifications, send messages, and use all your favorite apps." Other improvements in the update include always-on screen apps, gesture control (wrist flicks to scroll through alerts), and emojis. The Wi-Fi update means that for...
As some TeleRead regulars may know, I'm a devotee of handwriting recognition for text input, especially on tablets and smartphones. I also have more than a passing interest in smartwatches, and am eagerly awaiting my first buy off Google's new Android Wear platform. I should compliment Microsoft, then, for coming out with an Android Wear app that implements the first in a way that actually might make the second more useful. But I really despair of them for calling the result an "analog keyboard." "With the Analog Keyboard Project we are exploring handwriting recognition for text input on small touch screens,"...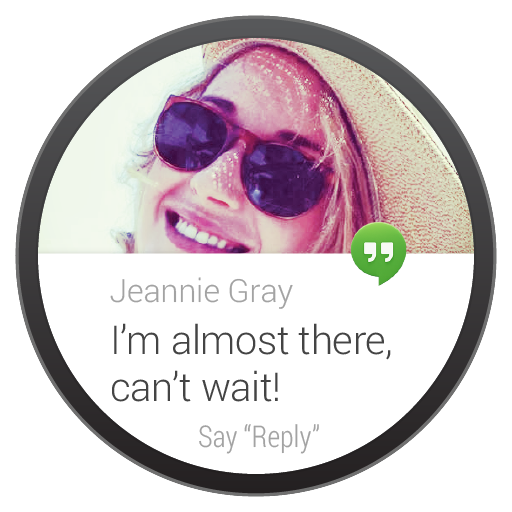 The full-force all-channel multi-announcement multi-product rollout of Android Wear and its supporting devices looks to have conquered the emerging smartwatch product category. Chris Meadows tagged the emerging Google smartwatch platform as the one to watch in this space a while back, and it looks like his call has been vindicated. And meanwhile, the much-vaunted iWatch is nowhere. " Today we're announcing Android Wear, a project that extends Android to wearables," announced Sundar Pichai, SVP for Android, Chrome & Apps, on the official Google blog. "And we're starting with the most familiar wearable—watches." Google already has a developer preview up and running with...
[caption id="attachment_95923" align="alignright" width="209"] Nice concept, not quite there yet.[/caption] With data on smartwatches  reported on often of late, it's interesting to start seeing some numbers against all the buzz. According to a bulletin from International Data Group (IDG), smartwatch shipments worldwide hit 1.9 million units in 2013 for the first time, versus just a few hundred thousand units in 2012. Around 61 percent of the budding platform runs Android, according to Strategy Analytics. Much of the Android lead is attributed to Samsung's Galaxy Gear, but in such a still limited market space, there is of course still plenty of chance...
If you follow TeleRead regularly, you may know that aside from recently developed something of an obsession for the new smart watch trend, we're always fascinated by nearly any product that incorporates the technology of the E Ink Corporation into its design. Well ... remember the Kickstarted e-paper Pebble wrist watch? As promised, the company, Pebble Technology, announced Wednesday that they will begin shipping Pebble watches today, Wednesday, January 23. Although backers should be receiving their Pebbles in the mail shortly, the company has a few cautionary messages to announce. Listed as published on the Pebble blog, they are as follows: Notes: ♦ Pebble iOS App is not...