Posts tagged
universities
Purdue University has announced some bright news for its students - provided they are prepared to tie themselves to Amazon. They now have "the opportunity to save up to 30 percent - or $6 million - a year on textbooks" thanks to "the Purdue Student Store on Amazon, a new, co-branded experience where students can purchase lower-cost textbooks and other college essentials." This follows up on a slightly different pilot program already debuted at UC Davis. It seems like a great deal, but no one could imagine that Amazon is doing this purely out of generosity. "Through the Purdue Student Store on...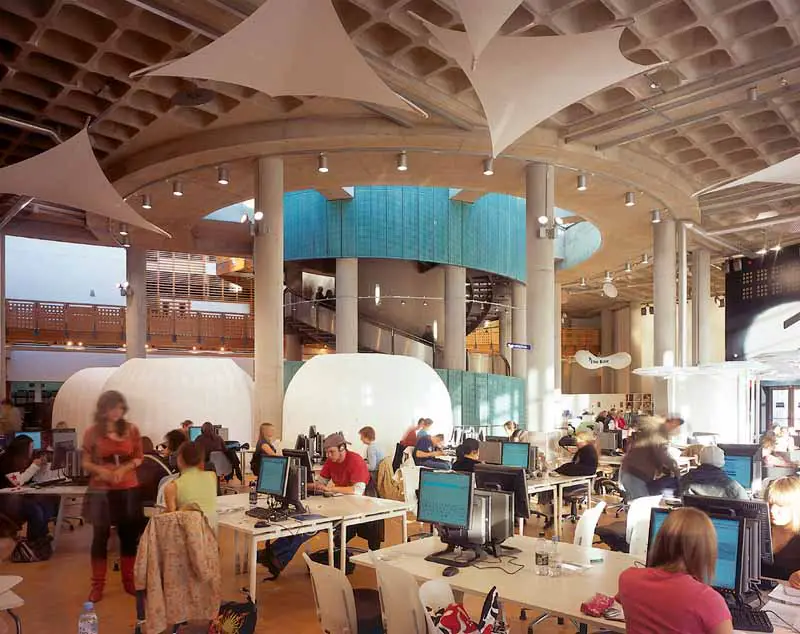 A recent article by Claire Shaw in the UK Guardian Higher Education Network purports to lay bare how "University libraries are shaping the future of learning and research." And although the article doesn't claim at any level deeper than the subtitle that libraries are actually dictating how we learn, rather than vice versa, it does demonstrate how ebooks, e-learning and related developments are causing academic libraries to mutate into new forms. It stands to reason that university libraries are going to be at the sharp end of the debate on what all libraries are for in the ebook era, when the...
How Book Covers Have to Evolve in the Digital Age (Good e-Reader) As publishing adapts to changes in the technology of books, one area that still remains to adapt is the all-important cover art. Two unrelated articles today highlighted the serious considerations that authors and publishers need to make when designing the face that will ultimately help or hinder consumer purchases. * * * Ripping Off Indie Authors? Let Us Count the Ways (Indie Reader) Three years ago, when no one took self-publishing seriously, indie authors only had to worry about being ripped off by a vanity press, and that's only if they were...
By Dr. Frank Lowney I recently traveled to Kansas City, Mo., to attend the annual convention put on by the National Association of College Stores (NACS), and to participate in a panel discussion on the impact of emerging technologies upon the textbook business. The CAMpus market EXpo, or CAMEX, is billed as the "largest annual tradeshow and educational event in the collegiate retailing industry." NACS represents nearly all U.S. college stores, but CAMEX is attended primarily by people who run campus-owned stores. Half of all college stores are campus-owned; the other half are outsourced operations such as eFollett. The experience firmed-up many of...
From an article by Joseph Esposito in The Scholarly Kitchen: Several years ago I conceived of an online catalog for academic books, university press books in particular. I thought this was an original idea, but, man, I could not have been more wrong. I soon learned that among many other proposed projects, an online bookstore had been explored by the American Association of University Presses (AAUP) — but that project foundered on some of the technical limitations of the time. For example, the Web was not yet fully established (try to imagine back that...
From CUP: Cambridge University Press's new integrated eBook and digital content offering, University Publishing Online, launched yesterday. University Publishing Online, at www.universitypublishingonline.org, provides aggregated content from the Mathematical Association of America (based in Washington D.C.), Liverpool University Press, Foundation Books (based in India), and Cambridge University Press. Access to content from Edinburgh University Press and Nottingham University Press will be available from early 2012. [Clip] Users have immediate access to over 13,000 front and backlist titles, accessible through quick, powerful search and browse functionality. [Clip] Users are able to search across all University Publishing Online content or limit their search to selected publishers. The search facility also...
This is something I never would have expected.  From The Chronicle of Higher Education comes an article by Doug Ward, who teaches courses in editing, reporting, history and innovation at the University of Kansas: News that all the graduate students in my Future of Media seminar would receive iPads for the semester generated a flurry of excitement. Some students replied with exclamation points in their email messages. Some stopped and asked when the iPads would be available. Others passed on word to classmates and seemed to enjoy the envious responses. Then something odd happened: The students, all in their...
From the press release: A CampusBooks.com report shows that six out of seven top e-book retailers (including Amazon) have less than 50% of the books students need for back-to-school. But CampusBooks is the first to solve that problem, launching a free online e-textbook tool that lets students search all seven to not only find their books, but the best prices as well. CampusBooks.com has been helping students find the best prices on ...
This October, Cambridge University Press will launch a new digital content platform called University Publishing Online, which is based on the existing digital platform Cambridge Books Online but open to outside academic publishers. Boydell & Brewer, Liverpool University Press, the Mathematical Association of America, and Foundation Books (based in India) have been named as early participants. From the press release: Dr Andrew Brown, Director of Academic Publishing at Cambridge University Press, said: "A key concept of University Publishing Online is to preserve the individual identity of each of its publishing partners, as every academic press makes a unique contribution to the world...
The closure of a half-century-old university bookstore in Ireland is raising questions about the propriety of lecturers posting class notes on-line, the Bookseller reports. The chairman of a UK academic publishing-industry lobby group claims the practice harms academic booksellers. The Bookshop at Queens, at the Queen's University Belfast, has been in business for 53 years, but has hit tough times and is closing while it is still above water. Tim Smyth, manager of the Queen's bookshop, said the bookseller wanted to close before it "fell below the line". He also blamed internet competition and free...
From an article in Inside Higher Ed.  Here's a snippet, a lot more in the article: ... The proliferation of GPS-enabled mobile devices and community-based social media applications and the rise of companies such as Groupon, LivingSocial, Yelp, and Urbanspoon have demonstrated that these new technologies can strengthen regional as well as global ties. And as university presses adapt to the changing publishing landscape, some are already looking beyond e-books to bonus features and location-based apps that lend themselves to a different kind of reading — and, in some cases, a different kind of reader. The Minnesota Historical Society Press is among those...
That's what's reported in an article entitled The E-Reader Effect in Inside Higher Ed.  Here's a snippet.  Lots more in the article. University presses, in many cases, have been even less successful than textbook publishers in selling electronic versions of their books. A new survey by the Association of American University Presses suggests that as of last December, e-book sales or licenses accounted for less than 3 percent of total revenue for the overwhelming majority of university presses. Meanwhile, 60 percent of respondents expressed "serious concern" about the viability of their current business models. In an era of flat or declining print sales,...