More on TechnologyTell: Gadget News | Apple News
Posts tagged
tablets
In the Weekend Links, I highlighted a GigaOM story which claims that sales of bigger phones are starting to cut into sales of smaller tablets. I believe it. When I got my iPad Mini, it was because I wanted a not-phone-sized device that didn't weigh a ton. I still use my Mini a lot (mostly in situations which call for two iPads, such as the Beloved being able to FaceTime at home on days I stay late at work, or a train ride we take semi-regularly involving a small child who won't share). But in my perfect tech world, I'd...
Research firm Gartner Inc. has released a new digital device sales forecast which marks 2015 as the year when shipments of tablets will finally overtake PCs and the world will move into the post-PC era. In volume terms at least, the defining digital device in the home will no longer be the computer, whether in desktop or laptop form, but the tablet. Gartner forecasts sales of the devices it tracks  - PCs, tablets, ultramobiles and mobile phones - to hit 2.4 billion units in 2014, "a 4.2 percent increase from 2013." And as of 2014, it calculates a total global sale...
As a follow-up to my earlier TeleRead piece on why the premium pen manufacturers aren't meeting the onscreen writing challenge, it's good to report that at least one firm does seem to have stepped up to the plate: The German precision pen and drawing instrument manufacturer Rotring, whose stylographic pens have been a staple of drawing and engineering courses for decades. Founded in 1928, the company's rapidographs became the virtual standard for technical drawing. However, as its Wikipedia entry states, "the advent in the 1990s of computer-aided design (CAD) saw the partial demise of the technical drawing pen. To combat...
International Data Corporation (IDC) has reduced its forecast for 2014 worldwide sales of tablets plus similar 2-in-1 convertible devices - due largely to the surge in demand for phablets, which appear to be blurring the line between smartphones and tablet devices and snatching an ever greater market share. IDC's new forecast is for 245.4 million units in 2014, down from a previous forecast of 260.9 million units, and equaling a 12.1 percent y-o-y growth rate, down from e 51.8 percent growth in 2013. "Two major issues are causing the tablet market to slow down. First, consumers are keeping their tablets, especially...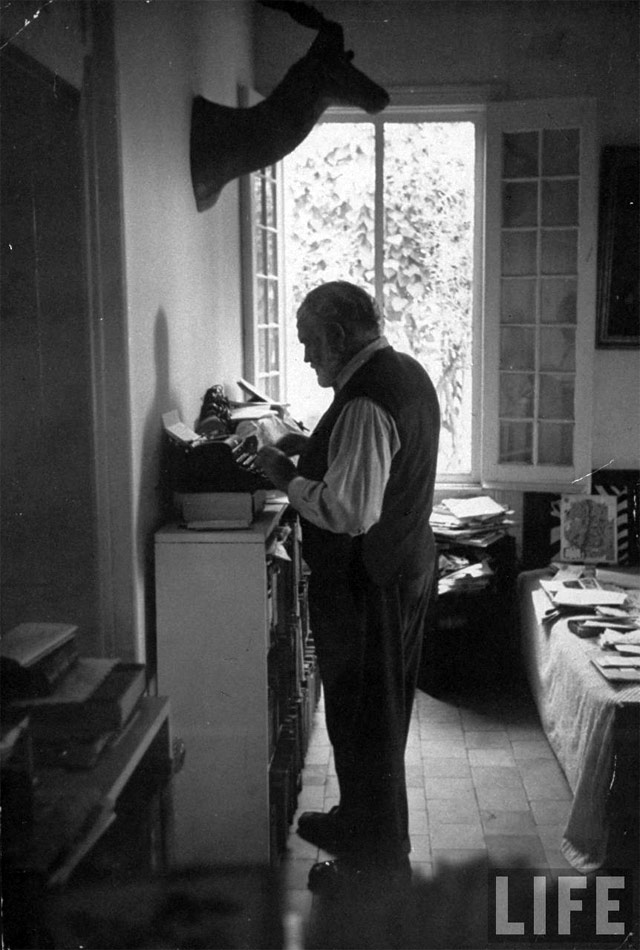 Courtesy of a rash moment over the weekend when I lifted both my daughters into a house through a window, I've picked up a nasty lower back pain - and a whole new stance towards writing. Literally. Because now that sitting down to the keyboard risks further discomfort, I am learning to stand up to write, evoking that great archetype of the writer erect - Ernest Hemingway. Back pain ought to be a key concern for writers, no? After all, alongside alcoholism, nearsightedness, and visits from the secret police (or debt collectors), it's the nearest thing to an occupation hazard that...
A report crossed my in-box the other day via the usually reliable Teachers with Apps blog. It promised to inform me on 'education trends I need to know about' and said it would highlight data from around the world. Sounds good, right? Well, I'll save you reading the whole thing and sun it up thusly: everybody loves tablets. Americans, Indians, Japanese, Swiss---everybody. They love tablets. They want tablets. Tablets are the future of education. I'm not sure what to make of it. I think there needs to be some maturation of the group management options before that happens. I am still...
I saw this article on re/code about phablet use, and none of is seemed surprising to me. I also didn't agree with all of it. Check the page URL for the article: phablets aren't just eating tablets' lunch, they're changing behavior (which wasn't the same as the article headline--interesting). Do remember that this is the same site that published an article on how our love affair with tablets is over. Okay, let's step back a moment. The data on phablet use was interesting. Social networking was more than 50% of the usage, which didn't surprise me. My iPhone 4S is a bit...
Let's be Sensible About Screen Time with Toddlers (Teachers with Apps) iPads and screen time with kids younger than 2 may be just fine according to Dr. Dimitri Christakis from the Seattle Children's Research Institute's Center for Child Health, Behavior and Development. *** A Modest Proposal for Scaled-Up Open Access (The Scholarly Kitchen) The basic structure of Kennison and Norberg's proposal is a three-way partnership between higher-education (HE) institutions (as funding bodies), libraries (as archives and distribution nodes) and scholarly societies (as gatherers, editors, and presenters of content). *** On World Press Media Day, a Look at New Media's Double-Edged Sword (Media Shift) This cycle of Internet...
Tablets Take More Older People Online, British Research Shows (GigaOM) Older people are increasingly going online, in part thanks to tablets, according to the U.K. telecommunications regulator. *** Amazon Stops Selling Kindle DX (GoodeReader) Amazon has just discontinued their 9.7 inch e-reader, the Kindle DX. *** I'm a Book Club Dropout (Huffington Post) Of course, if reading really is antisocial, it's unsurprising that a social club centered on that activity would be difficult to sustain. *** Hello! Books are Digitally Different (Brave New World) Whatever the route taken the stupid thing would be to continue to merely pour the same content into a digital container. This logic is flawed as...
I have to be grateful for The Bookseller sometimes. For its boycott of Author Solutions advertising. And now for its heroic readiness to fork out £1980 ($3326) for a copy of the CHILDWISE Monitor Report 2013-14 from CHILDWISE,  "leading research specialists on children, young people and their families" with a "panel of over 1000 schools throughout the UK." And this Monitor Report states, according to The Bookseller, that one in five of UK children (going by its sample) read on a tablet. The Monitor Report, "a comprehensive annual report focused on children and young people's media consumption, brand attitudes and key...
iPads and tablets now appear set to join ebooks, the Internet, television, bicycles, and other agents of moral decay as hate figures in the latest press-stoked moral panic in the UK. As reported in the UK Daily Telegraph, the Association of Teachers and Lecturers has issued research claiming that tablet addiction has left a generation of manually challenged British children. The Daily Telegraph cites an ATL conference speaker who warns of "increasing numbers of young pupils who can swipe a screen but have little or no manipulative skills to play with building blocks or the like." The ATL will also apparently...
My Two Months with a Chromebook (Dear Author) I like to try out different types of computers, especially laptops. I've needed the portable form factor since I was in graduate school and through the years I've tried them all. *** How to Choose the Right iOS App for your Notetaking Needs (GigaOM) With so many note apps in the app store it is hard to pick the right one. Making the correct choice depends on what you are looking for as the best note apps have features all their own. *** More Bad Advice on Piracy for Authors & Readers (The Digital Reader) It is easy...