More on TechnologyTell: Gadget News | Apple News
Posts tagged
smartphones
Cyanogen, creators of (almost) everybody's favorite alternative iteration of the basic Android mobile OS, has announced "the completion of an $80 million round of Series C financing," led by Premji Invest and including existing investors Benchmark, Andreessen Horowitz, Redpoint Ventures, and Tencent Holdings Ltd. More interesting, perhaps, is the list of "new strategic investors" now participating in the round, including " Twitter Ventures, Qualcomm Incorporated, Telefónica Ventures, Smartfren Telecom, Index Ventures, Access Industries (the US-based industrial group headed by Len Blavatnik), Rupert Murdoch, Vivi Nevo, and several yet to be announced partners." A Series C financing round for a venture capital-backed company...
Elliptic Labs, who I covered last year about their Touchless Gesture Recognition Engine, has just announced the latest step forward in its technology: "'Ultra-fast Ultra-far Interaction'; split-second speed and a remarkably large field of response for touchless gesturing." According to the announcement, Elliptic Labs' "ultrasonic gesture technology has been made exponentially faster, allowing devices to precisely respond a fraction of a second after gesture commands are given." Elliptic now claims to offer technology that works up to 2 meters (7 ft) away from and 180 degrees around a device screen. According to Elliptic Labs CEO Laila Danielsen, "This technology first is an excellent...
Waiting for new smartphone programs like Android One to bring the four billion global citizens who still don't have internet access, and put ebooks in the hands of the developing world? Well, for the female half of that four billion, you may have to wait more than a little while longer. That's according to the GSMA Connected Women Global Development Alliance program, which has just released a report on "Bridging the gender gap: Mobile access and usage in low- and middle-income countries." According to the report, "based on primary and secondary research conducted by Altai Consulting," with primary field research "conducted in...
Forget Fifty Shades of Grey - how about Fifty Flavors of Lloyd? Yes, if you want to see a dominant force cracking its whip over the supine global smartphone market, Android in IDC's latest Worldwide Quarterly Mobile Phone Tracker is the one you want to catch. According to the IDC numbers, "Android and iOS inched closer to total domination of the worldwide smartphone market in both the fourth quarter (4Q14) and the calendar year 2014 (CY14)." And in particular, while iOS saw its market share fall slightly from 15.1 percent in 2013 to 14.8 percent  in 2014, Android grew its market...
Corning, whose Gorilla Glass is the default standard for many touchscreen tablet and smartphone devices, has been seeding the media with hints about its new Project Phire lately, which apparently approaches the scratch resistance of pure sapphire when used for screens. As yet, there's no confirmation on the Corning website, but the original report on CNET quotes a speech at an investor presentation by James Clappin, president of Corning Glass Technologies, stating that the new project will combine the shatterproof and drop resistance durability of its existing Gorilla Glass with sapphire's scratch resistance. Exactly why Corning is so eager to follow in...
Ubuntu's rather delayed attempt to crack the mobile market with a Linux-based mobile phone is getting even more attention than it otherwise might, not only because of its transition to an open source OS, but also because of its replacement for apps: Scopes. Ubuntu descibes these as: "a world away from the traditional app icon grid ... Scopes are a new UI paradigm, designed to deliver content and services directly to categorised home screens, giving users a rich, unfragmented experience. Developers have a new way to create app-like experiences that are easier to discover, build, and are integral to the OS." Jay...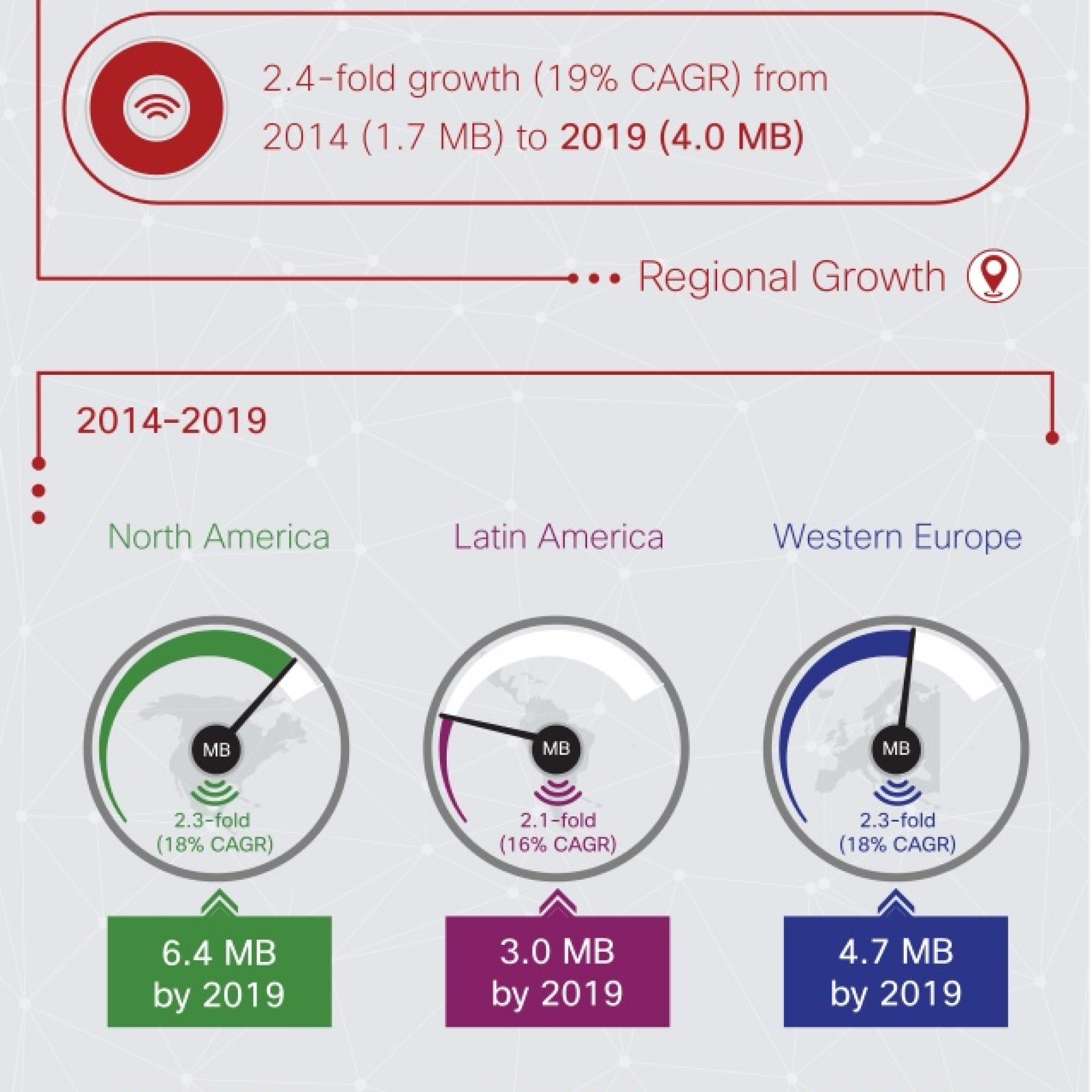 The new Cisco VNI (Visual Networking Index) Global Mobile Data Traffic Forecast, 2014-2019, just released, showcases some eye-popping figures on the growth in mobile users, mobile data traffic, and average mobile data speeds. Naturally, Cisco is about as likely to forecast a drop in mobile activity as a brewer is to preach temperance, but all the same, there is little reason to doubt their figures. The forecast predicts that, by 2019, "there will be 5.2 billion global mobile users, up from 4.3 billion in 2014. There will be 11.5 billion mobile-ready devices and connections, more than 4 billion more than there were in...
Lenovo's decision to purchase the Motorola smartphone division has been more than vindicated with its latest Q32014-15 results, which beat business analyst consensus and showed Motorola shipping more than 10 million units, up 118 percent year-over-year, for US$1.9 billion additional revenue. Yuanqing Yang, chairman and CEO of Lenovo, said of Motorola and his other new acquisition, the IBM System X assets: "The two newly acquired businesses are achieving great momentum in their first quarter of integration.  They are definitely becoming our growth engines. Motorola is already a global strength: for the first time it sold more than 10 million units in the...
The OnePlus initiative,  "a technology startup committed to bringing the best possible technology to users around the world," which sought to create cheap yet fully featured Android smartphones for global markets, ran into trouble recently over licensing disputes in India with CyanogenMod, the Android OS mod of choice for many smartphone cognoscenti and its preferred software so far. Now, OnePlus has apparently decided that the solution is its own fork of the Android OS, dubbed OxygenOS. The OnePlus statement on the issue reads: As many of you know, we will be launching our own ROM in the near future. We've spent a lot...
According to a recent report by Strategy Analytics, shipments of smartphones running the Android OS reached 1 billion for the first time in 2014, when "global smartphone shipments grew 30 percent annually to reach a record 1.3 billion units."The report continues: "Android has become the first ever smartphone operating system to ship more than 1 billion units in a single year. Android accounted for a huge 81 percent share of all smartphones shipped globally in 2014, and Apple iOS remains its only serious threat for now." This rather puts a dent in recent laudatory reports of Apple's sales numbers, claiming that Google...
TechRadar has just shared a post which should be of interest to all users of ereading devices - even if it mostly concerns smartphones. Of course, many keen consumers of ebooks these days are reading on their smartphones anyway, but even those readers who stick to Kindles or Kobos only can still learn from this. In answer to the perennial question "should we unplug our chargers each night?," TechRadar's David Nield compiles up-to-date tech opinion and the results of recent efforts to push battery life and power management. He instances, for example, the International Energy Agency's 1-Watt Plan, which "proposed that all...
HTC, which makes some of the best Android handsets - and hence, most preferred mobile ereading devices - around, has just posted its most favorable sales numbers for a long time, recording $1.5 billion of sales in the fourth quarter of 2014, a marginal increase on the same period a year earlier and the first time it has seen quarterly revenue growth since the third quarter of 2011, according to Bloomberg. HTC also recorded a solid operating profit for the period, against analyst consensus estimates of a loss. Bloomberg attributes this turnaround partly to new mid-range handsets in HTC's portfolio, as well...