More on TechnologyTell: Gadget News | Apple News
Posts tagged
smartphones
Following the release of its decidedly upbeat latest report on global smartphone shipments, the  the International Data Corporation (IDC) has just issued a more moderate edition of its Worldwide Quarterly Tablet Tracker, which records slightly less than the forecast growth figures, and raises the possibility of market saturation, especially in certain niches in North America. And pressure on sales of smaller tablets from larger smartphones and phablets is one of the constraints cited by IDC. "In some markets, consumers are already making the choice to buy a large smartphone rather than buying a small tablet, and as a result we've lowered our long-term...
The International Data Corporation (IDC)'s latest Worldwide Quarterly Mobile Phone Tracker data shows that smartphone shipments are due to clear 1 billion by year end, the highest level ever, and "representing 39.3% growth over 2012," according to IDC. "Despite a number of mature markets nearing smartphone saturation, the demand for low-cost computing in emerging markets continues to drive the smartphone market forward. By 2017, total smartphone shipments are expected to approach 1.7 billion units, resulting in a compound annual growth rate (CAGR) of 18.4% from 2013 to 2017." Falling prices for Android handsets, as well as the computer functionality already mentioned,...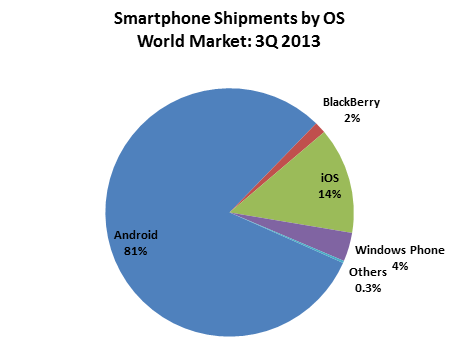 Latest 3Q2013 figures on the state of the global mobile phone market from technology market intelligence house ABI Research show Samsung chewing into other vendors' market share, and especially at the expense of proprietary OS platforms like Apple and BlackBerry. "Samsung retained its lead in handset shipments and grew its share of smartphone shipments to 35%, while Apple share remained flat at 14%," stated the report. Thanks in part to Samsung, Android remains by far the most popular OS, and is also increasing its lead. "Supported by strong Android shipment growth from Huawei, Lenovo, Xiaomi, and Samsung, Android reached a new...
New data on the U.S. cellphone market released by Nielsen shows smartphone penetration rising over the June-August period to 64 percent of all U.S. mobile phone owners. And longer-term trends show an even brighter future for the smartphone, with 80 percent of new acquirers in the same period opting for smartphones. The U.S. smartphone penetration level pales in comparison to locations like the United Arab Emirates, which claims a 73.8 percent rate of smartphone usage among all local mobile phone users, based on Google figures, supposedly the world's highest level.Still, according to Pew data from June, 91 percent of U.S. adults...
Normally I'd give myself a good kicking for picking up a lead from Nate Hoffelder over at The Digital Reader. After all, what kind of lazy journalism is that? But in this case, he may very well have turned me on to the ideal smartphone—one that's going to make a conspicuous difference to my gadget buying plans. According to the Alcatel press materials quoted over at Engadget, the Alcatel One Touch Hero features "a 6" Full HD IPS display, 1.5 GHz Quad Core processor and 13 megapixel camera," as well as a stylus for onscreen input, wireless linking to external displays,...
After the IDC figures on tablet sales released earlier this week that showed Android devices slicing into the iPad's market share, the tech research firm has released more data showing a similarly bleak picture on the smartphone front. According to IDC's release, "Apple's share in the worldwide smartphone operating system market posted a year-over-year decline during the second quarter of 2013 ... Meanwhile, Android and Windows Phone both managed slight increases during the same period. " The IDC Worldwide Quarterly Mobile Phone Tracker for the second quarter of 2013 showed a total of 236.4 million smartphones shipped, an increase of 51.3%...
This is not a funny story, but it's comes right from a vernacular newspaper in Taiwan, a Chinese-language tabloid called Apple Daily, which has nothing to do with that other ''Apple'' company where we often see headlines such as "Apple  faces fresh questions after another apparent suicide by factory worker in China." No, this is a sad and tragic story, and while not all the details are in yet, we cannot really say the middle-aged man committed suicide—despite leaving a suicide note in his car after drinking pesticide and burning coals in the cab of his truck. There might have been other...
Kobo has announced via their blog that Blackberry 10 users can now download a Kobo app of their very own. Users of the Z10 and Q10 models have a new app available to them with all of Kobo's signature features, including cross-device syncing, day and night modes and Reading Life stats. They also get a free book (Jessica Hagy's "How to Be Interesting After You Graduate" just for downloading. Happy reading!...
GigaOM is reporting today that Samsung has become the first major computer vendor to stop producing desktop computers. From the report: "Speaking to The Korea Times on Monday, a Samsung executive said, "Demand for conventional desktop PCs is going down. We will allocate our resources to popular connected and portable devices." It was unclear from the report whether the shift away from computers included laptops or not. I have been getting by just fine with a Macbook as my main PC for years, but I am not ready to give up having one altogether. My iPad is fine for Internet browsing and for light word...
The FAA might soon permit limited use of electronic devices even during take-off and landing. We reported on the study earlier this year (and even last year), but The Wall Street Journal reports the FAA has been circulating a set of draft proposals that would allow for devices such as tablets, e-readers, and smartphones to be used during flights as long as they were set to a no-transmissions airplane mode. Phone calls and other radio transmissions would still be forbidden (unless the plane has in-flight Wi-Fi, of course). (The WSJ article is paywalled, but Ars Technica also has relevant coverage.)...
In this era of cloud-everything, Michael Geist reports on a hugely important story for Canadians—the CRTC, the regulatory body that deals with telecommunications issues, has released a new 'Consumer Wireless Code' that addresses a number of consumer complaints about cell phones. Significantly, it effectively eliminates onerous three-year contracts by phasing out the cancellation fee for customers whose contract has lasted a minimum of two years. The new rules also put limits on fees for cell phone roaming and data overages, and require carriers to permit unlocking of any paid-for phone. From the article: "The issue of contract length was the top issue raised by...
A History of Intellectual Property in the United States (Scholarly Kitchen) The history of patents, trademarks, and copyrights in the United States may not seem to be the most interesting topic in the world, but my favorite history podcast, BackStory with the American History Guys, manages to make it compelling on many levels. --- Simon & Schuster Opens New Publishing Division in Canada (Good e-Reader) Simon & Schuster has a print and distribution center in Canada, that sends print and eBooks to the various stores and retail chains. In the past, if you were a Canadian author you actually had to publish with S&S...