More on TechnologyTell: Gadget News | Apple News
Posts tagged
Science fiction
Nelson Mandela's death has rather drawn attention away from the passing on December 5th of one of Britain's more original and odder modern writers, Colin Wilson (1931-2013), who after a lonely and marginalized youth, was catapulted to intellectual stardom at age 24 with the publication of his seminal study on the newly fashionable doctrine of existentialism, The Outsider (1956), one of the first English-language studies to deal with French writers such as Albert Camus and Jean-Paul Sartre that the Anglo-Saxon world was only just beginning to come to grips with. According to legend, Wilson wrote the book in the reading room...
You would have to have had your awareness sucked dry by memory-devouring aliens The Silence not to realize that this weekend marked the fifthieth anniversary of classic British science fiction TV series Doctor Who, still unbelievably better than ever after all those decades. And if you want to learn what gives a story arc eternal life, now read on... For one thing, it really helps to make the fundamental mechanism of your narrative's renewal a crux of the plot itself, so that regeneration and refreshment of the story comes as an inevitable outcome. And the just-aired fiftieth anniversary special, "The Day...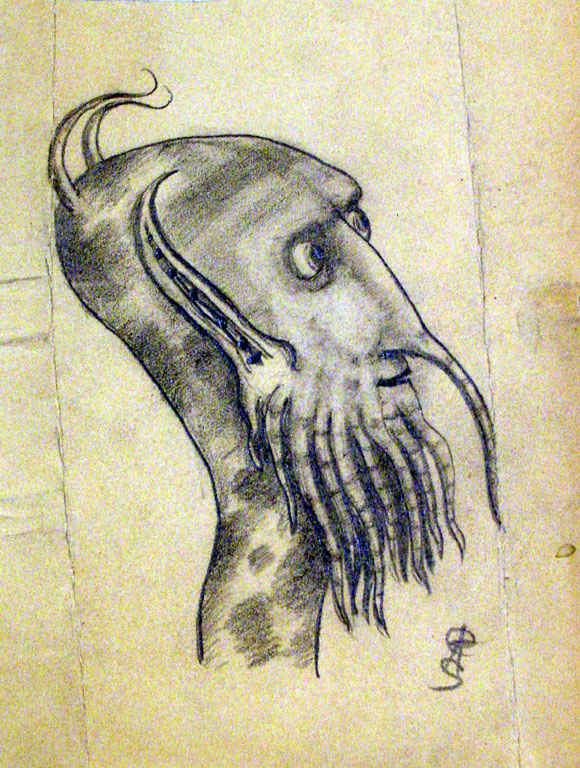 I was moved to wonder how much added value a really fine print edition of out-of-copyright work can bring by a Facebook post about a pre-publication offer on a new collection of the work of American fantasy great Clark Ashton Smith,  entitled The Eldritch Dark: Collected Prose Poems and Artwork of Clark Ashton Smith. In hardcover, this retails for $163.84 on Amazon, but against an original list price of $250.00. For that price, Centipede Press will offer you 460 pages including "all of Smith's known artwork and sculptures" and "his complete prose poems as well as a revealing introduction and...
Frederik Pohl, who died recently after a long, illustrious, and industrious career as a science fiction magazine and book editor, and literary agent, as well as multiple-award-winning writer, covered enough ground in his seventy-five years in the saddle to have valuable experience to communicate to anyone in the genre. And he summed up much of this in a 1977 interview with David Truesdale for Tangent, reproduced in full here. The interview condenses his conclusions into some candid and very helpful observations that, adjusted for inflation, haven't dated, and apply well outside the SF genre as well. As his longtime friend...
Frederik George Pohl, Jr. (Nov. 26, 1919 – Sept. 2, 2013) was almost a living artifact of a bygone era in science fiction, as well as one of the genre's most fertile and perennially refreshed talents. Born in the immediate aftermath of World War I, he died in the epoch of Google Glass and the Large Hadron Collider, without ever losing his imaginative spontaneity or intellectual curiosity, or his ability to upset and disturb the genre consensus. For all its radical technological vision, science fiction has a reputation for frequently being socially and politically conservative, whether it's Orson Scott Card's anti-marriage equality...
Okay, I know I'm feeding the troll here, and I feel bad about that, but I do feel it's worth calling attention to this level of complete stupidity when I see it. Patrick Nielsen Hayden had this to say about the subject of my rant: "It's rare that one gets to see somebody being a complete and total idiot. But Amazing Stories comes through!" The article in question is by Paul Cook, and it goes by the provocative title "When Science Fiction is Not Science Fiction." Cook, it seems, is upset that writers such as Lois McMaster Bujold and...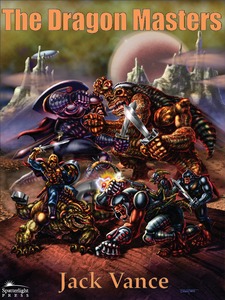 Thanks to Jack Vance, my early teens were haunted by dragonish monstrosities with such names as Termagants, Striding Murderers, Juggers, and Blue Horrors. These weren't drawn from a young adult story, but from one of Vance's most concentrated, intensely imagined and effective evocations of a place and above all, a society, very remote from ours, in time, space, and mindset. "The Dragon Masters" was one of the classics that consolidated his early reputation, and it has worn very well with time. Note that this book is an example of how mutable the standards of story length can be, as well as the...
Read the entire "Don't Go to Art School" series: Part 1 | Part 2 | Part 3 | Part 4 | Part 5 | Part 6 * * * For year four of our Nearly-Free English Degree, we'll be covering contemporary times and other special topics. Each "course" below is worth one credit. Literary Theory and one of the In-Depth Study courses are compulsory; you'll need to pick two others, from at least two of the groups, and then pick three electives. One of these other electives can be another literature class from any of the categories for any year, but two of them should be non-English courses from the selections...
During the sweltering British summer of 2013, Foyles bookstore in London did something that was a long time coming: It set up a dedicated ''cli-fi'' table with a simple yet eye-catching sign promoting fiction and non-fiction books with climate themes. Among the books seen on the table in the photograph to the right above are Rachel Carson's "Silent Spring" and James Lovelock's "The Revenge of Gaia" as well as Stephen Emmott's current bestseller "10 Billion" sitting alongside such dystopic scenarios as J.G. Ballard's "The Drowned World," John Christopher's "The Death of Grass," Joe Dunthorne's "Wild Abandon" and Liz Jensen's "The Rapture." Most...
Remembering Elmore Leonard, A Writer Who Hated Literature (NPR) Elmore Leonard was a writer who hated — and I don't mean disliked; Elmore had a contempt for putting pretty clothes on hard, direct words, so I mean hated — literature, or at least what he believed a lot of people mean when they say liter-a-ture, as if it were a Members Only club. * * * The 7 Most Common Misconceptions About Science Fiction Publishing (i09) Science fiction book publishers sail the multiverse like a fleet of unstoppable hyper-cruisers. And many of us dream of being beamed up to one of these motherships. But...
Today marks—belatedly a day late—the birthday of Edward John Moreton Drax Plunkett, 18th Baron of Dunsany (1878–1957), better known as Lord Dunsany, the weird fiction, fantasy, and science fiction writer whose own Irish roots and aristocractic pedigree are as fanciful as—well, almost —anything in his tales. Thanks to his long, and exceptionally rich and varied, life, many of his key works are out of copyright and freely available on Project Gutenberg and elsewhere. In physique and in life, Dunsany was practically the direct opposite of his contemporary, H.P. Lovecraft, who praised him in his essay "Supernatural Horror in Literature," as: "unexcelled in...
In honor of its fifth anniversary, Tor.com is offering a free e-book of all the original fiction published on its site in one handy edition. All you have to do is register with the site (painless), and you can download it. It's DRM-free (here's looking at you, Joanna) and available in EPUB, Kindle and PDF. Fair warning: It's a monster. The EPUB is the smallest file, at 68 MB. Eyeballing the table of contents, it looks like you'll be getting 150 stories and some amazing authors, including Gregory Benford, Elizabeth Bear, John Scalzi, Stephen Brust, Brandon Sanderson and more. Each story includes cover...