More on TechnologyTell: Gadget News | Apple News
Posts tagged
Samsung
Adding to the slew of quarterly market data, the latest issue of International Data Corporation (IDC)'s Worldwide Quarterly Tablet Tracker showed worldwide tablet shipments up 36.7 percent on the same time last year and 7 percent on the previous quarter. And, notes IDC, "Android products once again drove much of the shipment growth in the market as iOS growth stalled and Windows tablets continued to struggle to win over consumers. With no new iPad product launches in the second or third quarter to drive volume, Apple experienced a quarter-over-quarter decline in shipments from 14.6 million in 2Q13 to 14.1 million...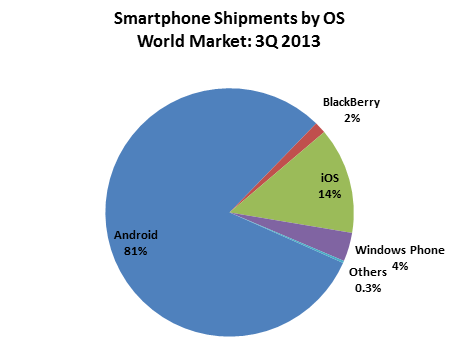 Latest 3Q2013 figures on the state of the global mobile phone market from technology market intelligence house ABI Research show Samsung chewing into other vendors' market share, and especially at the expense of proprietary OS platforms like Apple and BlackBerry. "Samsung retained its lead in handset shipments and grew its share of smartphone shipments to 35%, while Apple share remained flat at 14%," stated the report. Thanks in part to Samsung, Android remains by far the most popular OS, and is also increasing its lead. "Supported by strong Android shipment growth from Huawei, Lenovo, Xiaomi, and Samsung, Android reached a new...
New form factors and display formats for ereaders, smartphones, tablets and other mobile devices could be in the offing with the advent of new technologies for curved and flexible screens - some of them just about to debut on the market. Samsung, for example, has just announced its Samsung Galaxy Round, claimed to be "the world's first curved display smartphone, to be available October 10th in Korea," with a 5.7" Full HD Super AMOLED curved screen. Not to be outdone, meanwhile, Korean rival LG has announced mass production of the "world's first flexible OLED panel for smartphones." "The flexible display market...
U.S. market research and consulting firm NPD DisplaySearch has released its latest Monthly Tablet PC Panel Shipment Value Chain Report for July 2013, indicating an 8 percent rise over June shipment figures. And according to the data, the increase came from shipments of 7" panels, now 49 percent of all shipments, and of no-brand budget tablet models. White-box devices now accounted for 59 of all 7" panels and 43 percent of all tablet PC panel shipments, according to the report. "It's been increasingly challenging for Apple, Samsung, and other name brands to gain greater market share because low-priced private-label brands continue...
Why is there still no good Android alternative to the iPod Touch? I last posed this question over two years ago, when Apple's imposition of the 30% fee policies to apps with stores first caused me to question whether it was worth staying with the platform. At the time, there just weren't any good options, though the Galaxy Player on the horizon looked promising. At the moment, there still aren't (though plenty of people have been calling for one). My iPod Touch is getting pretty long in the tooth, and I'd like to replace it with an Android device....
After the triumph of the generic 7-inch tablet as everyone's favorite cheap digital companion, we now are seeing manufacturers, and especially Android OEMs, pushing in the opposite direction, with ever larger devices. Samsung, virtual creator of the phablet category with its Galaxy Note devices, is now upping the ante even further with reports of a huge Galaxy Note 12.2 device, larger than most actual tablets. Acer, meanwhile, as reported on Slashgear, has just announced in time for the IFA Consumer Electronics show in Berlin an even huger 24-inch all-in-one Android desktop, the DA241HL, running on a NVIDIA Tegra 3 chip, the same...
The news that Google has quietly been the owner for a year now of smartwatch startup WIMM Labs confirms the prospects for a new generation of smart wrist devices that I highlighted earlier in TeleRead. And with Samsung's Galaxy Gear wrist device now only days away from launch, it looks like this new generation will be rolling out with at least some of the devices running varieties of Android, with access—at least in principle—to the library of e-reader apps on the Google Play Store. WIMM Labs already has one device, the WIMM One, based on Android. And although this unit hardly challenges...
By Elisabeth Young Perhaps two of the most popular Korean brands are LG and Samsung. We can consider these two as big rivals when it comes to consumer electronics and gadgets, but in a weird twist of fate, LG is going to benefit from a Samsung product. Why? LG's very own cellular network, LG U+, is offering the "Homeboy" tablet. And this Homeboy tablet is in fact a Samsung Galaxy Tab 3. LG is simply rebranding the 7-inch Android tablet. LG is the third-largest wireless operator in South Korea, and its latest product will of course allow Koreans to access movies, songs, e-books, and TV...
By Hammad Saleem We've seen rumors about Apple working on a larger, 12-inch tablet that might hit shelves by the end of this year. Very recently, a new report has emerged from Digitimes, suggesting that it's not just Apple that has a larger tablet in the pipeline; Samsung is also developing its own 12-inch (or larger) tablet. The tablet market is becoming quite competitive, so both of these giants may be looking to create a new niche for a larger screen tab. Digitimes sources close to supply chain vendors mentioned that both companies are looking for an area of the market that's...
I love watching dueling rumors. We'll see an iPad mini with Retina display before the end of the year. No, we'll see one more mini with the normal display, but a faster processor. Actually, what's interesting about these two articles is that, if you dig a bit deeper and pay attention, they might actually be saying the same thing. While the headline for The Next Web piece says, "Apple will reportedly use retina display from Samsung for its next iPad Mini to be launched in Q4," let's do that digging I mentioned. First quote from the Next Web Article: "Apple suppliers in Asia are working on...
By Hammad Saleem It's only been about 24 hours since Google unveiled its new Nexus 7 tablet, and already we have more spicy news to share with our readers. A new rumor suggests that Google and Samsung are working on a new version of the Google Nexus 10 tablet. The rumor comes from a Wall Street Journal reporter, Amir Efrati. He was told by Sundar Pichai that Google and the Korean giant are working together  on a Nexus 10 tablet, which will be released soon. According to Amir Efrati: Expect to see new 10-inch Nexus 10 Android tablet (made by @Samsung) in the near future,...
By Hammad Saleem Samsung has announced its Galaxy Tab 2 10.1 Student Edition with a price tag of $350, though it really hasn't been all that long since the Korean giant released Galaxy Tab 3. The device comes in a package that also includes a Bluetooth keyboard and a desktop dock that makes it easier to use it as a notebook. The desktop dock also allows users to charge the tablet while using it. It'll be available at major retailers including Best Buy, Walmart, Amazon and many others soon, and technically you'll be saving almost a $100 on this deal, considering that...