More on TechnologyTell: Gadget News | Apple News
Posts tagged
Samsung
New Competition Highlights Indie Books (Indie Reader) The Pulitzer prize winning British newspaper, The Guardian, is co-sponsoring a new competition exclusively for indies. *** Goodreads Launches Add Amazon Books Feature (Digital Book World) You can now add books you've purchased on Amazon – both print and Kindle books – to your Goodreads shelves. This will be available in the next few weeks to members in the U.S., Canada, and Australia. *** Court Declares That Yes, Bloggers Are Media (Techdirt) While it seems crazy that this kind of issue is still being debated in 2014, it's good to see a court make such a clear statement on the...
What an honor! Thanks for the #selfie, @BarackObama pic.twitter.com/y5Ww74sEID — David Ortiz (@davidortiz) April 1, 2014 Twice in the last month, two popular selfies were torpedoed across social media. First, it was Ellen DeGeneres' picture at the Oscars and, most recently, Boston Red Sox's David Ortiz took a selfie with President Barack Obama. The Red Sox visited the White House on Wednesday to celebrate their World Series victory last year, as all professional sports team do in this country. Ortiz's selfie generated plenty of attention even more than a day after it was taken because it was revealed that it was a big marketing...
[caption id="attachment_95923" align="alignright" width="209"] Nice concept, not quite there yet.[/caption] With data on smartwatches  reported on often of late, it's interesting to start seeing some numbers against all the buzz. According to a bulletin from International Data Group (IDG), smartwatch shipments worldwide hit 1.9 million units in 2013 for the first time, versus just a few hundred thousand units in 2012. Around 61 percent of the budding platform runs Android, according to Strategy Analytics. Much of the Android lead is attributed to Samsung's Galaxy Gear, but in such a still limited market space, there is of course still plenty of chance...
New 4Q 2013 data from Kantar Worldpanel ComTech backs up earlier IDC figures for 2013 smartphone sales that suggest Android is continuing to extend its lead across global markets, especially outside the U.S. According to the Kantar analysis, "the three-month period ending December 2013, shows that Android closed out the year strongly across 12 global markets including the United States.  The operating system ended 2013 with a sales share of 50.6 percent, a gain of 4.4 percentage points from the final three months of 2012." Android remained especially strong in Europe, "with 68.6 percent share, while Apple held second place with 18.5 percent."...
The latest data report from International Data Corporation (IDC) in its Worldwide Quarterly Mobile Phone Tracker series has highlighted the record-breaking figure of just over 1 billion smartphones shipped worldwide in 2013, "up 38.4 percent from the 725.3 million units in 2012." Also spotlighting "a difference of less than 1 percent" from its forecast for full-year shipments in 2013, IDC noted that this growth in smartphone demand is cannibalizing the broader mobile phone market, which grew only 4.8 percent over 2013 to a total figure of almost 1.822 billion units. [caption id="attachment_106479" align="aligncenter" width="475"] Source: IDC Worldwide Mobile Phone Tracker, January...
[caption id="attachment_8049" align="alignright" width="168"] The Readius - an earlier less successful effort in foldable screen technology.[/caption] The reporting around CES 2014 included plenty of rumors and hints from a supposedly closed-doors presentation of Samsung's latest contribution to smartphone technology: A workable folding screen. Solid details are sparse, with no official Samsung announcement, but Korean and other industry sources indicated that this was am AMOLED screen, 5.68" in size, based on a plastic-style substrate. This follows earlier statements from Samsung that it would have a foldable touchscreen ready for market by 2015, but the screen displayed at CES has been described as...
Adding to the slew of quarterly market data, the latest issue of International Data Corporation (IDC)'s Worldwide Quarterly Tablet Tracker showed worldwide tablet shipments up 36.7 percent on the same time last year and 7 percent on the previous quarter. And, notes IDC, "Android products once again drove much of the shipment growth in the market as iOS growth stalled and Windows tablets continued to struggle to win over consumers. With no new iPad product launches in the second or third quarter to drive volume, Apple experienced a quarter-over-quarter decline in shipments from 14.6 million in 2Q13 to 14.1 million...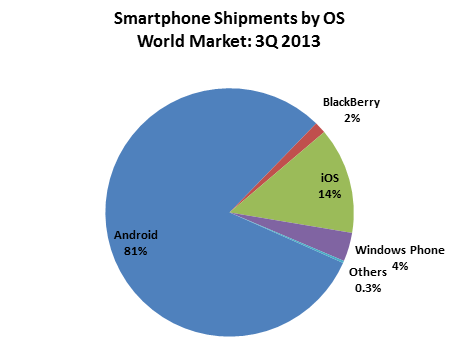 Latest 3Q2013 figures on the state of the global mobile phone market from technology market intelligence house ABI Research show Samsung chewing into other vendors' market share, and especially at the expense of proprietary OS platforms like Apple and BlackBerry. "Samsung retained its lead in handset shipments and grew its share of smartphone shipments to 35%, while Apple share remained flat at 14%," stated the report. Thanks in part to Samsung, Android remains by far the most popular OS, and is also increasing its lead. "Supported by strong Android shipment growth from Huawei, Lenovo, Xiaomi, and Samsung, Android reached a new...
New form factors and display formats for ereaders, smartphones, tablets and other mobile devices could be in the offing with the advent of new technologies for curved and flexible screens - some of them just about to debut on the market. Samsung, for example, has just announced its Samsung Galaxy Round, claimed to be "the world's first curved display smartphone, to be available October 10th in Korea," with a 5.7" Full HD Super AMOLED curved screen. Not to be outdone, meanwhile, Korean rival LG has announced mass production of the "world's first flexible OLED panel for smartphones." "The flexible display market...
U.S. market research and consulting firm NPD DisplaySearch has released its latest Monthly Tablet PC Panel Shipment Value Chain Report for July 2013, indicating an 8 percent rise over June shipment figures. And according to the data, the increase came from shipments of 7" panels, now 49 percent of all shipments, and of no-brand budget tablet models. White-box devices now accounted for 59 of all 7" panels and 43 percent of all tablet PC panel shipments, according to the report. "It's been increasingly challenging for Apple, Samsung, and other name brands to gain greater market share because low-priced private-label brands continue...
Why is there still no good Android alternative to the iPod Touch? I last posed this question over two years ago, when Apple's imposition of the 30% fee policies to apps with stores first caused me to question whether it was worth staying with the platform. At the time, there just weren't any good options, though the Galaxy Player on the horizon looked promising. At the moment, there still aren't (though plenty of people have been calling for one). My iPod Touch is getting pretty long in the tooth, and I'd like to replace it with an Android device....
After the triumph of the generic 7-inch tablet as everyone's favorite cheap digital companion, we now are seeing manufacturers, and especially Android OEMs, pushing in the opposite direction, with ever larger devices. Samsung, virtual creator of the phablet category with its Galaxy Note devices, is now upping the ante even further with reports of a huge Galaxy Note 12.2 device, larger than most actual tablets. Acer, meanwhile, as reported on Slashgear, has just announced in time for the IFA Consumer Electronics show in Berlin an even huger 24-inch all-in-one Android desktop, the DA241HL, running on a NVIDIA Tegra 3 chip, the same...