More on TechnologyTell: Gadget News | Apple News
Posts tagged
review
If you type the words into Google, you'll find that random story generator sites are everywhere on the Internet. It seems like people have discovered the randomness of computers can help them shuffle up a bunch of basic archetypes and come up with a plot outline they can write to. But there's a set of random story generation tools out there that pre-date the Internet by most of a century—and while not as old as some people claim they are, they're nonetheless old enough, and well-used enough, that they can make a great tool in any writer's toolbox. I'm talking about...
Undead & Unbound: Unexpected Tales From Beyond the Grave, put together by the horror and dark fiction authors and serial anthologists Brian M. Sammons and David Conyers, is anything but your usual grab-bag of selfies from the zombie apocalypse that fill the horror aisles these days. No surprise when it comes from Chaosium Inc., a publishing house that won its stripes producing rulebooks for the Call of Cthulhu roleplaying game before expanding further into horror fiction. The various revenants and walkers in these 19 tales include some of the most outre and genuinely disturbing I've encountered lately, though inevitably one...
I'm late coming to John Gilstrap, which is too bad. He's an excellent thriller writer. I burned through a couple of his Johnathan Graves books, and just finished Nathan's Run, which was his first published novel. Until I read the Afterward, I hadn't realized it has been a Banned Book, which made a review this week well-timed. The premise is that a 12-year old boy, Nathan Bailey, escapes from a juvenile detention center, killing a guard during the escape. What's interesting is that there's never any doubt about the murder. We know Nathan killed the guard. What we learn throughout the...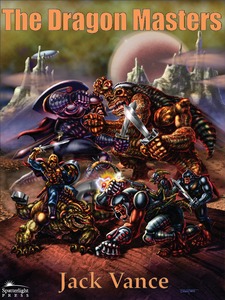 Thanks to Jack Vance, my early teens were haunted by dragonish monstrosities with such names as Termagants, Striding Murderers, Juggers, and Blue Horrors. These weren't drawn from a young adult story, but from one of Vance's most concentrated, intensely imagined and effective evocations of a place and above all, a society, very remote from ours, in time, space, and mindset. "The Dragon Masters" was one of the classics that consolidated his early reputation, and it has worn very well with time. Note that this book is an example of how mutable the standards of story length can be, as well as the...
It's my last week of summer vacation, and I'll be spending it planning for the coming school year. I have been delighted to find a growing niche of publishers that are targeting the back-to-school market with specialized e-book collections, and this e-book collection comes from one such publisher. Yesterday's Classics is part of a website called The Baldwin Project, which formats children's classics and offers them in print, via email subscription, or online as a plain-text website or interactive learning portal. The first 225 releases are available in Mobi or ePub, in a bundle that they were kind enough to provide for me to...
I got this book from the recent Humble Bundle, and I went into it expecting to like it. I was a huge "Star Trek" fan back in the day, and I never 'hated' Wesley Crusher the way some fans seemed to. I've also enjoyed his recurring bit part on "The Big Bang Theory," so I was expecting a fun read. And I got ... an OK read. My main issue was that although all of his stories were technically about separate incidents, the incidents all were about the same few themes, so they got tiresome. There was the "auditioning for a part if...
"Dust" is the final instalment in indie darling Hugh Howey's Silo Saga, which began with "Wool" in 2011 and concludes with this just-released title. I picked it up on release day because I enjoyed the previous two volumes and also because Hugh Howey sells his work free of DRM, and I am all for that! "Dust" picks up where the "Shift" omnibus left off, with Donald and his sister Charlotte hiding in Silo One and trying to unravel the end game for the silo folks, while Juliette struggles as mayor of an untrusting Silo 18. While Lukas, her lover, picks up...
Duolingo is a learning app that promised to 'gamify' language learning. As a language teacher, I was ready to roll! I downloaded the app, picked my desired language, and ... and I lasted about an hour before I was bored and annoyed. Sorry! The App Setup The app is set up with a series of short 'lesson' books, grouped into little branches of a tree. You can start with book one, or 'test out' and move onto the next unit by successfully completing a little mini-lesson. The main control panel also has a little sidebar that offers such useful information as how many...
[easyazon-image align="right" asin="B007BZOGLG" locale="us" height="160" src="http://ecx.images-amazon.com/images/I/513p2QfXaYL._SL160_.jpg" width="160"] Snugg contacted me last week about sending me one of their cases to review, and I just received it today. It's not the type of case I prefer (I don't like cases that cover the bevel), so I won't be using it, but I think my husband will like it just fine. I tested it on an iPad 4, but it should fit the iPad 2 and 3 just fine as well. The product description claims the case is leather, but it's really synthetic leather, which isn't a surprise considering the price. However, it feels...
Lynette Roberts (1909-1994), Welsh by name, descent, and election, in fact sprang from far more twisted roots than her association with the Dylan Thomas generation of modern Welsh poets might suggest. Although her two published books of poetry, "Poems" (1944) and "Gods with Stainless Ears" (1951),  were written in the small Welsh village of Llanybri, and weave Welsh scenes, history, myth, names and words into their texture, her pedigree is more that of a second Lisa St Aubin de Teran. She hailed from "Down Where The Moon Is Small" country, the Welsh community in Argentina, where her father was a prominent railway...
"In two almost incredibly full-packed volumes, one of the most gifted and searching of modern English novelists and critics has produced not only the magnification and intensification of the travel book form, but, one may say, its apotheosis." Thus the New York Times, via Wikipedia, on Rebecca West's "Black Lamb and Grey Falcon," published in 1941 and distilling the fruits of three tours of the Balkans in 1936-38 (it's careless to simply refer to this region as Yugoslavia now), as well as half a lifetime's worth of learning and writely experience. It has strong claims to be the greatest travel book...
Having taken advantage of the recent Best Buy trade-in program and securing myself a shiny new iPad, I found myself in need of a case. My old iPad 2 case didn't quite fit the fourth generation model. I like slim cases that don't cover the bezel, and I decided to try the Ridge model by Devicewear. While it's a decent case, it didn't 'wow' me. First, we'll start with the good stuff. It is slim and doesn't add much bulk or weight to the iPad. It's a bit bulkier than the Apple-branded Smart Case (which is what I ended up using instead),...