More on TechnologyTell: Gadget News | Apple News
Posts tagged
review
Joseph S. Pulver Sr. is one of the leading authors and editors in the modern dark/weird fiction genre constellation, and Blood Will Have Its Season was his first collection of short fiction. It instantly put the author on the map with its resonant title and its daring and experimental fusion of Surrealism and Expressionism with pulp and hard-boiled influences, as well as heady whiffs of Symbolist and Decadent prose and, of course, the cosmic horror of H.P. Lovecraft and Robert W. Chambers. It even has a foreword by S.T. Joshi, doyen of Lovecraftian studies. Renowned horror editor Ellen Datlow made eight out of...
You know how sometimes that thing you wanted without even realizing you wanted it comes along? That was my reaction when I received the email from 1 Voice about their new Bluetooth ear warmers. They sent me a sample, and I was eager to try them out, especially since temperatures have been dropping, and I wanted to continue my morning walks with an audiobook. How perfect would that walk be without worrying about ear buds? Unfortunately, although the product works exactly as advertised, they don't fit well on my head. However, they might be perfect for you. Let's start with the basics....
Some Android devices have micro-SD slots and some, like the Nexus 7, do not. If you listen to a lot of music or like to load video to your device, you know it's easy to run out of space. Without on-board expandable storage, what are your options? I just came back from a camping trip, and I used my HooToo TripMate Elite for streaming video to my iPad, but maybe you don't want to carry something so large, or you'd rather not be broadcasting your files on a WiFi connection. That's where the Inateck USB 4 Port Hub could come in...
Okay, yes, I admit the first time I saw this, my reaction was something like: weird steampunky fusion of tablet and mechanical spider. I don't know which of us started singing "Spider Thing" to the tune of "Spider Pig" from the Simpsons, but both my husband and I have had the theme running through our heads for days. Obligatory editorializing over, on to the review. As is obvious from the picture, the Tablift Tablet Stand is a  hands-free tablet stand, and it does work pretty much as advertised. I tested it with my iPad 4 in landscape orientation and my Nook HD...
I hadn't paid much attention to Google Play Books before. I'd installed and even paid for readers like Aldiko and Moon+ (TeleRead review), and snagged a couple freeish ones like UB Reader, but Play Books just sat in my app drawer, unused, like most of the pack-in Google apps. But when I came across this Lifehacker piece calling it "the best e-reader for Android," I figured it was worth trying out. And darned if I don't by and large agree. Offering a simple and easy-to-use reading interface and cloud reading-position sync with all books, Google Play Books is...
I've been a fan of RAVPower ever since they sent me a 14000 mAh external battery to review. So when they offered me a [easyazon-link asin="B00KKCQ7SC" locale="us"][2-in-1] RAVPower® Duo 7800mAh Portable Charger[/easyazon-link], I said, "Yes please!" It's ironic that it's described as great for camping, and they offered it to me a day before I was leaving for a camping trip, which meant it didn't arrive in time for me to use it. However, I can certainly see why it would a great camping accessory. I hadn't really clued in on the fact that it's cammo-colored, so I had a good chuckle when I...
One of the things I love most about the Android platform is the ability to use third-party keyboards, like SwiftKey, which has an uncanny predictive ability. Unfortunately, iOS doesn't allow third-party keyboards. The stock keyboard is okay, but it doesn't have crazy good prediction. The folks at SwiftKey have coded a work around called SwiftKey Note for iOS. It's a separate app, so you can't use it systemwide, but if you can live with the limitations of only using it in the dedicated app, it has utility. The app syncs seamlessly with Evernote, so if you use it, SwiftKey Note might meet...
I reported a few weeks ago that I had purchased an N2A card running Android KitKat for my Nook HD. I'd planned to use it for at least a week as my (close to) sole tablet and report back on my findings. I've now used it long enough to make some recommendations, and I made a few surprising discoveries along the way. The Nook wasn't quite my sole tablet. My iPad is just better for some tasks, but I used my N2A-running Nook enough to give it a good workout. I'll get my biggest objection out of the way first. It's not...
If you type the words into Google, you'll find that random story generator sites are everywhere on the Internet. It seems like people have discovered the randomness of computers can help them shuffle up a bunch of basic archetypes and come up with a plot outline they can write to. But there's a set of random story generation tools out there that pre-date the Internet by most of a century—and while not as old as some people claim they are, they're nonetheless old enough, and well-used enough, that they can make a great tool in any writer's toolbox. I'm talking about...
Undead & Unbound: Unexpected Tales From Beyond the Grave, put together by the horror and dark fiction authors and serial anthologists Brian M. Sammons and David Conyers, is anything but your usual grab-bag of selfies from the zombie apocalypse that fill the horror aisles these days. No surprise when it comes from Chaosium Inc., a publishing house that won its stripes producing rulebooks for the Call of Cthulhu roleplaying game before expanding further into horror fiction. The various revenants and walkers in these 19 tales include some of the most outre and genuinely disturbing I've encountered lately, though inevitably one...
I'm late coming to John Gilstrap, which is too bad. He's an excellent thriller writer. I burned through a couple of his Johnathan Graves books, and just finished Nathan's Run, which was his first published novel. Until I read the Afterward, I hadn't realized it has been a Banned Book, which made a review this week well-timed. The premise is that a 12-year old boy, Nathan Bailey, escapes from a juvenile detention center, killing a guard during the escape. What's interesting is that there's never any doubt about the murder. We know Nathan killed the guard. What we learn throughout the...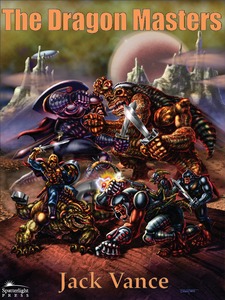 Thanks to Jack Vance, my early teens were haunted by dragonish monstrosities with such names as Termagants, Striding Murderers, Juggers, and Blue Horrors. These weren't drawn from a young adult story, but from one of Vance's most concentrated, intensely imagined and effective evocations of a place and above all, a society, very remote from ours, in time, space, and mindset. "The Dragon Masters" was one of the classics that consolidated his early reputation, and it has worn very well with time. Note that this book is an example of how mutable the standards of story length can be, as well as the...