More on TechnologyTell: Gadget News | Apple News
Posts tagged
publishing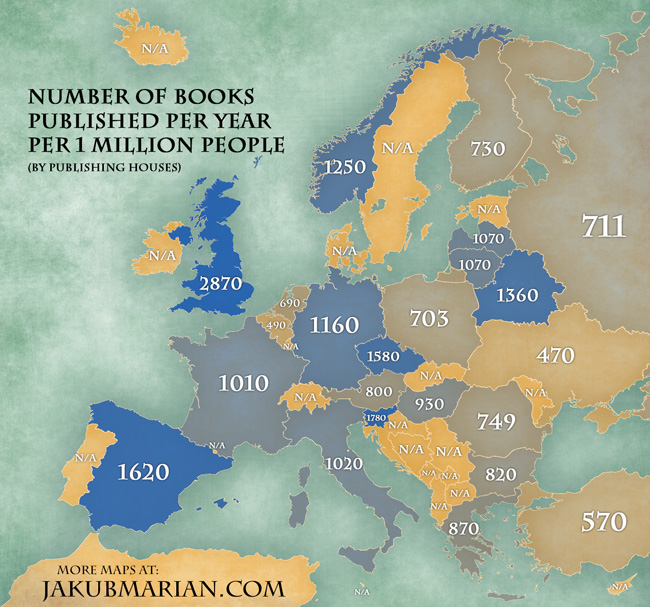 Two very interesting, and contrasting, maps just put online suggest some fascinating conclusions about current UK publishing, book selling, and reading habits. The first, apparently a one-man production from Jakub Marian, a Czech mathematician, linguist, and musician currently living in Germany, illustrates the "number of books published per year per capita by country in Europe." As Marian says, "I wasn't able to find a good source of information, so I decided to make one myself." Based on this map, you'd expect the Brits to be the most literate, cultivated nation in Europe. After all, their publishing turnout dwarfs the supposedly intellectual...
Why All Publishers Can and Should Go Direct-to-Consumer (Digital Book World) But all publishers can and should be developing D2C strategies, including—and especially—small and mid-size publishers focused on a specific category or niche. *** How Salon Tamed the Trolls and Saved its Online Comments (Digiday) Online comments sections are a double-edged sword for publishers. *** Your Guide to the 17 Journalism Conferences Worth Attending in 2015 (Media Shift) It's the new year, and you've just taken a long, hard look at your goals for the coming year. Get more work? Check. Learn new skills? Check. Make more money? Check. The thing is, all of these goals...
Sad to say, Egmont Publishing has had to close its US business after trying but failing to find a buyer. The official Egmont statement said: Egmont Publishing, which at $900 million is the largest division in the Denmark-based Egmont group, employing 2,400 people across 30 countries, has a new strategic focus, which is to invest in books and magazine businesses where Egmont can hold a leading market position. One of the outcomes has been the decision to exit the standalone position in the US market, which they entered in 2008. Attempts to sell Egmont USA since October 2014 have not resulted in...
Cory Doctorow came over to Budapest at the invitation of the Center for Media, Data and Society of Central European University to speak on policing computers and other issues. In the course of a fascinating interview with me, he shared a slew of observations on a great many issues, many of which I'll be presenting in subsequent articles. To begin with, though, here are his thoughts on where self-publishing has got to, and what the whole Amazon-Hachette spat reveals about the impact of DRM on the market. The most important thing that self-publishing does isn't merely enriching the people who succeed in...
A New York PR agency has decided to bridge the gap between publicizing their clients and actually repping for them by forming its own literary agency. Orchard Literary, part of Orchard Strategies, "is a Manhattan based literary agency that represents a select group of top experts and authors. In partnership with an award-winning public relations practice, Orchard Literary offers a unique environment for authors to build profiles and find exceptional literary representation." I'm not fully convinced of the inherent synergies in this arrangement. Literary agents are usually about far more than publicity, which is supposed to be what the publisher's marketing...
Daniel Menaker, "longtime book editor," has shared a paean in Slate "In praise of the publishers who move units and readers." And after the "15 years I was at Random House, almost five of them as editor-in-chief," he's naturally in a position to know whereof he speaks. Intimately. Cosily. Among many objections that Menaker has to the zeitgeist is the opinion Barry Eisler, who told the Guardian that the signatories of the Authors United letter to Amazon were in "the top 1 percent" who "have no interest at all in improving publishing for everyone. Only in preserving it for themselves." Menaker insists...
New York-based debating circle with Intelligence Squared U.S. (IQ2US), bringing you "Oxford-style debates live from New York City," has put up an alert for a soporific and unprovocative little debate to open 2015, on the topic of: "Amazon Is The Reader's Friend." That ought to elicit absolutely no controversy or attention whatsoever ... The IQ2 introduction to the proposition reads: In late 2014, Amazon and the publishing house Hachette settled a months-long dispute over who should set the price for e-books. In Amazon's view, lower prices mean more sales and more readers, and that benefits everyone. But for publishers, the price of an e-book...
Publish and They Will Come...Right? (Digital Book World) Creating awareness is the most fundamental and crucial step in the book discovery process–and it is a process; discoverability does not end there. *** How Middle School Reading Lists Have Evolved Since 100 Years Ago (GalleyCat) Annie Holmquist over at BetterEd.org dug up the curriculum manual from a 1908 middle school reading list to compare it with modern reading lists. *** Libraries Loan Out 105 Million eBooks in 2014 (GoodeReader) Libraries that do business with Overdrive loaned out 137 million digital assets in 2014, which is a 33% increase from 2013. *** Industries That Are Ripe for Disruption (The...
A half-dozen articles on the publishing industry's 'growing pains' crossed my RSS feed this morning. I guess the new year has everyone feeling introspective, and the short version is that people are tired. Too many shifts in the business model. Too many trends coming and going, and authors try g to cash in on those trends with a glut of books. There are authors who are trying to reach new readers via bargain-priced subscription services. There are others who try and reach existing audiences through programs like Kindle Worlds, which publish within existing fictional universes. Some authors claim that quality is,...
Simply Producing More Books Isn't the Answer (Brave New World) It was simple when we only had the physical book. The market was controlled by the shelf space available, the cost of the inventory and the rate of purchases. *** What's Next for B&N Nook in 2015? (GoodeReader) Barnes and Noble have been bringing in a number of people from outside the traditional book-selling industry, such as former Zinio executives Doug Carlson and Jeanniey Mullen. *** eBooks in 2015: Dull New World (GigaOM) Ebooks are feeling a bit hungover heading into the new year. The 50 Shades of Grey exuberance of 2011 and 2012 feels long...
Just in case any readers out there still needed to be walked through the intricacies of how books get published in the old-fashioned way, here's a handy step-by-misstep guide to how it all happens pre-digital disruption, courtesy of Mariah Bear and publisher Weldon Owen. And although I do wonder why the marketing and distribution departments are mostly left out of the equation, I'm not surprised to see that Big Publishing is effectively one of the world's biggest ultimate producers of cheese. I knew there had to be a rational explanation for that strong smell wafting out of the remainder stores ... Read....
A very depressing article in the UK Guardian sees out the old year - depressing because it suggests that many intelligent and cultured journalists and pundits have still not got their heads around what ebooks are about and are swallowing the dumb headlines that serve Big Media. Recounting "A heart-warming twist in the tale of the books industry," Peter Preston declares that: "The most fascinating and, in many ways, cheering story of 2014 is almost wholly counterintuitive: the survival of the printed book. Turning pages back from digital grave shock! Legacy longform wins fight for life!" I'm sorry, but who here...