More on TechnologyTell: Gadget News | Apple News
Posts tagged
publishing
Academy Awards 2015: Top 10 Works in WorldCat By Oscar Nominees in Five Categories (InfoDocket) More interesting (and fun) "WorldCat Mining" from the team at OCLC Research in a new "What in the WorldCat" post. *** Have We Figured Out What We Want in a Smartwatch Yet? (GigaOM) Next month will be the one-year anniversary of Google's smartwatch platform introduction. And the month after that will see the Apple Watch ship to its first buyers. *** My Thoughts on Amazon Debate (Joe Konrath) According to those voting in the audience, my side (Amazon is for readers) lost 43% to 50%. According to the online poll, we...
The Two Sides of SEO for Book Publishers (Digital Book World) Here's a scenario: A reader hears about a book you publish from someone they trust. They decide they want to buy it and read it. So how do they find it? *** Toy Fair 2015: Toy Stores Add More Books to the Mix (PW) Publishers represent a small slice of the landscape at the New York International Toy Fair, accounting for less than 30 out of the 1,000-plus exhibitors in the 2015 edition. *** How to Compete with Cheap Freelancing Sites When You're a Professional (Lifehacker) Thanks to online talent platforms like Fiverr, it's...
10 Strategies for Snow Day Reading (Book Riot) A snow day may mean working from home, wrangling restless kids, or a long binge-watching session on Netflix. But if you decide to go the reading route for your snow day, here are 10 ways to make it work and keep cabin fever at bay. *** Digital Publishers Turning Away from Replica Magazines (GoodeReader) Digital magazines and newspapers have long fallen victim to the replica syndrome that once plagued ebooks. As mere digital copies of the print original, these versions simply weren't taking advantage of all that the technology had to offer. *** Librivox Wants You to...
Secondhand Downloads: Are Used eBook Sales Coming? (Ink, Bits & Pixels) I know that's not the fiery response some might expect, but after watching the ebook market for the past 5 years I've come to believe that there's little or no market pressure for the resale of digital content. *** Why Publishers Are Obligated to Make Content Available Globally (Digital Book World) And while worldwide distribution is an often misunderstood yet market-changing feature of today's bookselling world, doing it well is actually far more important than it sometimes needs. *** In Defense of Self-Publishing (Media Shift) There are so many op-eds these days on when or if...
Are e-Book and Print Sales Cycles Different? (GoodeReader) Nielsen BookScan is likely the best source for garnering meaningful data on the traditional publishing industry and e-books. The company gleans its e-books data from companies such as Amazon, Barnes & Noble, and Books-a-Million. *** Five Sites to Help You Find Your Next Read (Ink, Bits & Pixels) It's long been said that readers don't have a problem with finding their next book, but given the number of sites that have set out to solve that problem I'm not so sure that's true. *** Can a Cheap Windows Tablet Replace Your Desktop? (Gizmodo) I have no idea how...
Three Direct-to-Consumer Steps Every Publisher Can Take (Digital Book World) In this post I'll break down the components of a direct-to-consumer operation that gives readers a clear, compelling reason to buy directly from you as well as the means to do so: discovery; e-commerce and fulfillment; and engagement. *** Reading Diversely FAQ, Part 4 (Book Riot) I don't want to start this out on a sour note, but I'm going to say this so we all understand: This-is-not-political. *** Where Libraries Are Sited Is As Important As What They Do? (Brave New World) So what has the changing retail habits and property mix got to do with...
In today's Morning Links, I highlighted an interesting post from Dear Author on the subject of book prices and their relation to 'value.' It was an interesting question to me because I've just read a whole series of books on Kindle publishing which seem to take the total opposite view---they promote books not as an art form per se, but as a service. Let me explain. These books are all aimed at nonfiction authors, and their premise is that if you break up your longer book into several smaller ones, you'll have several advantages. On the business side, more books is...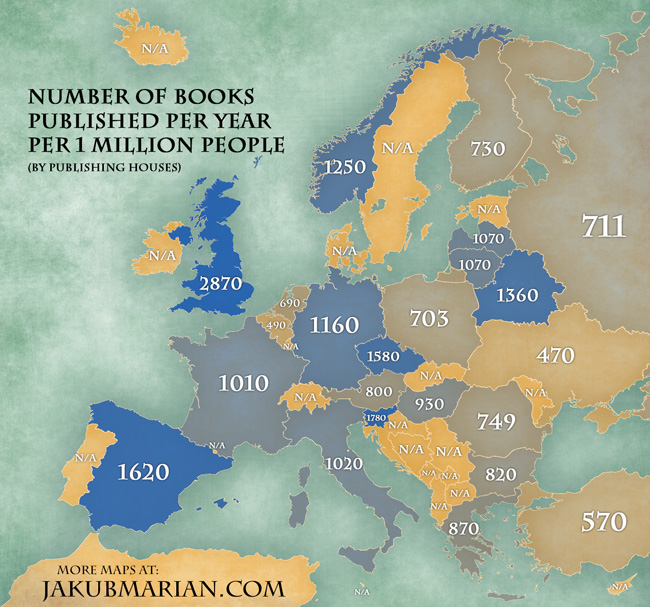 Two very interesting, and contrasting, maps just put online suggest some fascinating conclusions about current UK publishing, book selling, and reading habits. The first, apparently a one-man production from Jakub Marian, a Czech mathematician, linguist, and musician currently living in Germany, illustrates the "number of books published per year per capita by country in Europe." As Marian says, "I wasn't able to find a good source of information, so I decided to make one myself." Based on this map, you'd expect the Brits to be the most literate, cultivated nation in Europe. After all, their publishing turnout dwarfs the supposedly intellectual...
Why All Publishers Can and Should Go Direct-to-Consumer (Digital Book World) But all publishers can and should be developing D2C strategies, including—and especially—small and mid-size publishers focused on a specific category or niche. *** How Salon Tamed the Trolls and Saved its Online Comments (Digiday) Online comments sections are a double-edged sword for publishers. *** Your Guide to the 17 Journalism Conferences Worth Attending in 2015 (Media Shift) It's the new year, and you've just taken a long, hard look at your goals for the coming year. Get more work? Check. Learn new skills? Check. Make more money? Check. The thing is, all of these goals...
Sad to say, Egmont Publishing has had to close its US business after trying but failing to find a buyer. The official Egmont statement said: Egmont Publishing, which at $900 million is the largest division in the Denmark-based Egmont group, employing 2,400 people across 30 countries, has a new strategic focus, which is to invest in books and magazine businesses where Egmont can hold a leading market position. One of the outcomes has been the decision to exit the standalone position in the US market, which they entered in 2008. Attempts to sell Egmont USA since October 2014 have not resulted in...
Cory Doctorow came over to Budapest at the invitation of the Center for Media, Data and Society of Central European University to speak on policing computers and other issues. In the course of a fascinating interview with me, he shared a slew of observations on a great many issues, many of which I'll be presenting in subsequent articles. To begin with, though, here are his thoughts on where self-publishing has got to, and what the whole Amazon-Hachette spat reveals about the impact of DRM on the market. The most important thing that self-publishing does isn't merely enriching the people who succeed in...
A New York PR agency has decided to bridge the gap between publicizing their clients and actually repping for them by forming its own literary agency. Orchard Literary, part of Orchard Strategies, "is a Manhattan based literary agency that represents a select group of top experts and authors. In partnership with an award-winning public relations practice, Orchard Literary offers a unique environment for authors to build profiles and find exceptional literary representation." I'm not fully convinced of the inherent synergies in this arrangement. Literary agents are usually about far more than publicity, which is supposed to be what the publisher's marketing...