Posts tagged
Paul Biba
One of the most common complaints about e-books is that you can't do as much with them when the power goes out. Well, our former editor Paul Biba has been caught without power in the aftermath of Hurricane Sandy, and has found that, within limits, e-reading can work just fine without a steady source of electricity.  (Hat tip to Nate Hoffelder for pointing this post out to me in e-mail.) While he limited himself to paper book reading during the day, Paul found he could read from his Kindle PaperWhite after dark with the light on very easily. He reported reading...
Well, it's been a good run, but it's also time to move on.  According to the WordPress back end I've done 6,092 posts,  My first post was on July 9, 2007  and my first comment was on September 9, 2006.  The post was a review of the new, industry-changing Sony Reader and the comment was on using a Palm TX as an ereader. I'd like to thank all our readers and especially those who have been regular commenters and have helped make TeleRead into a community.  I would also like to thank those individuals who have let me reprint posts from...
I'm upgrading my FIOS internet service tomorrow.  Currently I'm on a 35/35 fiber connection and tomorrow Verizon will be upgrading to a 150 Verizon Quantum connection.     This involves replacing the router, changing the coaxial cable in the house to ethernet, changing the outside box at the house and then working on the box on the pole at the street.  My involvement may be necessary so I might not be available to post.  If I am available, I can use my Verizon 4G iPad to tether to my computer so I can work away while my home internet is down....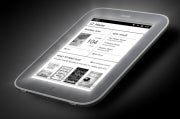 The reviews keep on getting better and better. From Macworld:Barnes & Noble has made the best e-reader currently available even better by integrating a light source into it. Priced at $139, the Nook Simple Touch with GlowLight E Ink-based e-reader sets the standard for silky-smooth reading and shopping. And even better, you can enjoy reading it wherever you happen to be, whether you're lounging on the lawn in bright sunlight, or sitting under the covers with little...
Dquarium's Bibliotech is an audio interview platform devoted to library topics. They just put up an interview with David Rothman, author-journalist-blogger and founder of TeleRead.com and Librarycity.org, who talks about ebooks, why Overdrive should sell itself to a library consortia, the Digital Public Library of America (DPLA) initiative, surviving Amazon's surge and more. Aditionally, Dquarium has interviews with TeleRead contributor Sue Polanka, Head of Reference and Instruction at Wright State University Libraries and Editor/Blogger of the No Shelf Required book series/blog, who talks about ebooks and their future in our libraries, streaming of econtent, Amazon's meteoric rise and more, and Editor-in-Chief Paul Biba,...
Still without power and may be in this condition for the rest of the week. It's interesting how WiFi is of little help in this situation. The local Starbucks, and other WiFi hotspots, are jammed and one simply can't get in. The local library is also packed and the WiFi is completely overloaded. No help there.Aside from the lack of power, I'm on a well so I have no water, as well as no heat. Of course, recharging my laptops, or this 3g iPad and my phone, is problematical. I just was able to find a small...
I'm caught in the major New Jersey power outage which resulted from Saturday's snowstorm.  Power has been out since Saturday afternoon and no projections as to when it will be restored. Postings will probably be limited until the problem is cured....
Sitting here in New Jersey, 40 miles due west of New York City, on a couple of acres of ground with a lot of trees and nature stuff, I've brought in my summer outdoor plants, secured the barbeque, filled the washing machine and bathtub with water, and done all sorts of other arcane things to prepare.  But I never thought about the horror of this, as pointed out by The Borowitz Reoprt: As Hurricane Irene prepared to batter the East Coast of the United States, federal disaster officials warned that Internet outages caused by the storm could force people to...
Hello, I'm back.  Many thanks to Chris Walters for taking the laboring oar while I was away.  And where was I while I was away?  I was traveling cross country on my BMW K1200LTC.  It's something I've always wanted to do and I figured that I better do it soon, because I'm getting to the age when you can't count on things remaining status quo. I covered 7,473 miles on the trip to San Francisco and back.  I started here in New Jersey, went down the Skyline Drive and part of the Blue Ridge Parkway and then cut north.  I had...
You won't be seeing too much of me here for the next 4 to 6 weeks.  I will return to regular posting after that time. In the meantime, we've arranged for Chris Walters to take over the daily posting duties, along with Chris Meadows of course.  Chris Walters runs the excellent BookSprung blog and we have regularly picked up Chris' posts. Welcome Chris, and I'll see all of you in a month or so. If you follow the site on Twitter, just keep doing so.  All postings will continue to be tweeted under the current @paulkbiba user name....
I know how TeleRead's readers feel about privacy so I've asked our owners, North American Publishing Company (NAPCO), to provide a detailed explanation of how our new commenting system will work.  One important take-away is that you can still participate in comments but bypass the new system if you post your comment as a Guest.  Here's what they say: You likely have noticed a new share toolbar, social sign-on functionality and commenting system we are testing. It is done through a company called Gigya, which powers many websites such as Reuters, USA Today and CBS.com. We have implemented the new website social...
Finally got ahold of an iPad 2 - 16G, AT&T 3G model.  Compared to my original iPad it is a huge improvement and I think it was well worth spending the money. Here are some of my thoughts on the unit: I got the AT&T version because I have a Verizon iPhone and can tether the iPad to that.  If I can't get Verizon service I can then fire up the AT&T 3G and so I will always have coverage.  And vice versa, of course.  It is not easy to find wifi in my town and so 3G is a necessity...