More on TechnologyTell: Gadget News | Apple News
Posts tagged
Nook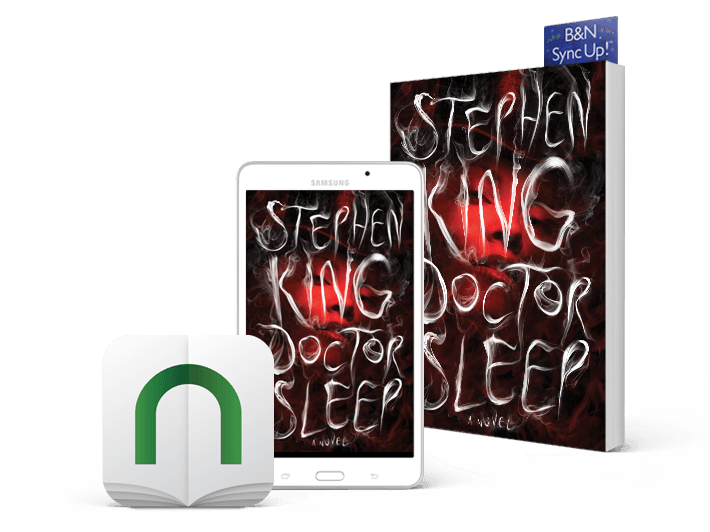 Barnes & Noble has introduced another service to lever off its bricks-and-mortar presence into greater ebook market share with the rollout of B&N Sync Up, which offers ebook pairings with a selected series of paperback titles - but for an additional $4.99. "Buy the paperback, get the eBook for $4.99. Keep both or gift either," explains the B&N site. "Choose from select paperbacks including The Secret Life of Bees, The Brief Wondrous Life of Oscar Wao, A Discovery of Witches, and dozens more — all at your local B&N store. Keep one, share one — great for gift-giving." Titles in the program...
I'm hesitant to believe this story Nate's reporting, even after clicking the links and reading the sources for myself. How could anyone in the modern e-book market be this dumb? But the writing seems to be on the wall. Barnes & Noble has removed the "Download" button from its e-book library,  [Update: Nate's posted another piece indicating B&N cited "security" as the reason for the change.] It's no longer possible to download a book directly from the B&N web site to your hard drive by saving it from your B&N e-book library through your browser. And that...
A Case for Old-School Values is a Click-Driven Journalism Landscape (Media Shift) I'd argue though that the smartest bets in media are going to be companies that fulfill the best values of traditional journalism through the means and necessities of the new digital landscape. *** People Still Love Their Sony eReaders (GoodeReader) Why are readers so enamored with a company that have completely abandoned the consumer sector? A number of users have weighed in from all four corners of the internet. *** Charting Nook's Decline (Digital Book World) What was once thought to be the only credible challenger to Amazon's dominance of the ebook business in the...
Roundup: Galaxy Tab 4 Nook Reviews (The Digital Reader) Unfortunately for both B&N and for potential buyers, there weren't very many blogs interested in writing a review for this tablet. I only found 5 actual reviews (not counting the fake review posted by Publishers Weekly), which is far fewer than the dozen reviews I found for the Fire Phone. *** Apple Partnering With American Express On New iPhone Payments System (re/code) Apple has reached an agreement with American Express to work together on its new iPhone payments system, according to sources familiar with the talks. American Express is one of several partners Apple will need...
I wandered over to my local Barnes & Noble to play with the Samsung Galaxy Tab Nook and see what I thought. Nate at The Digital Reader actually bought one, so if you have questions or want to see what he has to say, pop over to his post. I'll start with the good. It's a nice looking device, and the screen is better than I expected. The pixel density is supposed to be lower than the Nood HD, but in a side-by-side comparison, I didn't notice a difference. The screen brightness is impressive. The store's Nook was set at less than...
The Evolution of the Barnes & Noble Nook-- in Pictures (GoodeReader) Today, we are going to take down memory lane and look at every single model they ever released and talk about important milestones. *** San Francisco Creates Reddit Book Recommendation Wall (GalleyCat) Reddit user Severitis has taken inspiration from the site and used it to curate a wall of books at the small bookstore that she works at in San Francisco. *** Before You Make a Fixed-Layout eBook: Five Things to Watch Out For (Digital Book World) So you want to make a fixed-layout ebook. For starters, are you sure? *** Four Questions for...Hugh Howey (PW) With the Amazon-Hachette...
A widely quoted report in the New York Times details a partnership between Barnes & Noble and Google to create a same-day book delivery service utilizing Google Shopping Express. According to the report, "book buyers in Manhattan, West Los Angeles and the San Francisco Bay Area will be able to get same-day deliveries from local Barnes & Noble stores through Google Shopping Express." Barnes & Noble is already up on the icon panel of Google Shopping Express partners. With the Amazon/Hachette spat still unresolved, the NYT unsurprisingly chooses to put an anti-Amazon spin on this news, claiming that "Amazon poses a...
Barnes & Noble Launches Nook Glowlight in UK (GoodeReader) Barnes and Noble has just launched their Nook Glowlight e-Reader in the UK for £89. It will be available this week at Argos, Currys/PC World, John Lewis, Sainsbury's, ASDA and bookshop chain Foyles. *** More than 20,000 People Are Now Suing Facebook in Europe Over Privacy (GigaOM) An Austrian "class action" suit against the social network is proving very successful in picking up participants — so much so that the suit's organizers will soon impose a cap so they can process applications. *** Amazon to Challenge Convenience of Local Bookstores with Same-Day Delivery in Six Major Cities...
Why the Aereo Shutdown Will Be a Disaster for Broadcast TV (re/code) But when I finally heard that the Supreme Court had shut down the groundbreaking digital video system, I was amazed by how universally joyful TV broadcasters and distributors were about the ruling and ensuing shutdown. Too bad they weren't in Anaheim with me, because despite Aereo's now-illegal Rube Goldberg-esque transmission technology, it offered a distinctive and revolutionary way for broadcast TV to remain relevant to younger viewers. *** Media Bias and Amazon (David Gaughran) There is so much crap being spouted in this anti-Amazon media push that you need a nose-peg and...
According to the Wall Street Journal, Barnes & Noble is going to split off Nook into a separate division. Barnes & Noble Inc. said it would pursue a split of its retail and Nook e-reader businesses into two separate public companies, the next chapter in its bid to shore up its foundering business as readers' book-buying habits evolve. The bookseller said it plans to complete the separation by the end of the first quarter of the next calendar year. This hardly comes as a surprise. If you've been following B&N news at all, you've seen that they've had several bad years in a row, and...
That's a serious headline. It's not intended as click-bait, and I'm not going on a rant about how evil Barnes and Noble is or how I'll never buy anything from them again. I just won't buy more Nook books. (I'm quite willing to buy a future Nook device, assuming it's good. I love my Nook HD.) I've been meaning to write this story for more than a week, but I got distracted by the whole Amazon/Hachette thing and hesitated to publish this because of the timing. Finally, I decided "what the heck," especially after Chris' excellent piece on why DRM isn't...
Barron's has an article by Andrew Bary (paywalled; bypass with Google News) suggesting that Barnes & Noble stock is currently badly underpriced. Trading around $18 right now, Bary argues, B&N could be worth $36 based on the value of the company's assets alone, especially if B&N follows through on cutting its losses (especially with regard to the Nook) and improving efficiency. What benefits might accrue to B&N shareholders? Bary suggests B&N could split up into three separate companies—bookstores, college bookstores, and Nook—though given the improvements to Nook's bottom line, this might be unlikely to happen any time soon. Or...