Posts tagged
Nook
Simply Producing More Books Isn't the Answer (Brave New World) It was simple when we only had the physical book. The market was controlled by the shelf space available, the cost of the inventory and the rate of purchases. *** What's Next for B&N Nook in 2015? (GoodeReader) Barnes and Noble have been bringing in a number of people from outside the traditional book-selling industry, such as former Zinio executives Doug Carlson and Jeanniey Mullen. *** eBooks in 2015: Dull New World (GigaOM) Ebooks are feeling a bit hungover heading into the new year. The 50 Shades of Grey exuberance of 2011 and 2012 feels long...
I Wouldn't Pay Any Attention to the Rumor About Walmart Buying Nook (The Digital Reader) A juicy rumor crossed my desk this evening which is bound to get a lot of attention in the next few days. After looking into its provenance I am reasonably convinced that this rumor is completely bogus, but its origin is interesting enough that I wanted to share it. *** Dear The Toast and The Butter: Please Fix Your Rights Grab (UPDATE: They Did) (John Scalzi) Writer Beware has posted a heads up for writers with regard to Web sites The Toast and The Butter, and the rights they...
Four Ways Publishers Should Rethink Author Partnerships (Digital Book World) It's an argument we've heard before: publishers must take a fresh look at their partnerships with authors, lest they lose them the proliferating number of self-publishing services and platforms. *** Amazon's Bezos Thinks eBooks Make the Book Industry Healthier (GigaOK) "The book industry is in better shape than it ever has been and it's due to ebooks," Amazon CEO Jeff Bezos told an audience on Tuesday in a wide-ranging interview that addressed the company's drone plans, its campus culture and its indifference to pain of short-term shareholders. *** Gifting Books? Expert Tips from a Children's Book...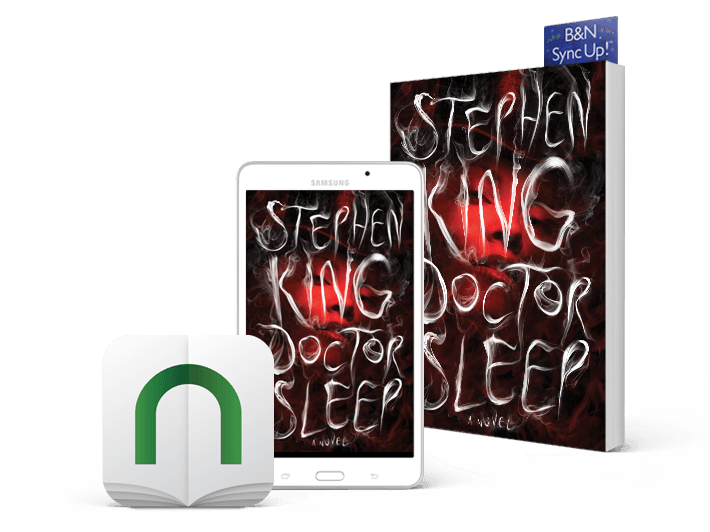 Barnes & Noble has introduced another service to lever off its bricks-and-mortar presence into greater ebook market share with the rollout of B&N Sync Up, which offers ebook pairings with a selected series of paperback titles - but for an additional $4.99. "Buy the paperback, get the eBook for $4.99. Keep both or gift either," explains the B&N site. "Choose from select paperbacks including The Secret Life of Bees, The Brief Wondrous Life of Oscar Wao, A Discovery of Witches, and dozens more — all at your local B&N store. Keep one, share one — great for gift-giving." Titles in the program...
I'm hesitant to believe this story Nate's reporting, even after clicking the links and reading the sources for myself. How could anyone in the modern e-book market be this dumb? But the writing seems to be on the wall. Barnes & Noble has removed the "Download" button from its e-book library,  [Update: Nate's posted another piece indicating B&N cited "security" as the reason for the change.] It's no longer possible to download a book directly from the B&N web site to your hard drive by saving it from your B&N e-book library through your browser. And that...
A Case for Old-School Values is a Click-Driven Journalism Landscape (Media Shift) I'd argue though that the smartest bets in media are going to be companies that fulfill the best values of traditional journalism through the means and necessities of the new digital landscape. *** People Still Love Their Sony eReaders (GoodeReader) Why are readers so enamored with a company that have completely abandoned the consumer sector? A number of users have weighed in from all four corners of the internet. *** Charting Nook's Decline (Digital Book World) What was once thought to be the only credible challenger to Amazon's dominance of the ebook business in the...
Roundup: Galaxy Tab 4 Nook Reviews (The Digital Reader) Unfortunately for both B&N and for potential buyers, there weren't very many blogs interested in writing a review for this tablet. I only found 5 actual reviews (not counting the fake review posted by Publishers Weekly), which is far fewer than the dozen reviews I found for the Fire Phone. *** Apple Partnering With American Express On New iPhone Payments System (re/code) Apple has reached an agreement with American Express to work together on its new iPhone payments system, according to sources familiar with the talks. American Express is one of several partners Apple will need...
I wandered over to my local Barnes & Noble to play with the Samsung Galaxy Tab Nook and see what I thought. Nate at The Digital Reader actually bought one, so if you have questions or want to see what he has to say, pop over to his post. I'll start with the good. It's a nice looking device, and the screen is better than I expected. The pixel density is supposed to be lower than the Nood HD, but in a side-by-side comparison, I didn't notice a difference. The screen brightness is impressive. The store's Nook was set at less than...
The Evolution of the Barnes & Noble Nook-- in Pictures (GoodeReader) Today, we are going to take down memory lane and look at every single model they ever released and talk about important milestones. *** San Francisco Creates Reddit Book Recommendation Wall (GalleyCat) Reddit user Severitis has taken inspiration from the site and used it to curate a wall of books at the small bookstore that she works at in San Francisco. *** Before You Make a Fixed-Layout eBook: Five Things to Watch Out For (Digital Book World) So you want to make a fixed-layout ebook. For starters, are you sure? *** Four Questions for...Hugh Howey (PW) With the Amazon-Hachette...
A widely quoted report in the New York Times details a partnership between Barnes & Noble and Google to create a same-day book delivery service utilizing Google Shopping Express. According to the report, "book buyers in Manhattan, West Los Angeles and the San Francisco Bay Area will be able to get same-day deliveries from local Barnes & Noble stores through Google Shopping Express." Barnes & Noble is already up on the icon panel of Google Shopping Express partners. With the Amazon/Hachette spat still unresolved, the NYT unsurprisingly chooses to put an anti-Amazon spin on this news, claiming that "Amazon poses a...
Barnes & Noble Launches Nook Glowlight in UK (GoodeReader) Barnes and Noble has just launched their Nook Glowlight e-Reader in the UK for £89. It will be available this week at Argos, Currys/PC World, John Lewis, Sainsbury's, ASDA and bookshop chain Foyles. *** More than 20,000 People Are Now Suing Facebook in Europe Over Privacy (GigaOM) An Austrian "class action" suit against the social network is proving very successful in picking up participants — so much so that the suit's organizers will soon impose a cap so they can process applications. *** Amazon to Challenge Convenience of Local Bookstores with Same-Day Delivery in Six Major Cities...
Why the Aereo Shutdown Will Be a Disaster for Broadcast TV (re/code) But when I finally heard that the Supreme Court had shut down the groundbreaking digital video system, I was amazed by how universally joyful TV broadcasters and distributors were about the ruling and ensuing shutdown. Too bad they weren't in Anaheim with me, because despite Aereo's now-illegal Rube Goldberg-esque transmission technology, it offered a distinctive and revolutionary way for broadcast TV to remain relevant to younger viewers. *** Media Bias and Amazon (David Gaughran) There is so much crap being spouted in this anti-Amazon media push that you need a nose-peg and...