Posts tagged
Neil Gaiman
Celebrated British novelist Ian McEwan has given a magisterial commencement address at Dickinson College in support of the principle of free speech in general, of Charlie Hebdo in particular, and against those fellow writers who withdrew from the PEN America Center gala held to award its Freedom of Expression Courage Award to Charlie Hebdo. The address has been posted up as a video and a full transcript by Time Magazine here, and as a video by Huffington Post here. I won't bother copying and pasting the whole text, which is available to all. McEwan's address on the genesis and importance of...
After the earlier withdrawal by six authors from a presentation hosted by PEN America of its Freedom of Expression Courage Award to Charlie Hebdo, some new authors have stepped up to the plate - including Neil Gaiman and Art Spiegelman. The award itself will now be presented by French-Congolese author and Man Booker International Prize 2015 finalist Alain Mabanckou. Gaiman himself sent an email to the New York Times, stating: "The Charlie Hebdo PEN award is for courage. The courage to work after the 2011 firebombing of the offices, the courage to put out their magazine in the face of murder. If...
Since the extremely talented Simon Strantzas has graced us with a very unsettling Christmas special, "Making Merry," I thought that this was a good time to pick up on a couple of modern classics of free festive fear. Or Gratis Gibbering Ghoulishness. That's modern, because free out-of-copyright chilling Christmas classics are more plentiful than Jacob Marley's chains. And there are those who maintain that this habit of mixing horror with your holly and terror with your turkey is very much a Brit thing, foreign to Americans - although that I doubt. So, for others who do want to shiver under...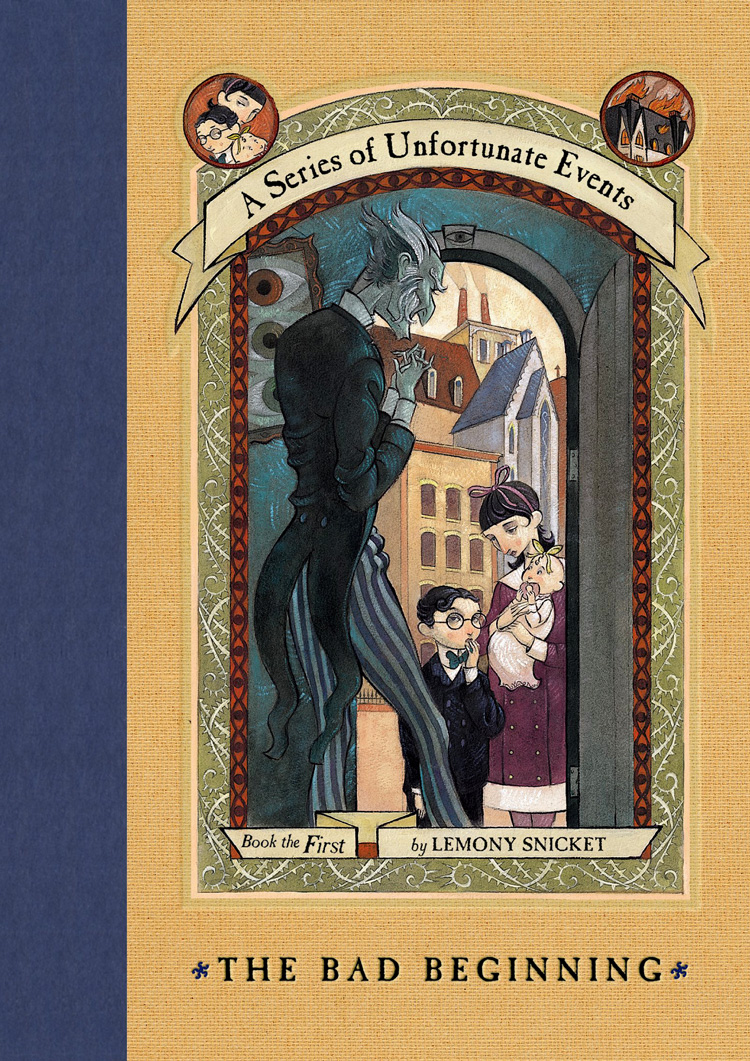 Daniel Handler, better known as Lemony Snicket, turned what should have been a respectful, respectable, but otherwise fairly routine presentation ceremony for the National Book Awards into a social media tempest through a more-than-off-color inadvertent quip about watermelons and Jacqueline Woodson. The National Book Foundation has already posted its own response, stating that "at the National Book Awards, comments were made by the master of ceremonies which were entirely inappropriate, were not authorized by the National Book Foundation and which do not in any way represent the views of this organization. We regret the incident and apologize to all offended by...
What makes a great writer? How about the forbearance and humility to stand in Washington Square on a freezing morning and give away free books to a random crowd of the reading public? Because that's what Neil Gaiman and Daniel Handler (a.k.a. Lemony Snicket) did for the National Book Foundation's Great Book Giveaway, organized with the Uni Project, "a nonprofit committed to increasing access to books and learning opportunities through pop-up, open-air reading rooms," and featuring a free distribution of the finalist titles in the 2014 National Book Awards, "as well as books by Daniel and Neil which they graciously...
The newly launched Arts Council of England magazine Create, for all the issues around its basic premise, has garnered material from some very significant creative figures, Neil Gaiman being one of them. He took the opportunity, in the course of a long interview with Toby Litt in the magazine (available to read in full here), to speak about writing, reading, and libraries, and the importance of the latter in education and general development. After recounting his love of libraries from his first experiences of them at age three or four, Neil Gaiman noted "I've probably been in about six or seven hundred libraries...
The ever-more-serious UK comedian Russell Brand will deliver this year's Reading Agency lecture, "'a manifesto on reading" and the third lecture since the inception of the series in 2012, as well as the first one to be open to ticket-holding members of the public. "The Reading Agency lecture is a fundraising event, proceeds from which support the charities' core mission, to get and keep the nation reading," as The Reading Agency's materials declare. Previous speakers in the series were Jeanette Winterson and Neil Gaiman, who gave a highly praised talk also on the importance of reading. Brand couched the theme of...
Neil Gaiman's views on the Amazon/Hachette spat seem to have evolved a little since Chris Meadows last reported on them in mid-June. According to an answer to a self-published author and fan recently posted on "the official Neil Gaiman Tumblr, but honestly no better than the unofficial Neil Gaiman Tumblrs out there," Gaiman now says: "I don't see an enemy. I see two huge multinational corporations having a fight over contracts and terms, and authors staring up at them from ground level. It's like Godzilla battling Gamera, and we're looking up from the sidewalks of New York rather worried that...
Well, here's another Salon Amazon hit piece, at least sort of. Salon chose to headline it, "Neil Gaiman: 'I'm obviously pissed at Amazon'" but if you read the actual article, you find the quote was taken out of context. Gaiman feels that the anti-trust prosecution against the five major publishers and Apple was a bad move, but on the matter of Amazon versus Hachette, he is actually ambivalent: I'm a weird mixture right now, because on the one hand, I'm obviously pissed at Amazon. I'm a Hachette author in the U.K., my wife is a Hachette author now, and I'm very...
Bulgarian writer and New Yorker by adoption Maria Popova picked up on a "semi-secret" evening event on the literature of terror held by Neil Gaiman at TED's 30th anniversary event, TED 2014 in Vancouver - certainly secret enough to keep his name off the official speaker list. However, she detailed the whole thing in her much-followed blog Brain Pickings, including a recording reproduced with permission, and transcripts, where Gaiman speaks of the fascination of fear. "Technology does nothing to dispel the shadows at the edge of things," Gaiman says. And as just one instance of the value of tackling dark things,...
The other day, I mentioned the Humble Bundle's plans to expand its e-book offerings. Today it turns out that the Humble Bundle's closest competitor in the world of e-book bundles has just come out with another one itself. For the next three weeks, StoryBundle is offering its "Epic Fantasy" bundle on a semi-pay-what-you-want basis. The minimum payment is $3 for six DRM-free multiformat e-books, and if you pay at least $12 you get three more. The base-level donation books are The Sacrifice by Kristine Kathryn Rusch Spirit Walker by David Farland ...
Here's an interesting article from The Nation about problems the feminist movement is having in discussions on Twitter. The fundamental problem is "intersectionality": people in the feminist movement are other things besides "just" female—they're rich or poor, they're white or minority, and so on—and people at one end of a spectrum find things to be angry at the people on the other end about, even though they ostensibly share a common cause. And this anger is compounded by the Twitter discussion medium, whose short bite-sized chunks can lead to a spectacularly toxic environment. I don't really have anything to...