Posts tagged
Jack Vance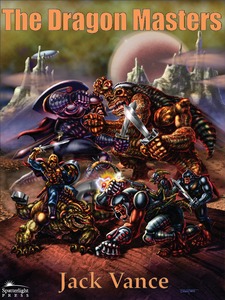 Thanks to Jack Vance, my early teens were haunted by dragonish monstrosities with such names as Termagants, Striding Murderers, Juggers, and Blue Horrors. These weren't drawn from a young adult story, but from one of Vance's most concentrated, intensely imagined and effective evocations of a place and above all, a society, very remote from ours, in time, space, and mindset. "The Dragon Masters" was one of the classics that consolidated his early reputation, and it has worn very well with time. Note that this book is an example of how mutable the standards of story length can be, as well as the...
In a Mad Men postwar MAD world of New Look housewives (and national security policy) and spic-and-span American Dream homes bloomed a sick, fecund flora of tainted growths with gorgeous, cloying scents, redolent of Clark Ashton Smith, Weird Tales and the last American offshoots of European decadence. The Dying Earth cycle of stories by Jack Vance, unfolding under a red ailing sun in a far distant future where technology has long grown indistinguishable from magic, carried the heritage of fantasy literature forward into the 1950s and set the scene for almost every subsequent development in the genre before Tolkien. Vance published...
Jack Vance (1916-2013), the veteran pioneer of fantasy and science fiction, as well as a prolific master in many other genres, died just short of a century old this year, on May 26, 2013. But his massive legacy has been fittingly preserved in two huge publication projects: the Vance Integral Edition (VIE), a 44-volume set of his complete works acclaimed by some as "one of the more remarkable publishing feats of the last 50 years," and the Vance Digital Edition, a series of e-books "created from latest digital versions of the Vance Integral Edition texts," and sold directly from the official Jack...