More on TechnologyTell: Gadget News | Apple News
Posts tagged
iPhone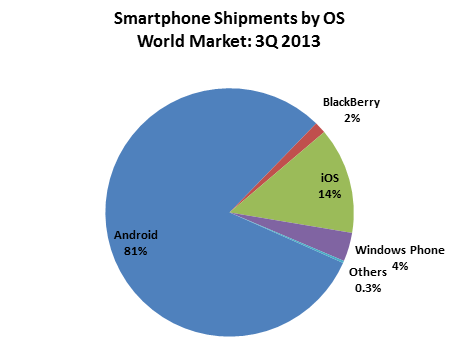 Latest 3Q2013 figures on the state of the global mobile phone market from technology market intelligence house ABI Research show Samsung chewing into other vendors' market share, and especially at the expense of proprietary OS platforms like Apple and BlackBerry. "Samsung retained its lead in handset shipments and grew its share of smartphone shipments to 35%, while Apple share remained flat at 14%," stated the report. Thanks in part to Samsung, Android remains by far the most popular OS, and is also increasing its lead. "Supported by strong Android shipment growth from Huawei, Lenovo, Xiaomi, and Samsung, Android reached a new...
This is a slightly old story, but I thought it was worth following up on when I had the chance. A few weeks ago, Apple quietly added a new feature to its iOS app store. It used to be that when you had hardware too old to run the latest version of an app, and you lost the version of it you had, you were out of luck. After OS 7 came out, for example, when I tried to update my 1st-generation iPad's Zite app, I was told that the new one required OS 7. So if I...
After the IDC figures on tablet sales released earlier this week that showed Android devices slicing into the iPad's market share, the tech research firm has released more data showing a similarly bleak picture on the smartphone front. According to IDC's release, "Apple's share in the worldwide smartphone operating system market posted a year-over-year decline during the second quarter of 2013 ... Meanwhile, Android and Windows Phone both managed slight increases during the same period. " The IDC Worldwide Quarterly Mobile Phone Tracker for the second quarter of 2013 showed a total of 236.4 million smartphones shipped, an increase of 51.3%...
Amazon, my iPhone and the easy integration between the two made a huge difference in my life yesterday. I was running errands and stopped at the bank. When I finished depositing checks, my truck wouldn't start. Thus began the adventure which started with a jump, moved to a tow and ended with my husband's battery dying too. Not my best day ever. Usually, I don't leave home without my iPad or Nook. However, my trip was so short that I didn't think I'd need either of them. Naturally, I did have my iPhone, and I had the Kindle app installed. While waiting for...
Six Years Later, How Apple Keeps the iPhone Chugging Along (GigaOM) Apple has found ways to keep the iPhone growing in emerging and also established markets. But it's coming at the cost of slipping profit margins. * * * Self-Published Author Lands Book of the Week Promotion at Apple's iBookstore (GalleyCat) Smashwords author JD Nixon scored the coveted "Book of the Week" promotion at Apple's iBookstore this week, making the first book of the author's Heller series free for a week for iBooks readers. * * * Penguin Random House Dabbles in Direct Sales with New Book Country Bookstore (Digital Book World) Penguin Random House's manuscript workshopping...
One of the reasons I haven't been writing as much lately here is that I have another part-time writing gig now that takes up much of my attention. I'm the "PC Expert" for Answers.com's Experts program, contributing 500- to 600-word articles on subjects pertaining to computers, tablets, and related issues. It's a very different sort of writing than I do for TeleRead, as those articles have to be neutral in tone and informative or instructional, rather than editorial. Along the way, I have managed to fit in a number of posts relating to topics relevant to TeleRead. A number of them...
Thorin Klosowski poses an interesting question over at Lifehacker: Are phones good productivity tools? Klosowski argues that, for almost every productivity task he needs to accomplish, there is a desktop or tablet app that will do it quicker and more efficiently than his phone. "None of this is to say that I don't appreciate a smartphone for what it is," he hastily reassures us. "I still take pictures all the time, I listen to podcasts, dink around on Twitter, and look up oddball questions in the browser. But none of those things are actually productive." I suppose that for me, it all comes...
* Note: Click here to read Mobile Magazines, Part I — Google Play Magazines, here for Mobile Magazines, Part II — iOS Newsstand and here for Mobile Magazines, Part III — Next Issue and here for Mobile Magazines, Part IV — Periodicals on E-Readers This story is more for you corporate types. imgZine isn't really a consumer-based venture, but it's an interesting story about using tablet technology to reach and engage people. Corporations have a lot of information they want to distribute, or that they expect their employees to read as a way of staying current in their industry. Most companies distribute...
LifeProof announced this past Tuesday that they're offering a Total Water Protection Program for the Apple iPhone and iPad to anyone who purchases a LifeProof case from their website. This optional program takes the protection of these devices to an entirely new level by offering a one-time repair or replacement of the device if it sustains accidental water damage while in one of their cases. LifeProof cases are advertised as being waterproof, submerged down to 6.6 feet deep, as well as being dirt proof, snow proof and shock proof. The Total Water Protection Program will offer consumers even greater peace of mind. Available as of Tuesday,...
It's been awhile since we last heard a quasi-believable next-gen iPad story, but it shouldn't be long now until we get something conclusive. That's because several sources claim a new full-sized iPad is closing in on its release, with the official unveiling rumored to happen by the end of this month. But is that possible? We'd be inclined to say no, because, again, there have been far too few iPad 5 rumors lately and Apple is usually very skilled at building hype months before an actual release. Then again, with the third-gen iPad released in March 2012 and the fourth-generation back in...
When is the best time to purchase a new Apple device? Is there a best time? We're fully aware of how sporadic and paltry the big Apple can be when it comes to offering customers discounts on their products. Usually feeling like you've earned a 'deal' from an Apple retail store or from their online store involves taking advantage of a promotion, which can result in spending extra money to receive reduced priced accessories or services (of which you may or may not actually need). But saving any amount on a fresh Macbook Pro or iPad straight from the source? Not likely. So...
Have you ever run across a solution looking for a problem? Unfortunately, that's my reaction to Perdrix TXT, a new e-reading app for iPhone and iPad. The developer contacted me over the weekend and gave me a promo code for a free review copy, and I gave it a look. Here's what they say about the app on their site: Getting closer to the real book experience… Focused on book immersion, this app features innovative design such as book side views, life-like bookmark and a separate Search screen. Read free e-books and plain text files. At a quick glance that sounds good. The app...