More on TechnologyTell: Gadget News | Apple News
Posts tagged
iPhone
New 4Q 2013 data from Kantar Worldpanel ComTech backs up earlier IDC figures for 2013 smartphone sales that suggest Android is continuing to extend its lead across global markets, especially outside the U.S. According to the Kantar analysis, "the three-month period ending December 2013, shows that Android closed out the year strongly across 12 global markets including the United States.  The operating system ended 2013 with a sales share of 50.6 percent, a gain of 4.4 percentage points from the final three months of 2012." Android remained especially strong in Europe, "with 68.6 percent share, while Apple held second place with 18.5 percent."...
The latest data report from International Data Corporation (IDC) in its Worldwide Quarterly Mobile Phone Tracker series has highlighted the record-breaking figure of just over 1 billion smartphones shipped worldwide in 2013, "up 38.4 percent from the 725.3 million units in 2012." Also spotlighting "a difference of less than 1 percent" from its forecast for full-year shipments in 2013, IDC noted that this growth in smartphone demand is cannibalizing the broader mobile phone market, which grew only 4.8 percent over 2013 to a total figure of almost 1.822 billion units. [caption id="attachment_106479" align="aligncenter" width="475"] Source: IDC Worldwide Mobile Phone Tracker, January...
A recent and widely quoted report from the Wall Street Journal makes a couple of interesting calls about Apple iPhone developments supposedly in the works, quoting the customary "people familiar with the situation." (Those people sure get familiar with a lot of situations.) And according to the report, "facing competition from rivals offering smartphones with bigger screens, Apple Inc. ... is planning larger displays on a pair of iPhones due for release this year." WSJ doesn't spare much effort in ramming home the message. " Apple is losing market share to rivals who offer bigger screens," it insists, and wheels out...
Remember that "Typo" Bluetooth iPhone keyboard case backed by Hollywood's Ryan Seacrest? It essentially grafts a BlackBerry style keyboard onto an iPhone. Well, it turns out that BlackBerry is not amused that the Typo is effectively a rip-off of the iconic keyboard design from their BlackBerry phones. The layout and styling of the keys is remarkably similar, after all…so BlackBerry is filing suit for infringement of their design. As Matthew Panzarino points out on TechCrunch, it seems unlikely that any money they get out of this even if they win will be enough to slow Blackberry's slide into obscurity...
I finished reading Fred Vogelstein's book Dogfight: How Apple and Google Went to War and Started a Revolution, which I mentioned in my post yesterday. I quite enjoyed it. Even though I read the news reports of the events it describes as they happened, you don't get the big picture until you read a book like this, that looks back and puts everything together in the proper context. The book covers the development of the iPhone and Android phones, touches on the iPad and what it meant, goes over the Apple vs. Samsung patent lawsuit, and then wraps up...
The Atlantic is carrying an excerpt from Fred Vogelstein's book Dogfight: How Apple and Google Went to War and Started a Revolution. I found it interesting enough that I actually bought the book and have been reading through it, and will probably have more to say on that in a day or so. This except, from Chapter 2, talks about Google's reaction to Apple's iPhone launch. Essentially, they were poleaxed by Jobs's demonstration. (How little they knew—Chapter 1 covered how that first iPhone demonstration was carefully stage-managed to disguise the fact that their demonstrator phone was half-baked with a...
The new version of the Voice Dream reader app, a superb iOS text-to-speech app for the iPhone, iPad and iPod Touch, can now play audiobooks, too. Even at $10, costlier than the typical app, Voice Dream is a Buy, capital B, at the Apple App Store. Voice Dream 2.9.2 can handle zipped MP3s as well as audiobooks in Daisy, thanks to help from a Swiss library organization, and navigation and general usability are excellent, just as in the regular text-to-speech mode for ePub files and others. Dozen of optional voices in common languages work with the app, and my favorite is the UK-accented "Peter" voice...
When most of us aren't satisfied with the current state of mobile technology, we don't have any recourse but to hope that someone comes up with something better. But if you're a high-powered, wealthy Hollywood go-getter, you have a few other options. GigaOm and AllThingsD are reporting that Hollywood exec Ryan Seacrest was fed up with having to carry two cell phones with him all the time—one for typing and another one for everything else. He just couldn't get used to the on-screen keyboard in his "everything else" phone, and needed a physical thumb board to type usefully....
The world has been changing a lot. In the 98 years my grandmother has been alive, we've gone from cars as rickety novelties on dirt-track roads to polished metal eggs on highways that span the globe; the Wright Brothers' first flight to putting people on the moon and machinery on Mars. And we've gone from mechanical clocks and automated looms as state-of-the-art in information technology to having powerful computer/photo/video terminals in most peoples' pockets. Even over the course of my own lifetime, the rate of advance has been remarkable. When I was in grade school. having computers in the...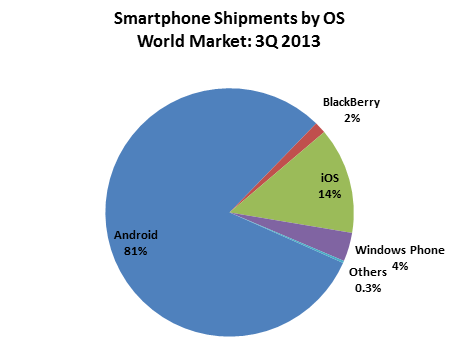 Latest 3Q2013 figures on the state of the global mobile phone market from technology market intelligence house ABI Research show Samsung chewing into other vendors' market share, and especially at the expense of proprietary OS platforms like Apple and BlackBerry. "Samsung retained its lead in handset shipments and grew its share of smartphone shipments to 35%, while Apple share remained flat at 14%," stated the report. Thanks in part to Samsung, Android remains by far the most popular OS, and is also increasing its lead. "Supported by strong Android shipment growth from Huawei, Lenovo, Xiaomi, and Samsung, Android reached a new...
This is a slightly old story, but I thought it was worth following up on when I had the chance. A few weeks ago, Apple quietly added a new feature to its iOS app store. It used to be that when you had hardware too old to run the latest version of an app, and you lost the version of it you had, you were out of luck. After OS 7 came out, for example, when I tried to update my 1st-generation iPad's Zite app, I was told that the new one required OS 7. So if I...
After the IDC figures on tablet sales released earlier this week that showed Android devices slicing into the iPad's market share, the tech research firm has released more data showing a similarly bleak picture on the smartphone front. According to IDC's release, "Apple's share in the worldwide smartphone operating system market posted a year-over-year decline during the second quarter of 2013 ... Meanwhile, Android and Windows Phone both managed slight increases during the same period. " The IDC Worldwide Quarterly Mobile Phone Tracker for the second quarter of 2013 showed a total of 236.4 million smartphones shipped, an increase of 51.3%...