More on TechnologyTell: Gadget News | Apple News
Posts tagged
iOS
As revealed by Baidu, China's homegrown version of Google, via Net4Tech, we now have some of the first fairly reliable statistics out of the China market on Android's penetration into the PRC. And the data, based on third-quarter usage figures in China, shows around 270 million Android users in China - or exactly 20 percent of the entire 1.35 billion population of China. And all this in a market where lack of a centralized Google Play store or frequently of formal activation makes precise tracking difficult. [caption id="attachment_102005" align="aligncenter" width="578"] Baidu's alarming numbers for Apple - in Chinese or any other...
Oh noes! They're killing the PC! Mass computing devices face the dark future of tablets with restricted operating systems that limit what you can do and what apps you can install! We must all run about in panic! Except…no, I don't think that's right. The article I linked above on ZDNet notes: Here's what I see happening: Amazon, Apple, Google, and Microsoft all want us to buy appliances, not PCs. An appliance is a closed box. It can only run the operating system they stick you with. It will only run the applications they approve for it. Apple and Microsoft are particularly strict...
Hands-On Review of the iPad Air (GoodeReader) The 5th generation Apple iPad was released today in over 72 different countries and if you could take waiting in line for an hour, many happy customers were able to get their hands on one. *** When Will iOS and OSX Finally Meet, or Have They Already? (GigaOM) With the redesign of iOS 7, release of OS X Mavericks, and updated versions of the iWork and iLife apps, Apple continues to blur the lines on what is a desktop feature and what is a mobile feature. *** Kobo Glo Hacked (Again)---Now Runs Android (The Digital Reader) Kobo doesn't have a...
Adding to the slew of quarterly market data, the latest issue of International Data Corporation (IDC)'s Worldwide Quarterly Tablet Tracker showed worldwide tablet shipments up 36.7 percent on the same time last year and 7 percent on the previous quarter. And, notes IDC, "Android products once again drove much of the shipment growth in the market as iOS growth stalled and Windows tablets continued to struggle to win over consumers. With no new iPad product launches in the second or third quarter to drive volume, Apple experienced a quarter-over-quarter decline in shipments from 14.6 million in 2Q13 to 14.1 million...
The world has been changing a lot. In the 98 years my grandmother has been alive, we've gone from cars as rickety novelties on dirt-track roads to polished metal eggs on highways that span the globe; the Wright Brothers' first flight to putting people on the moon and machinery on Mars. And we've gone from mechanical clocks and automated looms as state-of-the-art in information technology to having powerful computer/photo/video terminals in most peoples' pockets. Even over the course of my own lifetime, the rate of advance has been remarkable. When I was in grade school. having computers in the...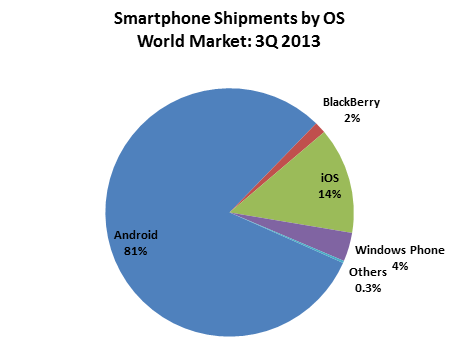 Latest 3Q2013 figures on the state of the global mobile phone market from technology market intelligence house ABI Research show Samsung chewing into other vendors' market share, and especially at the expense of proprietary OS platforms like Apple and BlackBerry. "Samsung retained its lead in handset shipments and grew its share of smartphone shipments to 35%, while Apple share remained flat at 14%," stated the report. Thanks in part to Samsung, Android remains by far the most popular OS, and is also increasing its lead. "Supported by strong Android shipment growth from Huawei, Lenovo, Xiaomi, and Samsung, Android reached a new...
Talking New Media just ran a piece detailing the relative revenues from the iOS and Android platforms for digital publishers of magazines and other content apps. And their findings were that the hand-over-fist growth in Android OS penetration, via cheap tablets and multitudinous generic cellphones, is not translating into revenues or big takeup for these publishers - at least not yet. "TNM's own survey of digital publishing platform companies shows that close to 25 percent still do not provide solutions that will result in an app for the Google Play store – and close to 75 percent don't service the Windows...
This is a slightly old story, but I thought it was worth following up on when I had the chance. A few weeks ago, Apple quietly added a new feature to its iOS app store. It used to be that when you had hardware too old to run the latest version of an app, and you lost the version of it you had, you were out of luck. After OS 7 came out, for example, when I tried to update my 1st-generation iPad's Zite app, I was told that the new one required OS 7. So if I...
You may have read that Penguin books are again available for purchase in Overdrive, which means library patrons will soon see popular Penguin books in their libraries. Hooray! Well, there's more good news. In the Overdrive announcement on Wednesday, they said that while new books would be available, Kindle owners would still need to use USB to load them (although savvy borrowers knew of the work-around for that problem). Yesterday, Overdrive announced that Penguin books are now available as "Get for Kindle" just like books from other publishers. No more USB. No more work-arounds. One final bit of good Overdrive news. You...
Parallels has long made it easy for Mac users to run PC programs (and more) within OS X. Now, they're letting you run Windows and Mac apps within iOS via the newly announced Parallels Access for iPad. With Parallels Access, you can remotely access your Mac and PC and run the programs as if they were made for iPad. Mac support is available now, with Windows access available as a free beta. Support of additional tablet devices is also in development, but the press release doesn't state if this means iPhones or Android devices in general. Now, we don't need to explain the...
To help mark its status as the first UNESCO City of Literature during the International Book Festival, Edinburgh has put up an interactive Flash map of 53 of the city's bookshops and released a free Edinburgh Bookshops Trail iPhone App—but on iPhone only. The app "shows you all Edinburgh bookshops on a map, with shop descriptions, stock information, addresses, contact details, website links, the works. It even gives you the quickest way to get there! You can also filter by genre, and we have added a quick overview of literary events for the coming 7 days." Unfortunately, Android users will have to...
Duolingo is a learning app that promised to 'gamify' language learning. As a language teacher, I was ready to roll! I downloaded the app, picked my desired language, and ... and I lasted about an hour before I was bored and annoyed. Sorry! The App Setup The app is set up with a series of short 'lesson' books, grouped into little branches of a tree. You can start with book one, or 'test out' and move onto the next unit by successfully completing a little mini-lesson. The main control panel also has a little sidebar that offers such useful information as how many...