More on TechnologyTell: Gadget News | Apple News
Posts tagged
Google
As TeleRead readers will be well aware, Chromecast, Google's neat HDMI-compatible AV streaming dongle and its associated programs,  has been around for a while now; but it's only just made it to certain European markets, and courtesy of my parents, I may still be Hungary's pioneering Chromecast owner. And though I love the technology, my first impressions are mixed - in a way that might be down to the usual Big Media interference in simple user-friendly propositions. Yes, it's straightforward no-brain plug-and-play. Yes, it streams content to your TV screen or HDMI-compatible monitor over your WiFi network - (mostly) pretty seamlessly....
The newest figures from the Android Developers Dashboards, released on April 1st but apparently no kind of April Fool's Day joke, confirm that KitKat, Google's latest version of its Android OS, is steadily carving out a bigger and bigger slice of the Android market pie, now at 5.3 percent of the total user base, compared to only 1.8 percent in early February. Meanwhile, the different versions of Jelly Bean now occupy 61.4 percent in all of the user base, with Ice Cream Sandwich at another 14.3 percent, yielding a total uptake of Android OS 4+ versions of 81 percent. The demise...
Research firm Gartner Inc.'s latest prognostication on sales of combined digital devices of all formats and operating systems, "Forecast: PCs, Ultramobiles, and Mobile Phones, Worldwide, 2011-2018, 1Q14 Update," has some pretty uncomfortable reading for Apple execs, or fanboys. For it found that worldwide device shipments of all kinds running Android OS, currently around one third of digital device shipments overall, are likely to rise to around half of all shipments of all OS types by 2015. The overall numbers of all types, and of Apple devices, though, are likely to grow only incrementally. "Google's objective is to increase Android's footprint, and...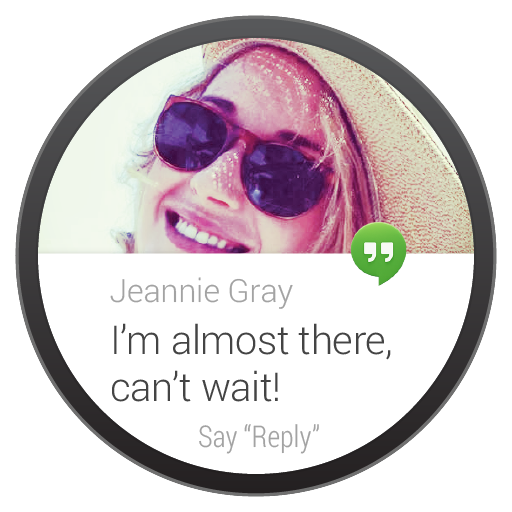 The full-force all-channel multi-announcement multi-product rollout of Android Wear and its supporting devices looks to have conquered the emerging smartwatch product category. Chris Meadows tagged the emerging Google smartwatch platform as the one to watch in this space a while back, and it looks like his call has been vindicated. And meanwhile, the much-vaunted iWatch is nowhere. " Today we're announcing Android Wear, a project that extends Android to wearables," announced Sundar Pichai, SVP for Android, Chrome & Apps, on the official Google blog. "And we're starting with the most familiar wearable—watches." Google already has a developer preview up and running with...
Google might have sold Motorola, but it turns out it hung onto the part of the company that's been working on its Project Ara modular smartphone design. Time has an extensive feature about the project: turns out that Google is looking at creating a bare-bones design that would sell for as little as $50 for the base unit—possibly something that could be sold in convenience stores, much like pre-paid phones are now. The base unit would be little more than a screen, a frame, and a wi-fi radio; about like a low-end iPod Touch I suppose. You'd have to...
Ars Technica reports that Google has finally issued a public SDKpublic SDK (software development kit) for its Chromecast HDMI TV dongle, meaning that for the first time, coders of random audio and video playing apps for Android, iOS, or the Chrome browser will be able to incorporate Chromecasting into their apps without having to work closely with Google to do it. Who knows what kind of apps we'll get? Might there be a Chromecast e-reader app? It seems kind of unlikely. Due to the restrictions on the user interface, such an app might throw text up...
Well, there's an example of comedic timing for you. Just the other day, Gizmodo speculated that Google might kill off the Nexus line of tablets and phones in favor of "Google Play Edition" devices from other hardware manufacturers—including, notably, Motorola, who Google owns. But today, news came out that had Gizmodo saying, "What?!" Turns out Google is selling Motorola Mobility to Lenovo for $2.91 billion. The deal includes all Motorola's phone hardware, but Google is keeping most of Motorola's patents. Google already sold Motorola's set-top box unit to Arris for $2.35 billion. It only just bought Motorola in 2011...
I finished reading Fred Vogelstein's book Dogfight: How Apple and Google Went to War and Started a Revolution, which I mentioned in my post yesterday. I quite enjoyed it. Even though I read the news reports of the events it describes as they happened, you don't get the big picture until you read a book like this, that looks back and puts everything together in the proper context. The book covers the development of the iPhone and Android phones, touches on the iPad and what it meant, goes over the Apple vs. Samsung patent lawsuit, and then wraps up...
The Atlantic is carrying an excerpt from Fred Vogelstein's book Dogfight: How Apple and Google Went to War and Started a Revolution. I found it interesting enough that I actually bought the book and have been reading through it, and will probably have more to say on that in a day or so. This except, from Chapter 2, talks about Google's reaction to Apple's iPhone launch. Essentially, they were poleaxed by Jobs's demonstration. (How little they knew—Chapter 1 covered how that first iPhone demonstration was carefully stage-managed to disguise the fact that their demonstrator phone was half-baked with a...
Google has been doing everything they can to get users to sign up for Google Plus. They require customers who want to leave a review in Google Play to join, they make it difficult to leave YouTube comments, and every time I have set up an Android device Google has pestered me to sign up for their social network. So far none of these tricks have worked on me, but Google's next program just might. College Humor has posted a new video for Google Blackmail. You may think that no one knows all of your dirty secrets, but Google does. And if...
Here's a great deal on the 2013 Nexus 7. Office Depot has the 16 GB version for $180, $50 off list (sold out online; in-store pickup only), and the 32 GB version for $230, $40 off the $270 list (currently available both on-line and in-store). Sale ends 12/21. Of course, sales tax will apply to those purchases if you're in a state where Office Depot has stores. (Amazon at one point listed the 32 GB 7 for $239 with free shipping, which would be better than $230 + tax, but the price and stock seem to fluctuate throughout the day...
The incumbent left-leaning (or lurching) French administration of Francois Hollande has had another fit of pique regarding those fiendish Yankee technology behemoths. This time, instead of Amazon, it's Google's turn to suffer the Gallic foot-stamping, as Aurélie Filippetti, French Minister of Culture, boycotted the inauguration of the new Google Cultural Institute in Paris. "Despite the quality of the projects in progress, I do not want to be used to underwrite a transaction that does not take into account a number of issues we have in dealing with Google," she said, as reported in Le Monde. These are: "the question of fiscal...