More on TechnologyTell: Gadget News | Apple News
Posts tagged
genre fiction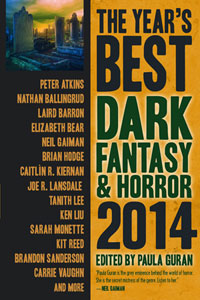 The latest in the excellent Year's Best Dark Fantasy and Horror series, edited by Paula Guran, does a pretty good job of living up to exaclty what it says on the cover, and pulling together the year's real best achievements in the genre/genres. Some of the 32 tales will be familiar from elsewhere, especially to an avid dark sider like me, as many have already been anthologized or otherwise put out in book form. That doesn't change the fact that if you want to get a very broad and compendious perspective on the field - at 576 pages and 32 stories...
After the endless, shambling horde of faceless zombie horror anthologies, The Book of the Dead presents stories centred on a rather more ancient and dignified genus of animated corpse: the Mummy. It also comes with a sort of official endorsement from the actual tradition of Egyptology, being "published in collaboration with the Egypt Exploration Society, the UK's oldest independent funder of archaeological fieldwork and research in Egypt," and introduced by John J. Johnston, Vice Chair of the Society. The selection doesn't rest on its premises, and the 19 stories range far wider than simply animated-bundle-of-bandages tales. If anything, the keynote of the anthology is variety...
Public health warning: This book has been known to induce anomie, despair, alienation, disenchantment, toxic doubt, and pervasive crawling fear. It has also been known to make people write about it ecstatically. I'm not the first to succumb. And this isn't a new book review: The Imago Sequence has been around spreading terror and acedia since 2007, picking up a Shirley Jackson Award along the way. It also, incidentally, put its author on the map - in the same way that the 1883 eruption put Krakatoa on the map. The geography of horror would never be the same again. Rather, this...
Nebula Award-winning writer and editor Eugie Foster died on September 27th of respiratory failure after a long and hard-fought battle against aggressive cancer of the sinuses. Full details can be found on her blog, with a short obituary from her husband Matthew M. Foster, here. Eugie won the 2009 Nebula Award for Best Novelette for her novelette "Sinner, Baker, Fabulist, Priest; Red Mask, Black Mask, Gentleman, Beast," and a whole series of other awards for her work as writer and editor. She was also a regular participant in conventions and science fiction/fantasy events. In the course of her struggle and treatment, Eugie...
I asked Peter Watts, author of the brilliant and genre-redefining science fiction novels Blindsight and Echopraxia, a few questions about his own working methods and the genre (or genres) he works in. Here are his responses. TeleRead: Do you see any ingrown shortcomings in the genre/subgenre you work in, and do you try to correct those? Peter Watts: I don't think I'm competent to answer this question; I'm not sufficiently familiar with the genre to make valid generalizations about its shortcomings. One of the few things that really bugs me about my life at this point is that I don't get much...
The British Fantasy Awards 2014, as announced on September 7th at the awards banquet at FantasyCon 2014 in York, held by the British Fantasy Society, demonstrated again that the Society, and the Awards, are anything but narrowly parochial and right-little-islanderish. American and South African as well as British, writers, publishers, and even TV networks, appeared on the list of winners. In the key categories for writers and readers, the Robert Holdstock Award for Best fantasy novel went to A Stranger in Olondria by Sofia Samatar, from Easthampton, MA's very wonderful and already much feted Small Beer Press. The August Derleth Award...
The Year's Best Weird Fiction project has quietly been gathering quite a volume of buzz on its way to Volume 1, which is due out shortly in October. For one thing, it's edited by Laird Barron, himself one of the best current practitioners of this not-quite-genre. And it doesn't hurt that its list of authors include  a wish list of his peers: Jeffrey Ford, Simon Strantzas, Joseph S. Pulver Sr, Scott Nicolay, John Langan, Richard Gavin, and W. H. Pugmire, among others. Also, it comes from the very estimable house of ChiZine Publications, already producer of some fine anthologies from Ellen...
An enterprising independent publisher, Burial Day Books, recently launched a submissions drive for the fourth in an anthology series that draws on the tradition of the Gothic blue book, a form of short-to-medium Gothic and horror story imprint that flourished briefly at the end of the 18th century and into the 19th. According to Burial Day, Gothic blue books were: ... abridgements of full-length Gothic novels. The subjects of these books fell into one of two categories; the first being set in a monastery or convent and the second being set in a castle. In terms of the physicality of the...
At the Edinburgh International Book Festival 2014, I was lucky to be able to catch up with Jeff VanderMeer, multiple award-winning and hugely productive speculative fiction and fantasy writer, editor and anthologist, whose latest literary outing is the Southern Reach trilogy. These are a few excerpts from our conversation, with more to follow. TeleRead: Do you think that modern speculative writers tend towards a Victorian level of industriousness? Jeff VanderMeer: When I started out I just had this idea in my head that a writer did all these things. It didn't become a strategy until later: it was just that I was writing,...
Author, teacher of writing, anthologist, jokester, sometime radical, father-of-adorable-infant and allround nihilistic kid Nick Mamatas has written across genres and voices with wit, zip, and flair through "six and a half novels" and a slew of shorter works. He was even partly responsible for bringing Edge of Tomorrow to our screens by adapting the Japanese original of the story, All You Need Is Kill, into graphic novel form. Love Is the Law is his foray into something like neo-noir or crime fiction, but definitely with a genre-spinning twist that loops in occultism and some urban fantasy as well as far-left...
UK imprint Spectral Press, "a British Fantasy Award-nominated small independent imprint publisher," has hitherto been known for "very limited edition signed and numbered single story chapbooks," as well as occasional themed anthologies such as "an annual Christmas Ghost Story anthology." They made something of a departure, though, with "the very first volume of what is hoped to be an annual publication, The Spectral Book of Horror Stories," and with good reason. In an introduction that harks back to the great Fontana and Pan series of UK horror anthologies of the 1960s and 70s, Mark Morris explains that his ambition "is for The...
Well who'd a thought it: An almost local tourism-level themed anthology confined to a short stretch of English coastline that turns out to be a surprisingly good collection of modern British horror and dark fiction. Of course, it helps if the stretch of coastline you have to deal with is the Yorkshire coast immortalized by Bram Stoker as the landfall of Count Dracula, where the ruins of Whitby Abbey and Scarborough Castle still lour down from the clifftops. Or if you have contributors like Johnny Mains, himself editor of the superb Best British Horror 2014. (His "The Girl on the Suicide...