Posts tagged
fantasy
Nominations for the 2015 World Fantasy Awards are approaching their close, as the end of the voting window draws near. As per the World Fantasy Convention 2015 website, "the World Fantasy Awards Ballot is being sent to all members of the 2013, 2014 and 2015 World Fantasy Conventions," with voting to close by May 31st. Ballot forms are also available for download on the website. "All registered members of the 41st World Fantasy Convention in Saratoga Springs plus the members of the convention in Washington and in Brighton are eligible to vote before the deadline." Voters can nominate up to five...
In the flurry of science fiction, fantasy and horror awards due this time of year, after the announcement of the Bram Stoker Awards winners and the Shirley Jackson Awards finalists, now we have the John W. Campbell Memorial Award finalists for 2015. And I should confirm that neither Emily St. John Mandel (Station Eleven) nor Will McIntosh (Defenders) are any relation. It's a pretty impressive slate, though, and includes Jeff VanderMeer's Area X  from his Southern Reach Trilogy, already recognized in the Shirley Jackson Awards, and Peter Watts's Echopraxia, which I rated my second most favorite book of 2014. As per...
For anyone wanting to down a few jars or five to get over the shock of the UK General Election results, or the conviction that they're now living in fantasyland, the British Fantasy Society (BFS) and British Science Fiction Association (BSFA) have organized their third York Pubmeet, for fans and aficionados of fantasy and science fiction. This will take place on Saturday, May 9th, from 5pm onwards, at the Brigantes Bar & Brasserie at 114 Micklegate in York. According to the event details, "our guest authors for the evening, reading from their own work and fielding questions about their careers and...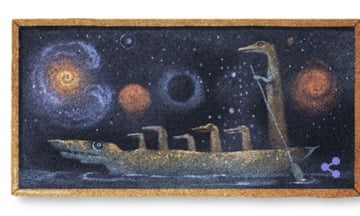 Leonora Carrington (April 6, 1917–May 25, 2011), subject of a Google doodle (above) on the anniversary of her birth, which unfortunately happened to coincide with the Easter Monday holiday, was one of those multitalented figures whose character and life make the cliche "truth is stranger than fiction" a pale shadow of the ... ahem ... truth. She also has a track record as a novelist as well as artist that many modern imaginative writers would give their eye teeth for. Almost the prototypical wild child, Carrington rebelled against her wealthy English background from the start, moving to Paris soon after her débutante...
Weirdbook Magazine, one of the more celebrated and imaginative titles of the science fiction New Wave and modern-day resurrection of weird fiction, is now relaunching, with what claims to be Issue #31 - albeit after a very long hiatus. As explained in Michael Ashley's Gateways to Forever: The Story of the Science-fiction Magazines from 1970 to 1980, Weirdbook Magazine first appeared in 1968, and "as a rare market for new weird fiction, it attracted pieces from new writers." Co-founder W. Paul Ganley "sustained Weirdbook for a remarkable 30 years, winning two World Fantasy Awards for his efforts." Paul Ganley is still on...
Australia: the venue for H.P. Lovecraft's incredible The Shadow Out of Time, for Picnic at Hanging Rock, for Mad Max, but still not always the first place that springs to mind in connection with the futuristic, the fantastic, and the frightful. But perhaps that does poor justice to the Aurealis Awards, established in 1995 "to recognise the achievements of Australian science fiction, fantasy and horror writers." The Awards recognize achievement in science fiction, fantasy, horror, young adult, and children's fiction, and "submissions within a category are reviewed by a panel of at least three judges, which selects each year's finalists...
I purchased this book as part of the recent Indie Fantasy Story Bundle (now complete). Having been disappointed with the first two books I tried from the bundle, I was starting to think I'd wasted my money with this one. Then I started [easyazon-link asin="B00MRCCG9M" locale="us"]Sand of Bone[/easyazon-link] and knew that this book alone was worth the price of admission. I mean, just start with that cover. And feel free to judge this one by the cover. The inside is just as impressive. For those who still believe that indie books are rife with typos and bad writing, let me assure you...
The very wonderful science fiction, fantasy, and horror publisher Subterranean Press, publishers of K.J. Parker among many others, has just announced its own Humble Subterranean Press Book Bundle on the Humble Bundle site, offering an all-you-can-eat smorgasbord of its classics, including such gems as The Top of the Volcano: The Award-Winning Stories of Harlan Ellison, The Ape's Wife and Other Stories by Caitlín R. Kiernan, Muse of Fire by Dan Simmons, and many many more. "Subterranean Press is celebrating two decades of excellence, and we're humbly inviting you to join the fun!" the introduction reads. The payment amount is up to...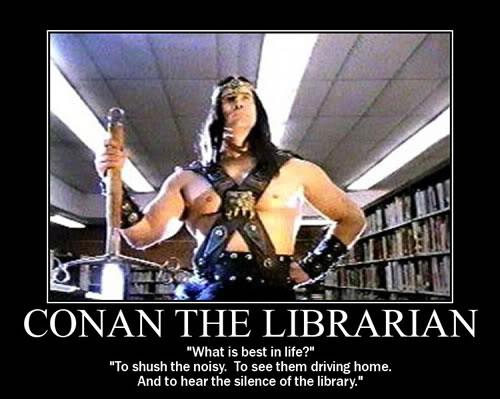 In honor of Robert E. Howard's birthday, here's a little demonstration and an attempt at a quantification of what his legacy as a popular/pulp/genre/trash writer means. And an object lesson in how many people you can reach, how many dreams you can touch - and how much wealth creation you can enable - by sipping at the poison chalice of popularity. Let's take two writers born roughly the same time, one "popular," one "serious," and their most successful single property. I'm going to focus on one Howard creation only: Conan. (Never mind the Solomon Kane movie and other offshoots.) And in...
Genre-spanning "pulp fiction" author Robert Ervin Howard was born this day, January 22nd, in 1906 in Peaster, Texas, moving in his adolescence to Cross Plains, where he lived until his suicide on June 11th, 1936, following his mother's death. In those 30 years, he produced an immense amount of pulp fiction, practically defined at least one genre - sword and sorcery - and contributed masterpieces to several others. The Robert E. Howard legend is now imposing enough to rival even his hero Conan, and has spawned numerous books and at least one film in its own right, multiple-award-winning The Whole...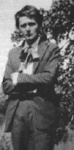 Clark Ashton Smith, Californian horror and weird fiction author, and artist and sculptor, was born this day on January 13, 1893. He lived until the Sixties (just), dying on August 14, 1961, but is best remembered for his dark and fantastic writing of the pre-war period, which had already won him recognition at age 19 with his first collection of poetry, The Star-Treader and Other Poems (1912). Smith spent much of his early life writing poetry, which earned him the admiration and enthusiastic support of H.P. Lovecraft among others, but in 1929 was driven by poverty and the Depression to produce...
Travel blog Venere.com produced this rather wonderful infographic of imaginary beings from the world over, gathering an entire Borges bestiary-worth of fabulous creatures. And even the most enthusiastic collector of imaginary fauna is likely to find novelties here. For instance, the Guita Xica is a new one on me although it comes from as close to home as Spain, and the bake-kujira is not only remote but also wonderful, as are the Madremonte and the Surale. You could almost work your way down the chart composing a new story about each - if you're aspiring to be the next Neil...