More on TechnologyTell: Gadget News | Apple News
Posts tagged
fantasy
Weirdbook Magazine, one of the more celebrated and imaginative titles of the science fiction New Wave and modern-day resurrection of weird fiction, is now relaunching, with what claims to be Issue #31 - albeit after a very long hiatus. As explained in Michael Ashley's Gateways to Forever: The Story of the Science-fiction Magazines from 1970 to 1980, Weirdbook Magazine first appeared in 1968, and "as a rare market for new weird fiction, it attracted pieces from new writers." Co-founder W. Paul Ganley "sustained Weirdbook for a remarkable 30 years, winning two World Fantasy Awards for his efforts." Paul Ganley is still on...
Australia: the venue for H.P. Lovecraft's incredible The Shadow Out of Time, for Picnic at Hanging Rock, for Mad Max, but still not always the first place that springs to mind in connection with the futuristic, the fantastic, and the frightful. But perhaps that does poor justice to the Aurealis Awards, established in 1995 "to recognise the achievements of Australian science fiction, fantasy and horror writers." The Awards recognize achievement in science fiction, fantasy, horror, young adult, and children's fiction, and "submissions within a category are reviewed by a panel of at least three judges, which selects each year's finalists...
I purchased this book as part of the recent Indie Fantasy Story Bundle (now complete). Having been disappointed with the first two books I tried from the bundle, I was starting to think I'd wasted my money with this one. Then I started [easyazon-link asin="B00MRCCG9M" locale="us"]Sand of Bone[/easyazon-link] and knew that this book alone was worth the price of admission. I mean, just start with that cover. And feel free to judge this one by the cover. The inside is just as impressive. For those who still believe that indie books are rife with typos and bad writing, let me assure you...
The very wonderful science fiction, fantasy, and horror publisher Subterranean Press, publishers of K.J. Parker among many others, has just announced its own Humble Subterranean Press Book Bundle on the Humble Bundle site, offering an all-you-can-eat smorgasbord of its classics, including such gems as The Top of the Volcano: The Award-Winning Stories of Harlan Ellison, The Ape's Wife and Other Stories by Caitlín R. Kiernan, Muse of Fire by Dan Simmons, and many many more. "Subterranean Press is celebrating two decades of excellence, and we're humbly inviting you to join the fun!" the introduction reads. The payment amount is up to...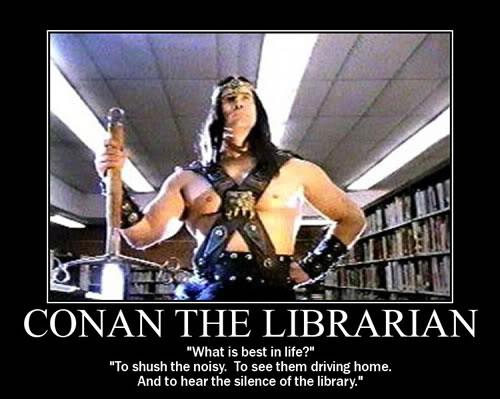 In honor of Robert E. Howard's birthday, here's a little demonstration and an attempt at a quantification of what his legacy as a popular/pulp/genre/trash writer means. And an object lesson in how many people you can reach, how many dreams you can touch - and how much wealth creation you can enable - by sipping at the poison chalice of popularity. Let's take two writers born roughly the same time, one "popular," one "serious," and their most successful single property. I'm going to focus on one Howard creation only: Conan. (Never mind the Solomon Kane movie and other offshoots.) And in...
Genre-spanning "pulp fiction" author Robert Ervin Howard was born this day, January 22nd, in 1906 in Peaster, Texas, moving in his adolescence to Cross Plains, where he lived until his suicide on June 11th, 1936, following his mother's death. In those 30 years, he produced an immense amount of pulp fiction, practically defined at least one genre - sword and sorcery - and contributed masterpieces to several others. The Robert E. Howard legend is now imposing enough to rival even his hero Conan, and has spawned numerous books and at least one film in its own right, multiple-award-winning The Whole...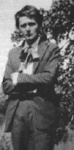 Clark Ashton Smith, Californian horror and weird fiction author, and artist and sculptor, was born this day on January 13, 1893. He lived until the Sixties (just), dying on August 14, 1961, but is best remembered for his dark and fantastic writing of the pre-war period, which had already won him recognition at age 19 with his first collection of poetry, The Star-Treader and Other Poems (1912). Smith spent much of his early life writing poetry, which earned him the admiration and enthusiastic support of H.P. Lovecraft among others, but in 1929 was driven by poverty and the Depression to produce...
Travel blog Venere.com produced this rather wonderful infographic of imaginary beings from the world over, gathering an entire Borges bestiary-worth of fabulous creatures. And even the most enthusiastic collector of imaginary fauna is likely to find novelties here. For instance, the Guita Xica is a new one on me although it comes from as close to home as Spain, and the bake-kujira is not only remote but also wonderful, as are the Madremonte and the Surale. You could almost work your way down the chart composing a new story about each - if you're aspiring to be the next Neil...
The threat to an unique archive of papers from Arthur Machen, the great Welsh writer of weird fiction, posed by cuts at Newport City Council appears to have released a growing wave of protest, progressing from local news reports to a BBC News item about the issue. The Friends of Arthur Machen, founded to commemorate and study the writer but now the focus of the campaign to protect the Machen archive held in Newport Art Gallery and Library, now numbers Alan Moore among its supporters, and is chaired by Ray Russell, founder of the independent British publisher Tartarus Press. The Machen papers are at...
Fans of fighting fantasy can look forward to a fun few years ahead, as according to an exclusive report on Deadline Hollywood, Sony has agreed a deal for Robert Rodriguez to direct a live action version of Fire and Ice, the 1983 animated movie co-created by Ralph Bakshi (he of the animated version of The Lord of the Rings), and famous fantasy figure Frank Frazetta. And without too much sniggering up sleeves and evocations of Spın̈al Tap, this looks set to be simply some massive fun. This is a project that has been in gestation since at least 2009, when Rodriguez first...
According to a podcast from movie industry commentary series Hollywood Babble-On, as relayed by the JoBlo Movie Network, Clive Barker's Imajica is to be adapted for television by Josh Boone, director of The Fault in Our Stars, who is also working on the TV adaptation of Stephen King's The Stand. Interviewed by fellow director Kevin Smith, Boone states (13.00) that "I'm hard on literary adaptations, because I've been a big reader all my life, and so much of what I'm doing now is books," and continues later on (1.31.00): When I was a kid I loved this book, Imajica, and we're...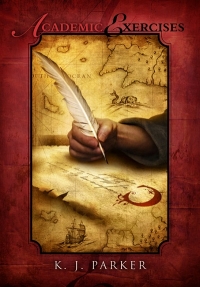 K.J. Parker is a two times World Fantasy Award-winning author, and also something of a mystery - the name is a pseudonym and the real identify of the author has never yet been revealed. The official K.J. Parker website doesn't shed much light on the enigma, although it does list the author's excellent series of longer works. Academic Exercises is his first collection of shorter fiction, but "he" here is a convention, since K.J. Parker could well be as female as J.K. Rowling. It's quite a collection too, at 536 pages long, with two World Fantasy Award-winning novellas ("A Small Price to...