More on TechnologyTell: Gadget News | Apple News
Posts tagged
fantasy
Following my earlier report on the launch of  HarperCollins's two portals specific to C.S. Lewis and the Narnia franchise, offering direct book and ebook sales to the public in conjunction with Accenture technology, a HarperCollins spokesperson contacted me with further comment and clarification. Here are the replies provided to my questions: TeleRead: What is HarperCollins's intention in this project? What plans do you have to expand it in future? HarperCollins: This is something we did in partnership with the estate. It was something they asked for and is a service we can provide to authors. TeleRead: How can selling direct to customers through...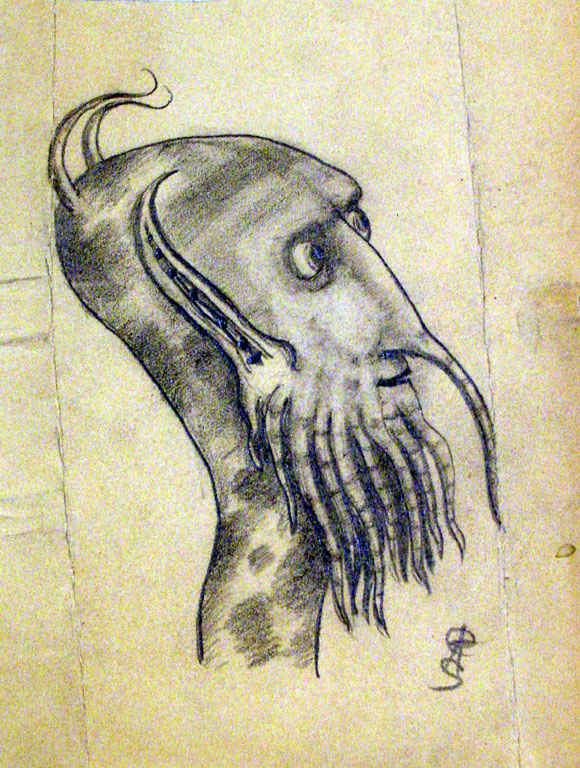 I was moved to wonder how much added value a really fine print edition of out-of-copyright work can bring by a Facebook post about a pre-publication offer on a new collection of the work of American fantasy great Clark Ashton Smith,  entitled The Eldritch Dark: Collected Prose Poems and Artwork of Clark Ashton Smith. In hardcover, this retails for $163.84 on Amazon, but against an original list price of $250.00. For that price, Centipede Press will offer you 460 pages including "all of Smith's known artwork and sculptures" and "his complete prose poems as well as a revealing introduction and...
Frederik George Pohl, Jr. (Nov. 26, 1919 – Sept. 2, 2013) was almost a living artifact of a bygone era in science fiction, as well as one of the genre's most fertile and perennially refreshed talents. Born in the immediate aftermath of World War I, he died in the epoch of Google Glass and the Large Hadron Collider, without ever losing his imaginative spontaneity or intellectual curiosity, or his ability to upset and disturb the genre consensus. For all its radical technological vision, science fiction has a reputation for frequently being socially and politically conservative, whether it's Orson Scott Card's anti-marriage equality...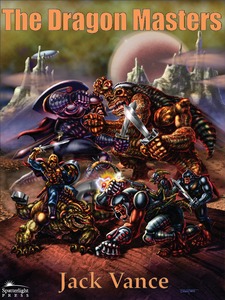 Thanks to Jack Vance, my early teens were haunted by dragonish monstrosities with such names as Termagants, Striding Murderers, Juggers, and Blue Horrors. These weren't drawn from a young adult story, but from one of Vance's most concentrated, intensely imagined and effective evocations of a place and above all, a society, very remote from ours, in time, space, and mindset. "The Dragon Masters" was one of the classics that consolidated his early reputation, and it has worn very well with time. Note that this book is an example of how mutable the standards of story length can be, as well as the...
Today marks—belatedly a day late—the birthday of Edward John Moreton Drax Plunkett, 18th Baron of Dunsany (1878–1957), better known as Lord Dunsany, the weird fiction, fantasy, and science fiction writer whose own Irish roots and aristocractic pedigree are as fanciful as—well, almost —anything in his tales. Thanks to his long, and exceptionally rich and varied, life, many of his key works are out of copyright and freely available on Project Gutenberg and elsewhere. In physique and in life, Dunsany was practically the direct opposite of his contemporary, H.P. Lovecraft, who praised him in his essay "Supernatural Horror in Literature," as: "unexcelled in...
Writers can hardly have missed the recent spat at the Science Fiction and Fantasy Writers of America about sexist attitudes, statements, and behavior at that organization, and in the broader community of cosplay, fan conventions, and general genre buffs. Now, a female publishing professional has taken up the gauntlet. Writing in the Tor Books Blog from Tor UK, Julie Crisp, Tor UK editorial director (pictured at right), has addressed the issue 'Sexism in Genre Publishing: A Publisher's Perspective' in terms that have already provoked irritated counterpoints from some other genre fiction editors. "In the last few years I have seen numerous articles...
"They never age." —Laconic: Comic Book Time, TVTropes A couple of years ago, I mentioned that Diane Duane had started updating the early books in her Young Wizards series.  (Joanna wrote her own post about it here.) The first book was published in 1983, and later books have been written in the years since then. Technology was always current to the publication date of each book, but only a couple of years were supposed to pass in the lives of the characters. As time has gone by some of the technological aspects of the early books in the series haven't exactly...
Taiwanese nature writer Wu Ming-yi's (吳明益) eco-fantasy is being hailed as the next 'Life of Pi', with translations set already for the U.S. and Britain this fall TAIPEI, TAIWAN -- Not many local Taiwanese novels become big books overseas. But a 2011 cli-fi, or "climate fiction" novel written in Chinese and titled "The Man with Compound Eyes" is set for release in English this fall, both as a paperback and an e-book. New York and London are already talking. Gray Tan keeps a blog in Taipei titled "Musings of a Fledgeling Literary Agent," but he's the real deal and he's on to something...
Jack Vance (1916-2013), the veteran pioneer of fantasy and science fiction, as well as a prolific master in many other genres, died just short of a century old this year, on May 26, 2013. But his massive legacy has been fittingly preserved in two huge publication projects: the Vance Integral Edition (VIE), a 44-volume set of his complete works acclaimed by some as "one of the more remarkable publishing feats of the last 50 years," and the Vance Digital Edition, a series of e-books "created from latest digital versions of the Vance Integral Edition texts," and sold directly from the official Jack...
Speaking of Baen, Wired misses a perfectly good opportunity to speak of Baen in an article about why big publishers seem to think genre fiction is the future of e-books. The article looks at how all the recent digital-only imprints the Big Six have been launching lately all seem to focus on genre fiction—science fiction, fantasy, mystery, romance. Traditionally, these markets' sales have always lagged behind "mainstream" literary fiction. However, Random House VP and digital publishing director Allison Dobson says that the digital marketplace has different priorities. Genre fans were the biggest e-book "early adopters" and even now some genre titles...
Sometimes you just have to laugh, and this story had me in stitches. Apparently, it's not OK for prisons to disallow the reading of werewolf erotic fiction, according to this story by Melville House. This case has been working its way through the California court system for more than two years. To sum it up, inmate Andres Martinez, currently residing in Pelican Bay State Prison, ordered from Amazon a book titled The Silver Crown. It's about a werewolf hunter who ... wait for it ... falls in love with a werewolf. Apparently prison guards examined the book and determined it had too much...
I stumbled across Blood Song by Anthony Ryan from a Books on The Knob post. She said it was at the upper end of her "bargain" category, and at $4.99 I had to agree with her. However, I was in the mood for an epic fantasy, and I decided to give it a look and check the ratings. Holy Stars, Batman! The book had over 700 reviews and an average rating of about 4.8. I couldn't remember the last time I'd seen something like that. Of course, I read a selection, and they didn't sound like sock puppets. Suddenly $4.99 was...