More on TechnologyTell: Gadget News | Apple News
Posts tagged
events
Following the recent news of the resurfacing of the near-legendary "Joan Anderson Letter" from Neal Cassady to Jack Kerouac, which gave us On The Road in its current form, Profiles in History, the auction house selling the letter, is hosting a media event on the morning of December 1st at "The Heart of The Beat Generation's History in North Beach, The Beat Museum," showcasing the letter "This One and Only Time, to Select Media in its Newly Discovered Entirety." The Beat Museum, which rejoices in the URL www.kerouac.com, "is home to an extensive collection of Beat memorabilia, including original manuscripts and first...
The Books on Tyne Literary Festival, a.k.a. the Newcastle Book Festival, is convening a literary gathering in Newcastle upon Tyne, one of northern Britain's most unique and characterful cultural communities, for non-Brits out there. Cradle of the legendary Geordie dialect, Tyneside is also the nursery of British literary talents like Basil Bunting and Tom Pickard. "After a successful Festival last year, we have been working hard to produce an even bigger and better programme of events for as many people as possible to enjoy," runs the Festival's introduction. "With a general theme of "On the Edge", we have brought together writers...
UK literary site The Real Story, "a celebration of creative non-fiction" supported by you by Openstories, "a Manchester-based arts organisation that runs digital literature projects," is looking for local non-fiction writers and prose poets for a series of nights or reading events devoted to the non-fiction writer's craft. "Essayists, creative non-fictioneers, prose poets… we want to hear from you!" states the intro. "If  you're based in or near Manchester and like the idea of getting up onstage and reading your work in front of people, make yourselves known to us." Seeing as Friedrich Engels wrote The Condition of the Working Class in England...
The Welsh capital received an horrific visitation last weekend in the shape of Scardiff, " the first Cardiff horror expo," and a celebration of "all things horror: books, comics, movies, cosplay, the works." And according to attendees, Cardiff Masonic Hall was overrun by a zombie-like horde of attendees, foaming with rabid enthusiasm for the events and attractions. The program at Scardiff included "horror-themed cosplay comps with prizes and custom-made trophies," an SFX scareoff, tabletop gaming, a low-budget filmmaking workshop, and - last but not least for budding horror writers - "a live pitching session for budding novelists, led by Scott Harrison...
The British Fantasy Society, in conjunction with renowned London-headquartered science fiction, fantasy, and horror emporium Forbidden Planet, is bringing together a pumpkinfest of feted horror authors for the Mass Hallowe'en Signing & BFS Open Day Social on Saturday October 25th, at Forbidden Planet's original 179 Shaftesbury Avenue chamber of horrors, kicking off at 10.00 am. Afterwards, there'll be a sociable get-together at The Bloomsbury pub on Shaftesbury Avenue for book and horror talk, with free entry to both events. Modestly titled "The Greatest Hallowe'en Signing of All Time," the event assembles the following writers, illustrators, and editors, according to Forbidden Planet's...
Here is a montage of shots from the Edinburgh International Book Festival 2014 - just to give you all a taste. And here's to next year - in another country, perhaps ? ...
I made it to Edinburgh once again this year for the 2014 Edinburgh International Book Festival, and will be reporting from now on until its end in a week's time. And just in case anyone still needs reminding, this is a critical month in a critical year for Scottish nationhood, cultural and otherwise, with the referendum on Scottish independence less than four weeks away. And yes, I missed George R.R. Martin, but there's a real-life game of thrones happening right here right now - though with far more ink spilt than blood. So far it's as buzzy and lively as you'd...
You may have noticed that I haven't been around much for the last few days. I was getting ready for and then attending the Creatures, Crime and Creativity Conference that was held last weekend in Baltimore. [caption id="attachment_96795" align="alignleft" width="135"] Jeffery Deaver keynote[/caption] While I've attended numerous conferences, this was my first writer's conference, and I admit I'm now spoiled for anything else. I've never had the chance to network and chat with so many writers, and I'm hungry to do it again. I had a chance to interview several authors, including Brian Keene, John Gilstrap, D.B Corey and Jeffery Deaver. Look for...
Scotland is a nation that takes poetry seriously—its national day, after all, honors Robert Burns. How seriously? Take the new Edwin Morgan Poetry Award, launched this weekend at the Edinburgh International Book Festival and worth £20,000 ($31,300). The new award, as the official release makes clear, "is the result of a bequest by the late Scottish Makar, Edwin Morgan (1920-2010), and a Trust has been established in his name to administer the award and further promote poetry in Scotland." The first modern Scots Makar (Scotland's Poet Laureate), Morgan inherited substantial investments from his parents, which grew still further in the hands of his retained advisors. One...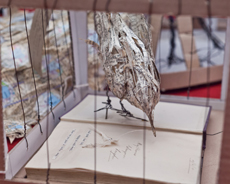 The mystery paper sculptor who has been crafting sculptures in celebration of reading and literature across Scotland outdid herself this weekend with a delivery of an entire flock of sculpted birds to the Edinburgh International Book Festival. Presented in a surprise delivery of blue bags to the Festival Book Shop, the birds, including "a heron, an egret and a crow to celebrate Iain Banks' 'The Crow Road,'" arrived in thirty cages with instructions on how to set them free, " ranging from somewhere far away, to a writer of beautiful things," according to the Festival's press release. The birds gifted to the...
Yes, it's true: TeleRead is officially reporting live from the Edinburgh International Book Festival ... which, by the way, is crazy: Huge crowds, long queues, yurts for journalists, authors mobbed at signings, special literary deckchairs. You name it, it's here. Below, a few shots from day one. Entrance to the Festival: The press yurts: Commemorative deckchair: More to come in the days ahead—stay tuned....
British author and historian Guy Walters (pictured at left) just ran a piece in the UK Literary Review about his less than totally positive experience at the Hay Festival. After a triumphant reading in front of an estimated 800 people, he recounts, he asked for expenses to cover his trip to and from the Festival—and was refused. "As I drove home, I did some maths," Walters states. "Those eight hundred people had each paid £7 [$10.57], earning Hay a tidy £5,600 [$8,455]. Compared to Hay's turnover of £4 million [$6 million] and gross profit of £1 million [$1.5 million], that's not a...