More on TechnologyTell: Gadget News | Apple News
Posts tagged
events
Here is a montage of shots from the Edinburgh International Book Festival 2014 - just to give you all a taste. And here's to next year - in another country, perhaps ? ...
I made it to Edinburgh once again this year for the 2014 Edinburgh International Book Festival, and will be reporting from now on until its end in a week's time. And just in case anyone still needs reminding, this is a critical month in a critical year for Scottish nationhood, cultural and otherwise, with the referendum on Scottish independence less than four weeks away. And yes, I missed George R.R. Martin, but there's a real-life game of thrones happening right here right now - though with far more ink spilt than blood. So far it's as buzzy and lively as you'd...
You may have noticed that I haven't been around much for the last few days. I was getting ready for and then attending the Creatures, Crime and Creativity Conference that was held last weekend in Baltimore. [caption id="attachment_96795" align="alignleft" width="135"] Jeffery Deaver keynote[/caption] While I've attended numerous conferences, this was my first writer's conference, and I admit I'm now spoiled for anything else. I've never had the chance to network and chat with so many writers, and I'm hungry to do it again. I had a chance to interview several authors, including Brian Keene, John Gilstrap, D.B Corey and Jeffery Deaver. Look for...
Scotland is a nation that takes poetry seriously—its national day, after all, honors Robert Burns. How seriously? Take the new Edwin Morgan Poetry Award, launched this weekend at the Edinburgh International Book Festival and worth £20,000 ($31,300). The new award, as the official release makes clear, "is the result of a bequest by the late Scottish Makar, Edwin Morgan (1920-2010), and a Trust has been established in his name to administer the award and further promote poetry in Scotland." The first modern Scots Makar (Scotland's Poet Laureate), Morgan inherited substantial investments from his parents, which grew still further in the hands of his retained advisors. One...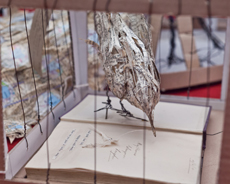 The mystery paper sculptor who has been crafting sculptures in celebration of reading and literature across Scotland outdid herself this weekend with a delivery of an entire flock of sculpted birds to the Edinburgh International Book Festival. Presented in a surprise delivery of blue bags to the Festival Book Shop, the birds, including "a heron, an egret and a crow to celebrate Iain Banks' 'The Crow Road,'" arrived in thirty cages with instructions on how to set them free, " ranging from somewhere far away, to a writer of beautiful things," according to the Festival's press release. The birds gifted to the...
Yes, it's true: TeleRead is officially reporting live from the Edinburgh International Book Festival ... which, by the way, is crazy: Huge crowds, long queues, yurts for journalists, authors mobbed at signings, special literary deckchairs. You name it, it's here. Below, a few shots from day one. Entrance to the Festival: The press yurts: Commemorative deckchair: More to come in the days ahead—stay tuned....
British author and historian Guy Walters (pictured at left) just ran a piece in the UK Literary Review about his less than totally positive experience at the Hay Festival. After a triumphant reading in front of an estimated 800 people, he recounts, he asked for expenses to cover his trip to and from the Festival—and was refused. "As I drove home, I did some maths," Walters states. "Those eight hundred people had each paid £7 [$10.57], earning Hay a tidy £5,600 [$8,455]. Compared to Hay's turnover of £4 million [$6 million] and gross profit of £1 million [$1.5 million], that's not a...
[Press Release] On August 22, 2013, crime scene tape will go up at Nashville's Five-Star Hutton Hotel, and hundreds of crime fiction readers and writers will converge to learn from—and sometimes match wits with—forensic anthropologists, psychologists, attorneys and law enforcement professionals. The occasion is Killer Nashville, a conference for fans and writers of thrillers, mysteries and other crime literature. In addition to a reader/fan track and three tracks of panels and presentations on the business and craft of writing, the conference offers an extensive forensics track certain to appeal to "CSI" fans or anyone with an interest in investigative techniques. One of Killer...
Preparations have begun in Scotland for the Edinburgh International Book Festival, which is the literary component of the Edinburgh Festival, the UK's biggest annual cultural jamboree, and which this year runs from August 10th to 26th, and showcases 800 authors in over 700 events. Many of the discussions and appearances this year will be either dealing with issues raised by the digital disruption of publishing and book production, or presenting authors in the context of their e-books and digital media work. "It's our 30th birthday this year and we celebrate with a programme of events looking back over three astonishing decades...
BEA director Steve Rosato shared some attendance numbers earlier this week. With the caveat that these are raw numbers yet to verified by their third party audit, the figures represent very slight changes from 2012, as follows: • Total Industry Professionals 2013 = 19,615 = -.004% • Total Industry Professionals 2012 = 19,694 • Total Attendance 2013 = 11,101 - +7% • Total Attendance 2012 = 10,417 Rosato also mentions other successful aspects of the show: "The Author Stages and other author events were a giant success.  In particular, the Neil Gaiman, Jim Gaffigan & the Wally Lamb/Elizabeth Gilbert appearances were terrific highlights. The improved logistics for lines in Autographing...
Much conversation and virtual space has been devoted over the last week to the announcement by O'Reilly that they are discontinuing the Tools of Change conference. The announcement stunned many, and lamentation abounded at the loss of what had been, for many, a forum for hearing new ideas and, equally important, an arena for networking and maintaining significant ongoing professional connections. As the producers of the Publishing Business Conference & Expo, one of the events in the same space as TOC, we have long respected our colleagues at O'Reilly. It might be expected that we would jump into the fray and exclaim...
Last week, NAPCO's Publishing Media Group launched its new video chat series, Literally Speaking Publisher Chats. The chats will take place every Friday at 11 a.m. EST, and I will be speaking to a variety of publishing people. The fun new video platform Shindig is hosting our events. On Friday, May 3, I spoke with Beth Kephart, an amazingly prolific author who has written in multiple genres including YA and memoir, and who has worked with a range of different sized publishers, from Gotham Books to Temple University Press. Kephart's new YA novel, Dr. Radway's Sarsaparilla Resolvent, was just published on Wednesday and her next book, Handling...