Posts tagged
ereaders, phones, tablets & reading apps
Several decades ago Arthur C. Clarke reminded a friend and me that e-book devices might develop amnesia if dropped in the bathtub. Well, time passes. I myself own a dandy waterpoof case for my Kindle Paperwhite. And I keep up with the Kobo world through a waterproof Aura H20. But wait! Exactly how waterproof is the H2O itself? The issue isn't as simple as giving the H2O a quick dunk. How long will it be underwater? At what depth? I'll leave such questions to braver souls in regard to the $180 Kobo. I was fine with dropping a $90...
What Are the Most Profitable Comic Book Movie Franchises? (GalleyCat) Marvel's Spider-Man is the top grossing movie franchise based on a comic book, according to 24/7 Wall Street. *** Amazon is Killing it in the Subscription eBook Market (Ink, Bits & Pixels) If you were hoping that new retailers in the subscription ebook market could grow large enough to balance Amazon, then you might want to look for a plan B. *** Why Are eReaders Great for Reading in the Sun? (GoodeReader) Serious readers often turn to their trusty Kindles or Nooks because E Ink enabled displays are easily readable even in direct sunlight because the electronic...
When I mentioned to Chris Meadows that I was leaving for my first ever cruise, he suggested I write something about ereading while cruising. I wasn't sure how I'd approach that, until I'd been on the ship for a couple of days. It was interesting to walk around the decks and see what devices people were using. Here's what I saw. The first day, Nooks outnumbered Kindles, but that turned out to be a fluke. After that first day, I saw only one other Nook. Kindles abounded, although most of them were the eInk versions. I saw lots of Paperwhites, one Touch,...
A just-published research study from Mintel, the London-headquartered consumer market research organization, demonstrates that ebooks are driving up reading levels in the UK. "One in four (26%) consumers who have bought an e-book in the past year say that they read more than they used to because e-books cost less than paperbacks, rising to as many as four in ten (38%) 16-24 year old-book owners," states the Mintel preamble. Cost seems to be one of the key grounds, as "over a third (36%) of UK book buyers buy both e-books and print books and 42% of these say that they...
iPhone 6 review: The little things make it a real star (InfoWorld) The larger design is very welcome, but there's much more to the iPhone 6 than a bigger screen. *** First Impressions: The Pocketbook 640 Ultra is a Prime Candidate for Worst eReader of 2014 (The Digital Reader) Alas, the actual device does not come even close to meeting the expectations engendered by its price tag, nor is it capable of fulfilling all of the features listed on the product page. I've only had mine out of the box for a couple days now, and I deeply regret spending so much on a device...
A technological breakthrough by Oxford University scientists, just announced in Science Daily, apparently "will make it possible to create pixels just a few hundred nanometres across that could pave the way for extremely high-resolution and low-energy thin, flexible displays for applications such as 'smart' glasses, synthetic retinas, and foldable screens." Including, of course, screens for ereaders and tablets. The breakthrough apparently came quite by chance while scientists were exploring a different line of research. "We were exploring the relationship between the electrical and optical properties of phase change materials and then had the idea of creating this GST [Germanium-Antimony-Tellurium] 'sandwich' made...
International Data Corporation (IDC) has reduced its forecast for 2014 worldwide sales of tablets plus similar 2-in-1 convertible devices - due largely to the surge in demand for phablets, which appear to be blurring the line between smartphones and tablet devices and snatching an ever greater market share. IDC's new forecast is for 245.4 million units in 2014, down from a previous forecast of 260.9 million units, and equaling a 12.1 percent y-o-y growth rate, down from e 51.8 percent growth in 2013. "Two major issues are causing the tablet market to slow down. First, consumers are keeping their tablets, especially...
Been thinking about upgrading your old reader to a new Kindle, like maybe the Kindle Paperwhite? For a limited time, Amazon is offering a tempting trade-in program. You'll not only get the trade-in value for your reader; you'll also get a $20 credit toward a Kindle or Kindle Paperwhite. The trade-in values aren't exciting, mostly hovering around $15, although if you've been considering switching from a 2012 Paperwhite to the 2013 model, with the bonus $20, it'll almost pay for itself. (2012 Paperwhite trade-in values are around $60.) The cynical part of me wonders if the timing of this promotion isn't intended...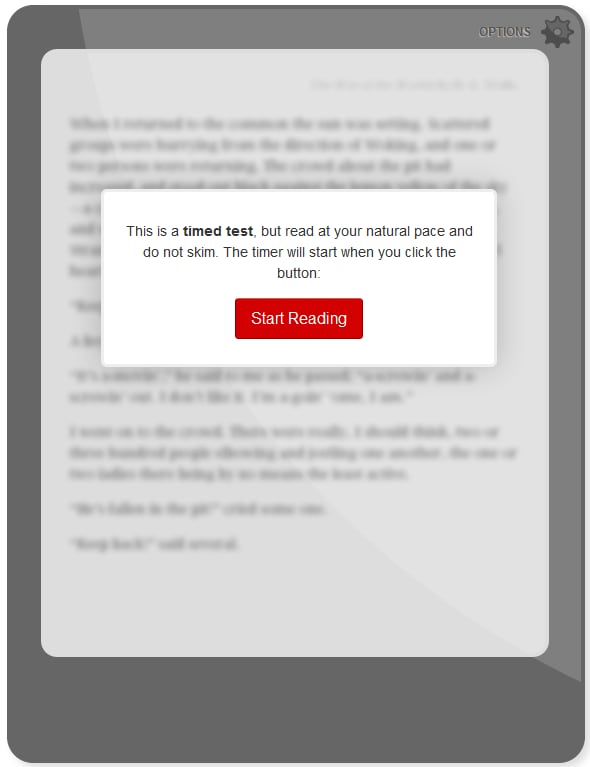 Staples has posted a fun little reading words per minute test. It gives you snippet of a popular book and then asks three questions to ensure you retained what you read. Then it will tell you how many words per minute you read. I got 541 words per minute, which put me someplace between "average college student" and "high-level executives." Let us know your score in the comments. Source: Staples eReader Department...
A new survey from Princeton Survey Research Associates International and made available through Pew Internet indicates that "the proportion of Americans who read e-books is growing," while "more also own dedicated e-reading devices." The survey, one of the first of the new year and based on a sample of just over 1000 adults surveyed in January 2nd-5th, 2014, indicates that "the percentage of adults who read an e-book in the past year has risen to 28%, up from 23% at the end of 2012.' That said, the survey also concludes that: "print remains the foundation of Americans' reading habits. Most people...
Australian website Momentum Books has just shared a post listing "Nine reasons that being a book loving shut-in is better than being a social butterfly." And while it's always good to see quiet solitary reading defended, there are also plenty of reasons why reading can actually help your social life. And why ereading helps even more. And anyway, finger-wagging and us-and-them thinking isn't always that's positive. So let's go through the list. Reason 1 deals with the nasty accidents and spillages that can happen in a bar "you only went to because your friends made you." Well, what about all the...
Attentive (and loyal) TeleRead readers may remember that I dubbed the upcoming Alcatel OneTouch Hero possibly the one smartphone I'd most like to have on account of its e-ink cover, intended to double as an easier-on-the-eyes ereader accessory. Now, according to news from CES relayed via Engadget, Alcatel appears to have gone one better by cutting the cover free from the phone as a separate item, the Magic Flip. Alcatel Magic Flip appears to be already an Alcatel brand, currently serving for slick-looking covers for the Alcatel OneTouch Scribe smartphone, with an inlaid watch dial. But a phone cover this is...