Posts tagged
e-paper
Heroically avoiding any puns about blowing ... raspberries, I'm delighted to report that a Kickstarter campaign to create an e-paper display for the Raspberry Pi has succeeded past all expectations, and looks on track to exceed its target by at least 50 percent, with 24 days still to go at the time of writing. The Raspberry Pi, as many will know, is a family of single-board computers, usually running a Linux-based OS, originally started as a teaching aid for schools, but now with an increasingly wide and fervent fan following among hackers, geeks and general users. And now one enthusiast has...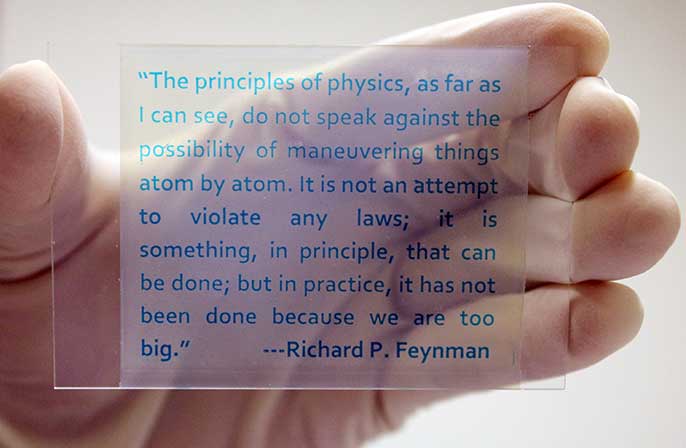 The University of California, Riverside has just announced another contender in the increasingly competitive rewritable paper technology stakes to rival Eink displays and other reprintable/rewritable/changeable solid-state reading solutions currently in production or under development. According to the announcement: Chemists at the University of California, Riverside have now fabricated in the lab just such a rewritable paper, one that is based on the color switching property of commercial chemicals called redox dyes. The dye forms the imaging layer of the paper.  Printing is achieved by using ultraviolet light to photobleach the dye, except the portions that constitute the text on the paper.  The new rewritable...
A research team from the Department of Electronic and Computer Engineering at Hong Kong University of Science and Technology has announced a technological development that could deliver "optically rewritable 3D liquid crystal displays" that do "not need any power to hold the image after being uploaded." In other words, they are pioneering a technology that can produce a color, 3D equivalent to epaper, with the same durability and low power consumption. The abstract focuses (sic.) mostly on the development of an auto-stereoscopic method of producing goggle-free 3D images involving "holograms or the projection of the two images directly in to the...
According to reports of an investor conference which appeared in the Taipei Times, e-paper specialist producer E Ink Holdings Inc. has announced lower sales and financial losses over the current and ensuing quarters, off the back of falling demand for its screens, found inside the Kindle and other e-readers. E Ink CFO Eddie Chen forecast revenue down some 5-10 percent from the $192.4 million recorded in the last quarter of 2013. Admittedly, this could be a freak seasonal result. The last quarter of 2013 brought profits nearly double the usual quarterly level, according to the Taipei Times report, although much of this did...
As highlighted by reports on GigaOM and Good E-Reader, two different teams are taking different approaches to the potential for epaper ereaders that never need to be charged at all. Both work on the principle that epaper displays consume practically no power, and the amount of current needed to change pages or load new books is so small that it could realistically be provided simply by a reader's gestures. One, called Bibliofile, from designer Nadeem Haidary, "uses page-turning gestures to generate the power necessary to update an e-paper display." There is also a stylus included. "The stylus sends a wireless signal...
No, honest, that's not a linkbait title. Or, well ... not too much of one. My husband found this absolutely awesome infographic on Livescience. Source: LiveScience Check out the image of the cephalopod skin vs. an e-reader display. Kind of creepy how close they are? (And why doesn't WordPress' spell-check recognize cephalopod as a valid word? That's discrimination against lack of a backbone, I'd say!) Wouldn't it be cool if our e-readers could crinkle their displays? Or manufacture their own power? Talk about awesome battery life. Anyway, just enjoy. The infographic kind of says it all....
The Real Costs of Publishing a Book (Media Shift) At every writers conference or self-publishing panel the question that almost always inevitably comes up is: "How much will self-publishing really cost me?" --- New Bookstats Report Shows Spectacular Growth of eBook Market Since 2008 (The Digital Reader) The American Association of Publishers announced their latest annual BookStats report today, and while the full report won't be up for sale for another week or so, I got an early look at some of the data. --- eInk Announces New e-Paper Technology Called Mobius (Good e-Reader) E Ink has just unveiled a new large screen e-paper display screen that will soon...
If you follow TeleRead regularly, you may know that aside from recently developed something of an obsession for the new smart watch trend, we're always fascinated by nearly any product that incorporates the technology of the E Ink Corporation into its design. Well ... remember the Kickstarted e-paper Pebble wrist watch? As promised, the company, Pebble Technology, announced Wednesday that they will begin shipping Pebble watches today, Wednesday, January 23. Although backers should be receiving their Pebbles in the mail shortly, the company has a few cautionary messages to announce. Listed as published on the Pebble blog, they are as follows: Notes: ♦ Pebble iOS App is not...
If you happen to have already read our last post, in which we referenced a Reuters article about the unfortunate decline in popularity of the e-reader, you might also be interested in checking out a few recent news items about the financial misfortunes of the Taiwan-based E Ink Holdings (formerly the E Ink Corporation). As we mentioned in that last post, E Ink's "monthly revenues dropped 91 percent in two months" at the end of 2011 (emphasis ours). This came after five years of near-constant growth for the company, which manufactures the displays of most Kindle and Nook e-readers. E Ink's massive revenue drop seems to have been largely caused by declining...
Ars Technica has a report on a new form of e-paper that could offer the same low power consumption rate as the e-ink used in current e-readers, but at a much higher refresh rate and better screen reflectiveness. Gamma Dynamics's e-paper screen uses layers of oil and pigment that can be induced to change places through an electrical voltage. It could offer a refresh rate of 50Hz, and possibly color eventually. (At the moment it works best in grayscale.) The screen will reflect 75% of ambient light, rather than the 40% of e-ink or 30% of electrowetting, making...
Gizmodo's Kat Hannaford has a piece indicating that LG is planning begin "mass producing" flexible e-paper screens in both 9.7" color and 19" monochrome sizes. While the prospect of color e-ink continues to be enticing (especially if they can solve the refresh rate problem to let it show video), Hannaford admits to being fascinated by the larger-sized monochrome screen. Weighing in at 130g and measuring 0.3mm thick, it could provide a basis for the newspaper-sized e-newspaper reader that Plastic Logic's Que turned out not to be. Of course, price and battery life are going to be...
We know of e-paper (or e-ink) technology as the driving force behind the Sony, Kindle, Nook, and a number of other e-book readers. But as Technology Review points out, books are just one use of normal paper that e-paper could replace. For example, Nemoptic has created miniature e-paper displays intended to replace grocery shelf price labels. If you've been to a grocery store, and almost everybody has, it should only take a moment's thought to realize how much work this could save. Any given grocery store will have literally thousands of shelf labels in use at...