More on TechnologyTell: Gadget News | Apple News
Posts tagged
digital libraries
The Chartered Institute of Library & Information Professionals (CILIP), the UK's professional librarians body, has issued a release and a call for action under the heading "Strict limits on library ebook lending must end," which calls for the UK to bring regulations on library lending of ebooks into line with those governing printed books. According to the announcement, "libraries do not have the right to lend ebooks. Out of the six major trade publishers in the UK only three – HarperCollins, Random House and Hachette – offer some of their ebooks to libraries. Research conducted in February 2013 by Shelf...
LibraryCity's proposal for a national digital library endowment has just made The Baltimore Sun---complete with a personal appeal to Bill Gates to talk up the idea. Books and billionaires does have a ring to it, doesn't it? If TeleRead community members can help get the word out on Twitter, Facebook and elsewhere and otherwise show support, I'll be grateful. Granted, the sums involved are large to most people, but they should not be in the least to the American elite as a group. The 400 richest Americans are together worth some $2 trillion, according to Forbes, and the total spending on...
Young people love suitable paper books, ideally new, that they can own. Could the same idea work for econo-tablets that public libraries gave away to low-income families---with a big, fat, e-book-related icon smack in the middle of the home screens? Yes! Don't just hand out gizmos, though. Let the tablets come with old-fashioned encouragement from public and school librarians. Technology is no panacea. Kids should be able to own paper books, too, in fact, not just gadgets. But e-book-capable tablets, especially with national digital library systems in place, could multiply the number of books matching students' precise needs. Paper books could serve as gateways to...
Jessica Nunez and her family are just the kind of people who could benefit from well-financed physical libraries, paper books, the digital variety, loans of e-readers, and technical support along with old-fashioned inspiration from dedicated career-librarians. "A lot of parents don't have computers at home or they can't afford 'em," she told a TV interviewer in September after the besieged  Miami-Dade library system won a temporary reprieve from massive cuts in hours and jobs. Ms. Nunez herself is among the millions of cash-strapped Americans counting on public libraries to help them. But will Miami-Dade come through for the Nunezes? That remains to be...
Just a dream. But what if I really could write the headline above—and not as a joke? Would more Americans, inside and outside the media, care more than they do now about the Hispanics, African-Americans and poor people mentioned in LibraryCity's latest digital library commentary? Of course, as is evident from the post, you don't have to be in a minority to benefit from full-strength digital libraries. The challenge is to let people know, "We can make full-strength national digital libraries happen. We don't have to put up with a crappy $4.20 per capita spent each year on public library content in all...
LibraryCity has just posted a major series telling how an initiative for national digital libraries could serve ordinary people here in the U.S., not merely the American elite. Sounds like a given. But it isn't, alas. The Digital Public Library of America is a wonder, but judged by the Five Laws of Library Science, it is more for academics and others in the elite than for the country as a whole. I'm reminded of the old Literary Digest poll saying that Alf Landon would wallop FDR in the 1936 election. The Digest relied too much on well-off respondents and was out of...
What kind of national digital library system---or systems, plural---should the U.S. create? Read Parts One and Two of a new series where Jim Duncan, executive director of the Colorado Library Consortium delves into the major issues. Is the Harvard-incubated Digital Public Library of America the solution with its "one big tent" approach for public and academic libraries? With museums even included? Or do we need intertwined but separate public and academic systems, so literacy issues, K-12 needs, related digital divide matters, and other national concerns do not fall through the cracks? Could a national digital library endowment, started mostly with philanthropic donations...
Amanda Ripley, who has written on education for Time Magazine and the Atlantic, is out with a new book that might upset some traditional PTA stalwarts and other boosters of after-school activities if they don't pick up the nuances about literacy here. No, Ms. Ripley, a fellow at the New American Foundation, isn't anti-PTA. She appreciates "the contributions" that a local PTA chapter can make to a "school's culture, budget, and sense of community." But in The Smartest Kids in the World: And How They Got That Way (video here), she asks whether American mothers and fathers shouldn't increase time for another activity---enjoying...
Last year LibraryCity.org knocked the library system in Rockford, Illinois, for planning to spend around a quarter of its $1.19-million collection budget on e-books. A third of Rockfordians were living below the poverty line in 2009 by one estimate. And yet the local library initially wanted to start out with just 50 Kindle e-readers---hardly the best solution for people too poor or technophobic to buy and use e-book devices. The local NAACP and other groups yelled foul, just as they should have. So what's happening down in Bexar County, Texas? BiblioTech, the world's first all-digital public library system, opened there September 14...
Want to hear text to speech from free library ebooks on your 50-mile commute? Even if you own an Android machine and the usual OverDrive app can't do "read-aloud" unless audiobooks count? Also, what if you haven't even bought an e-reading gizmo for library use, but want to? Which model to go with? In those cases and others, the guidance here is for you. Most tips will work even with low-cost, no-name tablets. But let's pay special attention to the new Kindle Fire HDXes. They are among the top choices if you care more about reading than about tech and can stomach...
As few geeks will need telling, Minecraft is the virtual world's answer to Lego, allowing users to build online (and often cooperatively) just about anything they can imagine. And as you might guess, with over 33 million users as of early September 2013, quite a few libraries have been built in the course of community construction. Now some enterprising librarians have gone one step further by using Minecraft to actually build virtual analogs of their own real libraries, delighting their readers. Minecraft already offers books and bookshelves as part of its standard ... ahem ... off-the-shelf toolkit, and written books actually...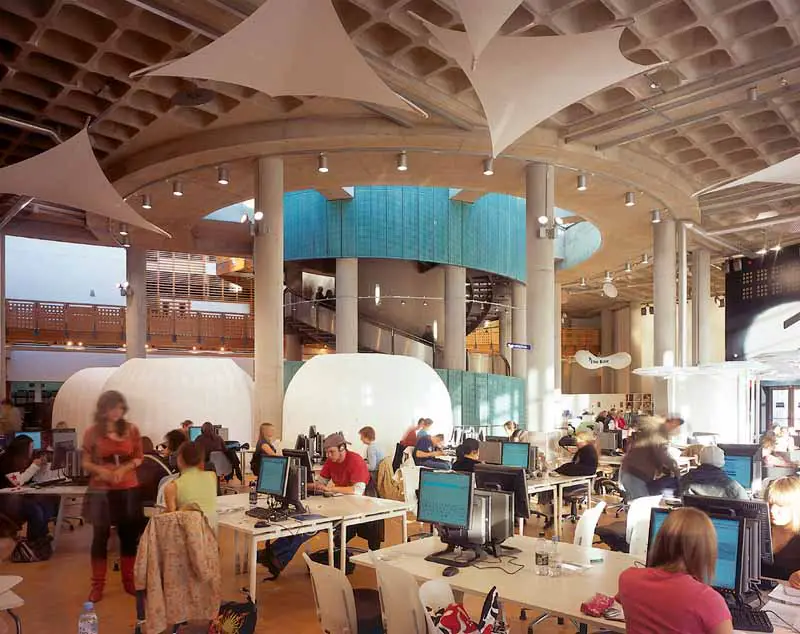 A recent article by Claire Shaw in the UK Guardian Higher Education Network purports to lay bare how "University libraries are shaping the future of learning and research." And although the article doesn't claim at any level deeper than the subtitle that libraries are actually dictating how we learn, rather than vice versa, it does demonstrate how ebooks, e-learning and related developments are causing academic libraries to mutate into new forms. It stands to reason that university libraries are going to be at the sharp end of the debate on what all libraries are for in the ebook era, when the...