More on TechnologyTell: Gadget News | Apple News
Posts tagged
digital libraries
What kind of national digital library system---or systems, plural---should the U.S. create? Read Parts One and Two of a new series where Jim Duncan, executive director of the Colorado Library Consortium delves into the major issues. Is the Harvard-incubated Digital Public Library of America the solution with its "one big tent" approach for public and academic libraries? With museums even included? Or do we need intertwined but separate public and academic systems, so literacy issues, K-12 needs, related digital divide matters, and other national concerns do not fall through the cracks? Could a national digital library endowment, started mostly with philanthropic donations...
Amanda Ripley, who has written on education for Time Magazine and the Atlantic, is out with a new book that might upset some traditional PTA stalwarts and other boosters of after-school activities if they don't pick up the nuances about literacy here. No, Ms. Ripley, a fellow at the New American Foundation, isn't anti-PTA. She appreciates "the contributions" that a local PTA chapter can make to a "school's culture, budget, and sense of community." But in The Smartest Kids in the World: And How They Got That Way (video here), she asks whether American mothers and fathers shouldn't increase time for another activity---enjoying...
Last year LibraryCity.org knocked the library system in Rockford, Illinois, for planning to spend around a quarter of its $1.19-million collection budget on e-books. A third of Rockfordians were living below the poverty line in 2009 by one estimate. And yet the local library initially wanted to start out with just 50 Kindle e-readers---hardly the best solution for people too poor or technophobic to buy and use e-book devices. The local NAACP and other groups yelled foul, just as they should have. So what's happening down in Bexar County, Texas? BiblioTech, the world's first all-digital public library system, opened there September 14...
Want to hear text to speech from free library ebooks on your 50-mile commute? Even if you own an Android machine and the usual OverDrive app can't do "read-aloud" unless audiobooks count? Also, what if you haven't even bought an e-reading gizmo for library use, but want to? Which model to go with? In those cases and others, the guidance here is for you. Most tips will work even with low-cost, no-name tablets. But let's pay special attention to the new Kindle Fire HDXes. They are among the top choices if you care more about reading than about tech and can stomach...
As few geeks will need telling, Minecraft is the virtual world's answer to Lego, allowing users to build online (and often cooperatively) just about anything they can imagine. And as you might guess, with over 33 million users as of early September 2013, quite a few libraries have been built in the course of community construction. Now some enterprising librarians have gone one step further by using Minecraft to actually build virtual analogs of their own real libraries, delighting their readers. Minecraft already offers books and bookshelves as part of its standard ... ahem ... off-the-shelf toolkit, and written books actually...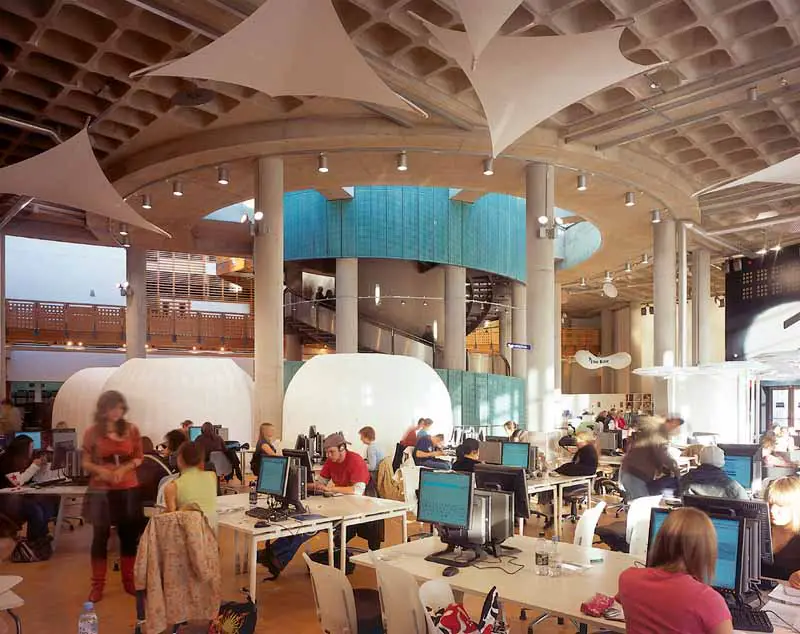 A recent article by Claire Shaw in the UK Guardian Higher Education Network purports to lay bare how "University libraries are shaping the future of learning and research." And although the article doesn't claim at any level deeper than the subtitle that libraries are actually dictating how we learn, rather than vice versa, it does demonstrate how ebooks, e-learning and related developments are causing academic libraries to mutate into new forms. It stands to reason that university libraries are going to be at the sharp end of the debate on what all libraries are for in the ebook era, when the...
A letter sent by Ed Vaizey, the UK Minister for Culture, Communications and Creative Industries, to Nicola Solomon, General Secretary of the UK Society of Authors, has confirmed the extension of England's Public Lending Right scheme to e-books and audio books borrowed from public libraries. The full text of the letter is here. "I am pleased to confirm that the Chancellor announced in last week's Spending Round that we intend to extend the Public Lending Right scheme to cover e-books and audio books borrowed onsite at public libraries," Vaizey's letter ran. The letter came in the context of the  recommendations of the report...
The UK is in the middle of an often acrimonious campaign by the leadership of its professional librarians' association, the Chartered Institute of Library and Information Professionals (CILIP), to rebrand the organization - which has attracted much derision by bending over backwards to avoid any reference to those fusty fuddy-duddy dinosaurs, libraries and librarians. German libraries seem to have learned nothing from the example, however. As reported in the German press, five libraries across German-speaking Europe are shortly going to lead a pilot program until early 2014 to rebrand public library services under the catchy tag "BiblioFreak." (See the poster...
If you can't find the right library e-books for your new Kindle, Nook, iPad or other gizmo, you're not alone. More than 100 patrons of the District of Columbia Public Library were lined up electronically today for 10 e-book copies of The Racketeer, John Grisham's new novel about the murder of a federal judge. Some 400+ D.C. library users awaited 60 electronic copies of Gillian Flynn's Gone Girl, the best-selling fiction title on the New York Times list. And a digital version of The Casual Vacancy, by J.K. Rowling, was not even in the catalog of the D.C. public library system. Could a well-stocked national digital library system—in...
John S. Knight Jr. and his brother supplied the first name in Knight Ridder, one of America's best newspaper chains. Pre- and post-merger, the company's papers won a total of at least 84 Pulitzer prizes. Years before most competitors, Knight Ridder's people were envisioning digital newspapers displayed on iPad-style tablets. Knight himself, in character for the chain at its greatest, was fact- and conscience-driven. He was a conservative Republican, but his columns against the Vietnam war helped win one of the Pulitzers. The chain is gone now. But the brothers' legacy lives on through the John S. and James L. Knight Foundation, with something like $2 billion in assets. Last week,...
From the Costa Rica Star: Thanks to an initiative by the National Printing Office, public school students in Costa Rica will soon be able to access all their mandatory reading assignments online. The project named 'Editorial Digital' was presented to the government weeks ago, and according to Jarmon Noguera Gonzalez of La Prensa Libre, the initiative also aims to foster good reading habits among citizens of Costa Rica. The project started with four main categories of literature in its digital library: Laws and judicial matters Classic literature Child and adolescent literature Literature from Costa Rica [Clip] Among some of the titles already on the shelves are The Little...
From the NYPL Announcement: Thousands of historical documents at The New York Public Library – including material handwritten by George Washington and Thomas Jefferson and papers from authors such as Mark Twain – will soon be accessible to the public online, thanks in large part due to a generous gift of $500,000 from The Polonsky Foundation. The project, which began in January and will continue through 2014, will digitize documents from the Thomas Addis Emmet Collection, located within the Manuscripts and Archives Division, and almost all the papers of several major American authors in the Henry W. and Albert A. Berg Collection of English and...