Posts tagged
Copyright law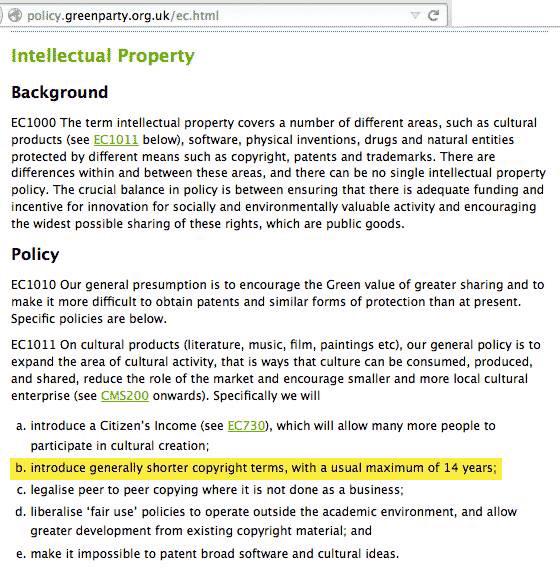 The UK Green Party, with just two weeks to go to the General Election, appears to have screwed its support with one influential constituency, writers and artists, through an ill-founded and poorly discussed policy proposal on copyright terms. The draft commitment to press for a shorter copyright term of just 14 years - versus the current UK norm of 70 years after the death of the author - apparently caught the entire creative community by surprise, and provoked a backlash when it did break cover. First tweeted by UK author Linda Grant (see the illustration), the Green Party proposal, with "to reduce the...
Fresh evidence of Big Media tactics to push its IP agenda in private and through back  channels, including both lobbying and far more questionable practices, has been pushed into the spotlight by Google, which has taken Mississippi Attorney General Jim Hood to court to forestall what it sees as improper attacks on it that far exceed his mandate. This follows the revelation via the Sony hack of Project Goliath, a coordinated move by Motion Picture Association of America members and their attorneys to put pressure on Google at the state level. Sony itself, as well as Universal, Fox, Paramount, Warner Bros., and...
Chris Meadows reported almost a year ago to the day on the invidious attempts by US trade negotiators in hock to Big Media vested interests to impose onerous copyright, intellectual property, and public domain restrictions worldwide via the Trans-Pacific Partnership - in secret, without negotiation or public consultation. Sad to say, a year on very little has changed, as the Electronic Frontier Foundation has revealed courtesy of a leaked document on the TPP state of play. As the EFF says: The Trans-Pacific Partnership agreement (TPP) poses massive threats to users in a dizzying number of ways. It will force other TPP signatories to accept the United...
John Ronald Reuel Tolkien was born on January 3rd, 1892, and his long and richly productive life ended on September 2nd, 1973. That longevity, however, also means that enthusiasts are having to wait a very long time indeed for any of his great body of work to find its way into the public domain. As Everybody's Libraries noted back on Public Domain Day 2013, if the U.S.  had not passed its latest copyright extension act in 1988, "we would be seeing works published in 1937, such as the first edition of J.R.R. Tolkien's The Hobbit, now entering the public domain. ...
Some alarmed articles have been put about about the transfer of the European Commission copyright portfolio to Commissioner-designate for the Digital Agenda, German Guenther Oettinger, who inherits this from the Internal Market & Services Directorate General (DG Market) arm, where it was siloed in units D1 and D3, according to a report in The Guardian. Oettinger will now oversee an office known hitherto as DG Connect, to be renamed DG Digital Economy and Society. Since Oettinger's predecessor Neelie Kroes was widely criticized by publishing and creative industries figures as too friendly to technology groups at the expense of rights-holders, it's hard to...
Given all the hysteria around the Amazon-Hachette faceoff in UK media, you could be forgiven for thinking that the UK publishing industry was on its last legs. Not so, according to the latest Create UK report, the main strategy document from the Creative Industries Council, available here. As part of the media circus surrounding the release of the report, UK Prime Minister David Cameron publicly undertook to double the value of exports from the UK's creative industries, currently running at £70 billion ($120 billion) a year, with a growth rate five times that of the wider economy over the past three...
The struggle between scientific publishers and the academic community over open access policies has taken a new and striking turn. Not only is the Nature Publishing Group, publisher of Nature, Scientific American, and other august and popular journals, attempting to induce authors who sign with it to obtain waivers on the open access policies of their schools and institutions, it is also slipping waivers on authors' moral rights into its contracts. And just to clarify, moral rights "include the right of attribution, the right to have a work published anonymously or pseudonymously, and the right to the integrity of the...
Well alright, that's not exactly what's going on. But it could have that effect. For the UK Police Intellectual Property Crime Unit (PIPCU), siloed in the City of London Police, has announced with some fanfare the launch of its "Infringing Website List (IWL) ... [which] sets out to disrupt the advertising revenues on illegal websites globally." The principle of this initiative is to introduce "an online portal providing the digital advertising sector with an up-to-date list of copyright infringing sites, identified by the creative industries and evidenced and verified by the City of London Police unit, so that advertisers, agencies and...
Benjamin White, Head of Intellectual Property at the British Library, has produced an extremely detailed guide to the implications of the changes of UK copyright law for libraries and for the general public in Britain. And this guide has been made available through the website of the Chartered Institute of Library and Information Professionals (CILIP), who have of course an immediate professional interest in the topic. "The proposed drafts go a significant way towards making UK copyright law 'format neutral', meaning that the law will now recognise for example that those doing research and personal study are just as likely to...
The UK government has introduced a series of changes to copyright law across various media, including books. "These changes will affect how you can use content like books, music, films and photographs," says the introductory text at the UK Intellectual Property Office. "They will also introduce greater freedoms in copyright law to allow third parties to use copyright works for a variety of economically and/or socially valuable purposes without the need to seek permission from copyright owners." These remove the UK's anomalous legal restrictions on, for instance, ripping CDs and DVDs for backup and private home use, and open up...
Professor Paul J. Heald of the University of Illinois College of Law has just released a new study that puts Chris Meadows's recent problems with out-of-print stories from Astounding Stories into perspective. Remember that it was Heald whose previous research found that extension of copyright terms actually reduced the availability of books. And his new report, "The Demand for Out-of-Print Works and Their (Un)Availability in Alternative Markets," has found that, while demand for out-of-print books as ebooks or in other forms remains high, supply remains atrocious in comparison to older musical works. Heald compares the availability of popular songs and music...
The anniversary of James Joyce's birthday in 1882, February 2nd, fell on a Sunday this year, so this article comes a day late. And as his life and works have already been covered plenty on TeleRead, and are best tackled on Bloomsday, June 16th, I'll confine this article to the question of Joyce's works and the public domain, since for some jurisdictions, these towering classics of modernist literature are available online for free - and for some, they're not. Just to spare anyone who is more interested in the works themselves than the wrinkles of this debate, all of James Joyce's...