Posts tagged
Christmas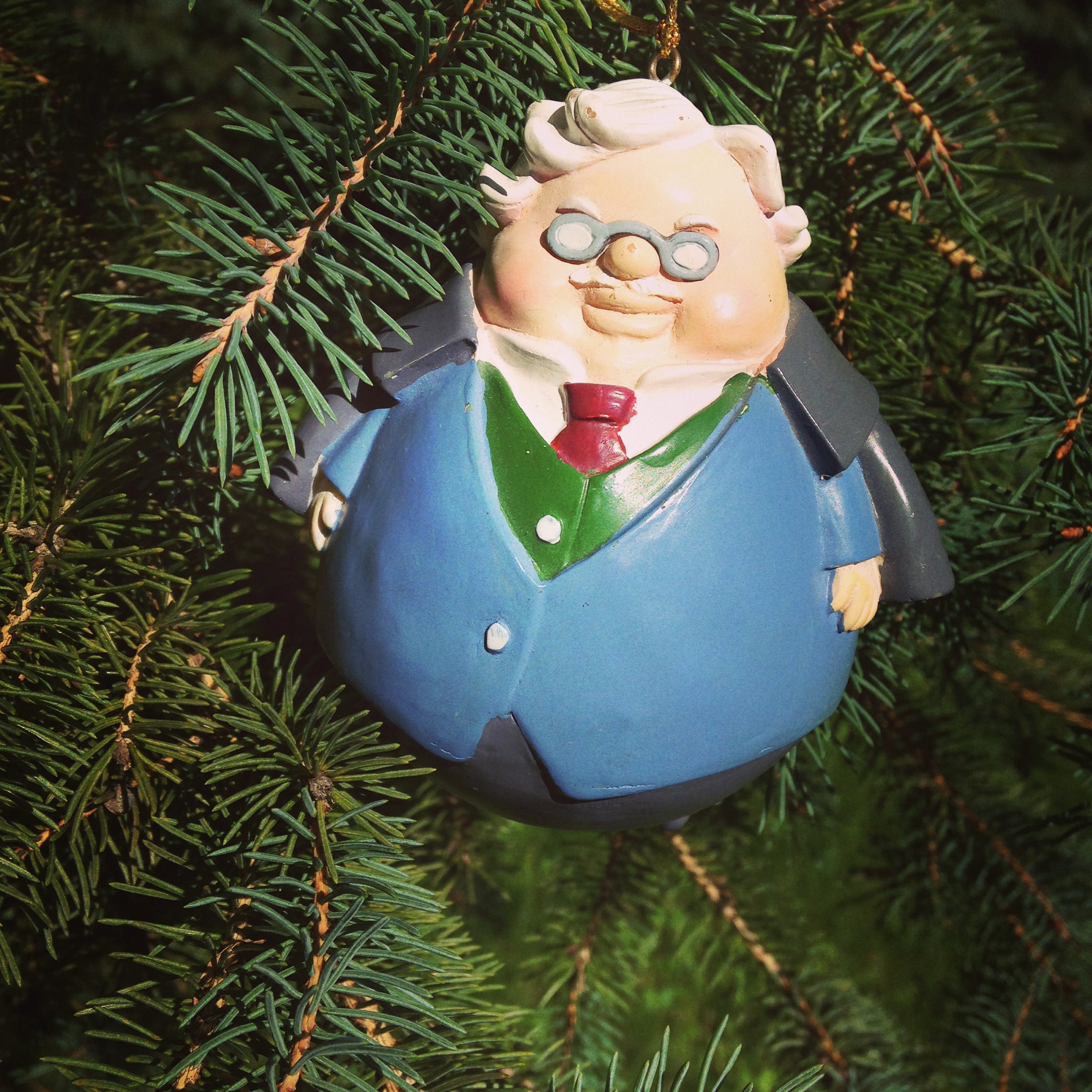 I was moved to write this after reading a number of snarky Christmas comments by Facebook friends and writer buddies, and after struggling through Christmas shopping crowds. Yes, the festive season can get on your case with the way it jams you up against family and strangers. But know what? That could say more about you than it says about the commercialization of Christmas. G.K. Chesterton tackled the issue just over 100 years ago in Heretics, his brilliant, penetrating series of essays on other contemporary intellectual figures "whose view of things has the hardihood to differ from mine." In "Christmas and...
Since the extremely talented Simon Strantzas has graced us with a very unsettling Christmas special, "Making Merry," I thought that this was a good time to pick up on a couple of modern classics of free festive fear. Or Gratis Gibbering Ghoulishness. That's modern, because free out-of-copyright chilling Christmas classics are more plentiful than Jacob Marley's chains. And there are those who maintain that this habit of mixing horror with your holly and terror with your turkey is very much a Brit thing, foreign to Americans - although that I doubt. So, for others who do want to shiver under...
Editor's Note: Apologies for not publishing this one yesterday. Too stuffed from Christmas dinner to waddle to my computer. It's still enjoyable a day late. Who could possibly turn down the opportunity to link to Jonathan Franzen as "Great American Reindeer"? (As if he hadn't made himself ridiculous enough by his own statements, others are always going to find more ways...) So it's grateful thanks to Jason Diamond and Tom Hawking at Flavorwire for putting together this marvelous compilation of "famous authors in Santa hats." And some of the images are just too telling to be simple straightforward fun. Isn't there something just...
Carrie Vaughn, author of the Kitty Norville werewolf novels, has posted to her blog an amusing tale of the Christmas Eves she used to work in a bookstore, right after college. She explains that she actually loved working Christmas Eve, in spite of the conventional wisdom about holiday-season retail, because last-minute bookstore shoppers were generally very easy to please, and in miraculously helping them find exactly what she needed, she got to "[feel] like Wonder Woman." Because bookstores are, for the most part, staffed by intelligent, well-read people who want nothing more than to foist vast...
One of the stories in our "Morning Roundup" today touched upon Amazon yanking a Christmas special that a customer had previously purchased because Disney wanted it available only on its TV channel during the holidays. The version of the story we linked was the early report, but since a number of sites have followed up and gotten a response from Amazon, it's worth revisiting. Ars Technica and AllThingsD report receiving word from Amazon that the customer had been "misinformed" by the customer service representative. The Amazon PR representative explained: What you are referring to was...
I can't even begin to count the number of articles I've seen over the past few weeks about the swiftly growing popularity of tablet computers. A week or two after the holiday season has ended, I suspect we'll start seeing solid proof—one way or the other—in the form of sales numbers, and we'll finally have a firm understanding of just how many tablet PCs are out there in the world today. That'll be an interesting and even important economic factoid for the digital reading community, of course. Because as we've been reminded of over and over again, this particular consumer trend—the suddenly massive...
It's the week before Christmas, and the post office and local stores are full of people I've never seen before. Where do they shop the rest of the year, these folk? Do they live in suspended animation till December? I can only surmise that the warmer weather here in Oz wakes them up, like locusts, just to clog the supermarket aisles and make buying a postage stamp a two-hour operation. But at least they got me thinking about one of the nicest and most often overlooked aspects of purchasing e-books—you don't have to relate to the other customers. Not that bookstore...
With about a zillion people getting Kindles for Christmas, they're going to be wanting something to read, and not necessarily for a lot of money, either. I spotted a couple of articles highlighting some of the best works available to read for free on Kindles. One of them offers an intriguing theory on why Amazon's quality control may be so random. The UK blog PC Pro lists a number of these works, split about evenly between public-domain works and newer titles. I'm not sure whether all of them are available in the US version of the store, international rights...
From the press release: Amazon.com, Inc. today announced that 2011 was the best holiday ever for the Kindle family as customers purchased millions of Kindle Fires and millions of Kindle e-readers. Authors also continue to benefit from the success of Kindle — the #1 and #4 best-selling Kindle books released in 2011 were both published independently by their authors using Kindle Direct Publishing (KDP). "We are grateful to our customers worldwide for making this the best holiday ever for Kindle," said Jeff Bezos, Amazon.com founder and CEO. "And in a huge milestone for independent publishing, we'd also like to congratulate Darcie Chan, the author of 'The Mill River Recluse,' and Chris Culver,...
One of the benefits of electronic media is that e-book stores are never closed for the holidays—at least for purchasers. But in some cases, for publishers, it's another story. EbookNewser reports Apple's iBookstore team sent an email to iBookstore sellers letting them know that the iTunes Connect app and e-book publishing platform is down from now until Thursday, December 29th for the holidays. It will not be taking any new updates during this time, and scheduled releases and pricing changes will be delayed. The iBookstore team wrote in an email to iTunes Connect users: " We...
PaidContent writes about a holiday campaign launched by digital publisher Open Road Integrated Media. Called "The Gift of E", the campaign centers on giving e-books for Christmas as an alternative to shopping in crowded stores. The site feature instructional videos on how to give e-books as presents. After Christmas, the campaign will focus on e-book "starter packs" for new e-reader owners. As PaidContent points out, only Kindle and Kobo so far have set up a way that individual e-books can be given as gifts; other e-tailers will allow buying gift certificates but not specific titles. That could give them...
Our sister blog GamerTell points out a set of game-related e-book deals for the holiday season. Games Workshop e-book publisher Black Library (whom we've covered here before) is offering a number of e-book and audiobook bundles for fans who haven't bought in yet. Some of them are a little pricey. For example: Christmas Space Marine eBundle: Space Marines are always fun. This collection takes the best novels and novellas highlighting specific famous Space Marine battle. In total, you get seven novels and four novellas for $75.89. Though when you look at the individual books in the bundle, it doesn't appear that you're...