Posts tagged
Brazil
This year's Frankfurt Book Fair has just opened with a discussion on "The Future of Reading" between bestselling Brazilian author Paulo Coelho and Frankfurt Book Fair Director Juergen Boos. "How will The Alchemist be received in 100 years?" asks the Book Fair's materials. "What will authors have to do in the future to get their content into the hands of readers and keep it there? How will cultural technology change, and what aspects will remain the same?" Interestingly, Coelho refused to attend last year's Frankfurt Book Fair, even though Brazil was the 2013 guest of honor, citing the Brazilian government's failure to...
Neilsen BookScan has entered its 10th market. The book retail measurement service is now tracking print book sales in Brazil. "We're keen to develop our service in Brazil because of the enormous potential of a booming publishing market there," said Neilsen Book president Jonathan Nowell, in a release. "With a population of nearly 200 million starting to educate themselves, I think publishers and retailers have tremendous opportunities ahead." He added: "We are looking forward to providing Brazilian publishers and booksellers with the same timely, business-critical information that their counterparts in other countries are familiar with and value so highly. This new service will play a...
Starting next Sunday, March 3, readers across Brazil will have one more reason to know and experience the digital book—a reason they feel in their pockets. Booksellers, publishers and authors promote the first "Semana do Livro Digital," a local version of Read an E-Book Week, a traditional online event that's been running since 2004. The Brazilian week will offer thousands of free or discounted e-books from March 3 through March 9, the same time period during which the original Canadian Read an E-Book Week event will be happening this year. In Brazil, dozens of publishers and independent authors will be taking part...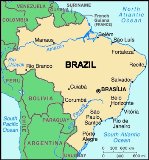 From Shelf Awareness: Amazon plans to create a digital bookstore in Brazilsometime between October and November of this year, Reuters reported, citing Brazilian publishers and an industry source. Because of logistical problems and complex taxes, it will be the first Amazon bookstore that sells only e-books, not printed books.Pedro Guasti, director of research firm eBit in Sao Paulo, said that in 2012, Brazil "should reach $12 billion in sales online, a level that justifies their entry. If they wait much longer it would become very expensive."Amazon has signed contracts with approximately 30 Brazilian publishers "and is rushing to build a portfolio of...
Got the following email from Roberto Itubok: I just launched my first book and I chose to publish it as an ebook. It is a collection of short stories about family relationships and how people cope with difficult relationships. It is written in Brazilian Portuguese.   As a promotion the book will be available for free at Amazon until June 29.   Please find attached one of the short stories included in the book. Feel free to post this short story in your blog/site.   I appreciate the divulgation and comments! Thanks, Roberto Itubok Conto "Erro"   (livro "Fragmentos Familiares")     Roberto Itubok     ~~~~ **** ~~~~     Erro   Eu errei. Passei as últimas horas em dúvida e posso...
The information we were expecting. While everyone is looking for when will Apple iBookstore and Amazon arrives here, Google Books and Kobo stand aside. What does not stop them to continue negotiating their arrival in Brazil. In the event Rakuten Super Expo that took place yesterday in São Paulo, April 25, the company's vice president Todd Humphrey said that Kobo will arrive in Brazil in the second half. Kobo is a complete platform. Besides being a virtual book store, it also has applications for various platforms and a range of devices including eReaders and tablets of good quality. The prices of...
Reprinted, with permission from REB, Revolução E-Book: There is one thing that American publishers haven't done, and it is a merit of Brazilian publishers. The news came from the newspaper Valor Economico: In this format, called distribution, it's Amazon that sets the price to be charged of the eBooks, without the intervention of publishers. This value is typically about 50% lower than the price of the physical book. In Brazil, however, the pricing policy doesn't take it. The difference is that in the United States the company has greater bargaining power with publishers, who have much of their revenue coming from contracts with Amazon....
From Publishing Perspectives: After several months of beta testing, Abril, one of the largest media groups in the Brazil, has officially launched Iba, a new digital retailing platform with 25 magazine titles, 19 newspapers and 6,000 e-books from 170 publishers – making it one of the largest e-book retailers in Brazil, following Gato Sabido, which has 7,300 ebooks, and Saraiva, which has around 6,000. The launch comes just as competition is expected to heat up, with Amazon and Google expected to launch later this year, and several other domestic platforms – Mundo Positivo, Buqui and Travessa — having started selling e-books in...
Publishing Perspectives reports that later this year, Amazon is going to introduce its Kindle into the Brazilian market at a price of R$199 (US$115)—significantly cheaper than any other e-reader on the market. Anonymous sources "familiar with the negotiations" suggest Amazon may even go as low as R$149 (US$87) to gain market share. (Of course, those prices are on par with what the device sells for in the US, but I suspect Brazil may have a higher salary and cost of living base than the US, thus making it remarkably cheap for there.) Not only is this well...
From the FuturEbook blog: Brazil is not a world example when it comes to digital books. The estimate is that we are three years behind big markets like North America. However, 2012 promises to be the year that things will really happen, so we present here an overview about the technology - both formats and devices - used in Brazil. Formats So far, the most widely used format for eBooks in Brazil is the PDF, which is a shame. As everyone knows, PDF is not a document format suitable for digital books, since you cannot resize the text, change the layout or...
There is a lot of buzz about ebooks in United States, but ebooks are on the rise in many countries. If you're interested at having a look on how they are doing in Brazil – here's a nice infographic about it. Via Ebookfriendly...
Last year, we reported on Brazil's copyright law forbidding the use of DRM to block fair use. It appeared at the time that Brazil was developing a very progressive and open stance on copyright reform, even licensing the contents of its state website under Creative Commons. There was even a movement to legalize file sharing. However, after a new administration was elected, Brazil's stance on copyright seems to have gone through a screeching U-turn. Mike Masnick at Techdirt reports that the country's new Culture Minister ordered the removal of the CC license from the website shortly after taking office,...