More on TechnologyTell: Gadget News | Apple News
Posts tagged
books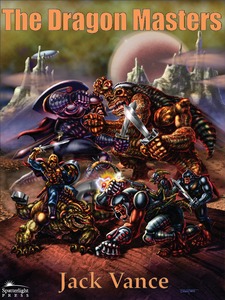 Thanks to Jack Vance, my early teens were haunted by dragonish monstrosities with such names as Termagants, Striding Murderers, Juggers, and Blue Horrors. These weren't drawn from a young adult story, but from one of Vance's most concentrated, intensely imagined and effective evocations of a place and above all, a society, very remote from ours, in time, space, and mindset. "The Dragon Masters" was one of the classics that consolidated his early reputation, and it has worn very well with time. Note that this book is an example of how mutable the standards of story length can be, as well as the...
Kindle refund more than doubles in e-book settlement (CNET) Amazon Kindle customers could get more than double what was previously estimated from the recent Apple e-book lawsuit settlement, the company posted in its forum on Friday. Pending court approval, some customers who previously purchased books from the publishers involved in the case are estimated to receive between $0.73 to $3.82 per Kindle book thanks to more publishing companies agreeing to the settlement, according to the Amazon. The US Attorneys General had previously said the refund would range from $0.30 to $1.32. * * * Heads up, ebook buyers: Here's how much you're likely to get in the...
I'm birthday shopping for a long weekend visit with a young friend, and I think I just found the most perfect example in the world of a book series that should not at all be threatened by the birth of the e-book. The background: The boy is turning three, and he is into trains. But he has a lot of train stuff already, including two train-themed gifts we will be bringing for him from various grandparents. And he likes the movie "Toy Story," but is, again, well-stocked. So ... what should we get him? We heard the news that he's been struggling...
Come on, Kobo, a $399 tablet? Really? (GigaOM) E-reading company Kobo plans to launch a $399 tablet. Has it learned nothing from Barnes & Noble's experience? * * * A Career Versus Publication (Kristine Kathryn Rusch) I was a bit stunned at the response to last week's blog, not because the response was negative—it wasn't—but because so many of you said that you had no idea that writing was a career choice. * * * Bad News: Court Says Cyberlocker and its Owner can be Liable for Copyright Infringement (Techdirt) While the full ruling won't be out for a few weeks, a Florida court has made a horrifically...
I wrote yesterday about a blog post written by a book lover who lamented her non-reading spouse. Today, a story serendipitously crossed my inbox on a similar topic: a book lover who laments their non-reading child. Our friends at Book Riot shared the anecdote of attending a book event and meeting a dad who was attending it without his non-reader wife. And he had made peace with that, just as the blogger in yesterday's story did. But what he still could not get over was the non-reading child who had inherited his mother's habits. The article got quite a few comments which...
New biography claims new Salinger books due out (ABC News via AP) The authors of a new J.D. Salinger biography are claiming they have cracked one of publishing's greatest mysteries: What "The Catcher in the Rye" novelist was working on during the last half century of his life. * * * Elmore Leonard's 10 Rules for Writing (KSDK via Detroit Free Press) These are rules I've picked up along the way to help me remain invisible when I'm writing a book, to help me show rather than tell what's taking place in the story. * * * Why it matters that you can't own an electronic...
Notable contemporary novelist and professor of writing practice Kirsty Gunn (pictured below) appears to be exercised with the length of some of the books currently winning garlands at the Edinburgh International Book Festival and elsewhere. She also seems concerned to link this enthusiasm for length with the uncertain economic climate, and the fundamentally "bourgeois" character of the novel. Big books are dominating this year's book festival," begins her article in The Guardian: "The economics behind the trend might have something to with it. Recessionary times prefer spectacle to introspection ... And big books build confidence, too, a feeling a look-at-me can-do'ism ... And now...
Note: Media observer Dan Bloom wonders, like a lot of people, just what Amazon's popular and must-see book stats really mean. His opinion here reflects his own personal hunch about how things operate in the shop that Jeff Bezos runs. Comments welcome below, pro and con. The next time you read in a press release or newspaper that a certain book "has been propelled to the top 100 rankings among paid Kindle titles on Amazon.com," think again. What does that really mean? And the next time you hear that a certain book "has been propelled to  the top 100 rankings among...
I wrote earlier about a mysterious walled-off section that just went up at my local Indigo, announcing the impending arrival of something called "Indigo Tech." This morning, there was news in my RSS feed from my friends at Good e-Reader, confirming that Indigo has signed a deal with Apple to carry tablets, Apple TV boxes and other products. Their write-up also had this intriguing quote: "Indigo said during a recent investors call that it will revamp many of its large format stores to fall in line with the growing popularity of the store-within-a-store concept at many other retailers. The new physical format store will...
My younger brother is dyslexic, and an avid consumer of audiobooks on tape and CD. (He's been unable to get too comfortable with digital downloads and streaming yet, but he's getting there.) He's probably digested more books than any other member of my family besides me. (Thrillers and detective fiction mostly.) And naturally, he borrows a lot from the library. Hampshire local libraries, as it happens, have an appropriately substantial legacy in their audio collections of tapes and CDs. Cases are often worn and tattered, and in any case are bulky, awkward and hugely inconvenient to put away or to travel with....
A poster at Mobile Read alerted me to this shocking story from Inside Higher Ed, about a new textbook rental program. The article warns of a clause in the textbook rental fine print that restricts users renting through Amazon's Warehouse Deals, Inc, from moving the textbook out of the state in which it was initially purchased. From the article: "At first glance, the restriction doesn't seem to make much sense. But to those who have been following Amazon's aggressive efforts to avoid charging state and local sales tax, the reasoning behind it becomes clearer. Kenneth C. (Casey) Green, founding director of the Campus Computing...
I'm a woman of quirky hobbies, and a few years ago, I became fascinated with the phenomenon of bento blogs. These are people who craft works of art out of their packed lunches and blog about the resulting masterpieces. As this phenomenon gained traction in North America, I noticed a curious trend---many of the moms who are into this stuff will try to tie in the theme of their lunchbox artforms with movies, books and current events. Consider this trio of Princess Bride-themed lunches, posted in celebration of William Goldman's birthday the other day: 1) 'As You Wish'...