More on TechnologyTell: Gadget News | Apple News
Posts tagged
book review
On the jacket of House of Small Shadows, Adam Nevill is described as "Britain's answer to Stephen King." I'm happy to say that, if this is an answer, it's a very distinctive and locally accented one that is anything but pastiche King. Rather, Nevill's very personal style is more what you would expect from a British ghost and horror story writer in the tradition of M.R. James and Arthur Machen - updated to the era of The Ring and body horror. It's that unsettling. Briefly, late-thirtysomething provincial antiques valuer Catherine Howard sets out in quest of a fabulous collection of animal...
While not being immersed in Norse mythology since middle school, I've found myself surrounded by it lately between a number of different books and movies. In a matter of a few months, I've read or seen several different versions of Thor, Loki, Odin and the Norse fringe characters. The latest was in [easyazon-link asin="B00AEDPNFA" locale="us"]Ragnarok: Book 1: The Hammer[/easyazon-link] by Brian James where the gods have been thrown out of Asgard and have made lives for themselves on Earth. There is a fight to control Thor's hammer with nearly a dozen characters appearing throughout the first book. The story is enticing with a...
Before reading this review, please note that Caroline Bird: "won a major Eric Gregory Award in 2002 and was shortlisted for the Geoffrey Dearmer Prize in 2001. Her first collection, Looking Through Letterboxes, was published in 2002 (when she was just fifteen). She was shortlisted for the Dylan Thomas Prize in 2008 and 2010 for her second and third collections." And "she was one of the five official poets for the London 2012 Olympics." Plus, "she is also a playwright. In February 2012 her children's musical The Trial of Dennis the Menace was premiered at the Southbank Centre, and in...
The narrative has been there for years – Amazon is a big, evil corporation that will do anything to get what it wants. Part of that is true, especially after reading The Everything Store: Jeff Bezos and the Age of Amazon by Brad Stone. Amazon didn't become a successful business by being nice and allowing other companies to get in line in front of them. No, it was ruthless and confrontational. Yet, point of view matters when it comes to Amazon. If you are a competitor, then Amazon is not your friend. Partners have had it hard with the Seattle-based company as it looks...
I don't read much traditional mythology anymore. There was a time in school when we were forced to read Greek, Roman or Norse mythology. So, stories have gotten stuck in my head over time. Names, places and situations pop up in entertainment in books, movies, TV shows and comics that borrow from these stories, always reminding me of the good old days. [easyazon-link asin="B008UUIGB2" locale="us"]I Bring the Fire Part I : Wolves (A Loki Story)[/easyazon-link] by C. Gockel is that kind of story, using Loki as one of its main characters. The good news is that I didn't need to have much...
This post was prompted by the complaints of a friend on Facebook about the DRM on a review copy of an ebook he had been sent to cover. Not a fan of ebooks at the best of times, he was driven to protest long and hard about the struggles he had been put to to actually open and read the book. I've had similar and worse experiences. One leading publisher responded to a request for a review copy for TeleRead by sending me a download link, which, after an involved login procedure, prompted me to install Adobe Editions on my device....
[easyazon-image align="right" asin="0385743564" locale="us" height="160" src="http://ecx.images-amazon.com/images/I/51rtkjsXacL._SL160_.jpg" width="105"] Brandon Sanderson is one of my favorite authors. While almost everything he writes would be classified in the fantasy/sci-fi genre, he manages to make everything he write fresh. So when I saw he was going to tackle superheroes, I knew I was in for a good ride. And he didn't disappoint. In Steelheart he addresses the question, "What if there were no superheroes? Just villains?" It's an intriguing idea, and he didn't disappoint. The main character, David Charleston, witnesses the murder of his father when he's eight at the hands of Steelheart, one of the...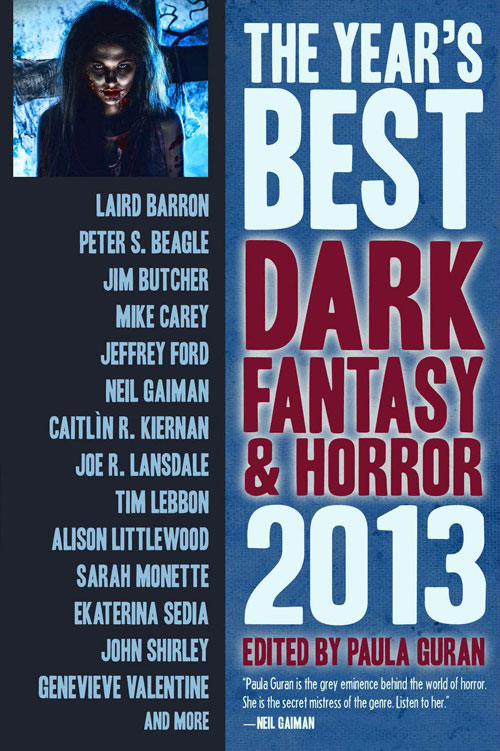 This collection of 35 dark tales groups stories that have appeared in other collections or in magazines, so readers should check the list of contents in Prime Books' online catalog to make sure of what is really new to them before parting with their money. But that's almost the only qualification that needs to be made to an otherwise excellent guide to what's been going on on the literary dark side through 2012. There are established names, like Neil Gaiman and John Shirley. There are rising stars of the smaller press and alternative/ fan circuit, like Laird Barron and Cory Skerry....
Edwin George Morgan (April 27, 1920 – August 17, 2010), Scotland's first official modern Scots Makar (the Caledonian Laureate), died recently leaving a huge financial legacy to the Scottish National Party and to various literary and cultural causes, and a far greater poetic legacy to modern Scottish literature. His achievement is impressive in its sheer size and persistence as much as anything else: This 2012 ebook update of Morgan's 1996 collection comprises 858 pages of his poetry, commencing with an early poem, 'Sculpture', from 1939, as a prologue, and finishing with a personal 'Epilogue' by Morgan, composed in 1990. Reading...
When I reviewed Pines last year for another site, I enjoyed it but thought the ending was flat. Apparently I had missed the fact that Pines was the first book in a series. Wayward is the second book in the series, and I think the first book works much better now that there's a second. The basic premise of the series is that a genius, David Pilcher, foresaw the end of humanity and captured and froze select individuals to rebuild humanity thousands of years in the future. Pines covers Ethan Burke, a former Secret Service agent, waking up in Wayward Pines and...
Canadian "numinous horror and esoterica author" Richard Gavin has released four collections since his debut "Charnel Wine" in 2004, and has garnered the kind of reputation that many writers would sell their souls for. This collection, his fourth, has received reviews varying from the enthusiastic to the ecstatic. There are thirteen stories, including a fictionalized prologue so dark that it definitely counts as one. There is the nightmare encounter with a dead god in "The Abject," where a wilderness becomes a metaphysical landscape that fulfils a myth in the most horrible but perhaps redemptive way. There is the new and quite...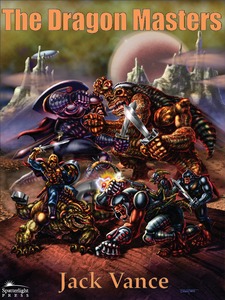 Thanks to Jack Vance, my early teens were haunted by dragonish monstrosities with such names as Termagants, Striding Murderers, Juggers, and Blue Horrors. These weren't drawn from a young adult story, but from one of Vance's most concentrated, intensely imagined and effective evocations of a place and above all, a society, very remote from ours, in time, space, and mindset. "The Dragon Masters" was one of the classics that consolidated his early reputation, and it has worn very well with time. Note that this book is an example of how mutable the standards of story length can be, as well as the...