Posts tagged
B&N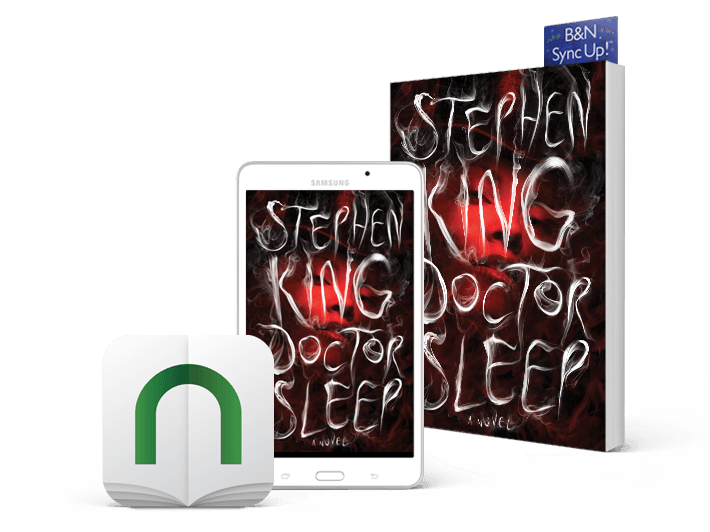 Barnes & Noble has introduced another service to lever off its bricks-and-mortar presence into greater ebook market share with the rollout of B&N Sync Up, which offers ebook pairings with a selected series of paperback titles - but for an additional $4.99. "Buy the paperback, get the eBook for $4.99. Keep both or gift either," explains the B&N site. "Choose from select paperbacks including The Secret Life of Bees, The Brief Wondrous Life of Oscar Wao, A Discovery of Witches, and dozens more — all at your local B&N store. Keep one, share one — great for gift-giving." Titles in the program...
Roundup: Galaxy Tab 4 Nook Reviews (The Digital Reader) Unfortunately for both B&N and for potential buyers, there weren't very many blogs interested in writing a review for this tablet. I only found 5 actual reviews (not counting the fake review posted by Publishers Weekly), which is far fewer than the dozen reviews I found for the Fire Phone. *** Apple Partnering With American Express On New iPhone Payments System (re/code) Apple has reached an agreement with American Express to work together on its new iPhone payments system, according to sources familiar with the talks. American Express is one of several partners Apple will need...
Here's another one from the "probably not a good idea" department. Self-published writer Brendan Leonard had a bright idea: he might see if he could get his book more exposure by planting it in a Barnes & Noble store. All that was necessary for it to ring up was to have an ISBN bar code on it, which it did. He then had the idea to use it as an Instagram promotional gimmick: place books in various stores and post their location to Instagram so people could go buy them. Granted that he was giving money away by giving his...
I wonder if my Nook Simple Touch will become a collector's item. Most likely, it will just be exactly what it is now – a gadget collecting dust with the battery killed off long ago. I haven't used my NST in months, maybe even a year. So, it was not surprising when I read on The Digital Reader that Barnes & Noble discontinued the Nook Touch. I didn't have any major issues with my NST, but once I got my Google Nexus 7 two summers ago, it became my little computer away from my laptop, including an e-reader, RSS reader, Candy Crusher, Facebook...
Barnes and Noble has just picked up a new overall CEO. Or at least a new-old one. Digital Book World and Publishers Weekly report that B&N has moved Michael Huseby, former CEO of the Nook division, into the top CEO spot left by William Lynch who vacated in July. Huseby said in a statement in the press release: My role, as I see it, is to enhance and unlock the value of these businesses for our shareholders. We are well-positioned in today's dynamic reading and learning markets and confident in our ability to provide our customers...
Barnes & Noble has been hit with more bad news. On Friday, it was revealed the SEC was investigating B&N's accounting, according to an Associated Press report in USA Today. According to the report, the SEC told the book company it was looking into two issues: the company's restatement of earnings announced in July and an allegation from an employee who said that B&N improperly allocated some information-technology expenses between its Nook and retail segments. B&N said in a July filing that it had restated results from the fiscal years ending in April 2011 and 2012 due to material errors in the financial...
Want to hear text to speech from free library ebooks on your 50-mile commute? Even if you own an Android machine and the usual OverDrive app can't do "read-aloud" unless audiobooks count? Also, what if you haven't even bought an e-reading gizmo for library use, but want to? Which model to go with? In those cases and others, the guidance here is for you. Most tips will work even with low-cost, no-name tablets. But let's pay special attention to the new Kindle Fire HDXes. They are among the top choices if you care more about reading than about tech and can stomach...
Barnes & Noble had it annual shareholders meeting on Tuesday in New York City. It went as well as you would expect – in other words, not well at all. B&N chair and founder Len Riggio publically addressed shareholders for the first time since deciding not to purchase half of the company, according to Publishers Weekly. The meeting got a bit heated at one point. From Publishers Weekly: Riggio was genial, confident and expansive with individual shareholders though perhaps a bit testy with the institutional shareholders who pressured him repeatedly over the future of the Nook Media division. The Nook division has been struggling....
I love my Nook HD, and I really do want Barnes & Noble to succeed, but they have to stop shooting themselves in the foot by being more complicated than Amazon when it comes to purchasing books and managing an e-book library. Yesterday B&N and I were just not getting along, and everything I experienced was fixable, if they wanted to. I saw that "Midnight in Death" by J. D. Robb was free on B&N, so I went over to "buy" it. I clicked "Download," waited, and got an error message that my transaction had failed, and to try again. Since that's...
How Do You Make Money When Everything is Going Free? (Futurebook) Stop worrying about the price of books, or music, or art, going to zero. It's happening. It's happened. There is no going back. * * * Will Copyright Be Extended 25 Years? An Old Debate Returns (GigaOM) In 1998, Congress agreed to grant another 20 years of copyright protection to every film, book and song in the land. Now, the laws are under review once again — and legal scholars are starting a pool on whether there another extension will take place. * * * Barnes & Noble Claims They Will Continue to Make Tablets...
I'm often highly critical of Barnes & Noble. Part of the reason for that is due to the fact that because I love their hardware, I cringe when they make what appear to be stupid and short-sighted decisions. I also want at least one strong Amazon competitor. I don't think Amazon having the vast majority of the e-book market is a good thing. So a few months ago, when I saw Barnes & Noble had deeply discounted its Nooks in the UK, I cringed. Imagine my surprise when I read a recent Forbes blog post that seemed to show I had cringed...
Writer of 'Daredevil' Comic Books: Equating Piracy with Lost Sales is Baloney (Techdirt) It's been pointed out here on multiple occasions that one pirated item does not equal one lost sale. It's a fallacy various rights holders have used for years in order to exaggerate losses (helpful when asking the government to write legislation favoring clunky business models) and to justify stupid, restrictive DRM (helpful for punishing paying customers). * * * B&N & Amazon Offering Best-Selling eBooks in the UK for 99P (Good e-Reader) Barnes and Noble announced a new promotion in the UK yesterday that gives some solid eBook deals. The company is offering...