Posts tagged
Blackberry
Here's an update concerning BlackBerry's suit against the Typo keyboard, a Bluetooth thumbboard add-on for iPhones (backed by Hollywood's Ryan Seacrest!) that hewed a little too closely to Blackberry's own patented keyboard design. Opining that BlackBerry was likely to succeed in the overall trial, a federal judge issued an injunction halting sales of the Typo keyboard case. Meanwhile, BlackBerry has announced it plans to create more keyboard-equipped phones. Given the recent setbacks of its touchscreen devices, and the disappearance of Palm, the only other major smartphone brand to place such a premium on a physical keyboard, it seems BlackBerry...
Remember that "Typo" Bluetooth iPhone keyboard case backed by Hollywood's Ryan Seacrest? It essentially grafts a BlackBerry style keyboard onto an iPhone. Well, it turns out that BlackBerry is not amused that the Typo is effectively a rip-off of the iconic keyboard design from their BlackBerry phones. The layout and styling of the keys is remarkably similar, after all…so BlackBerry is filing suit for infringement of their design. As Matthew Panzarino points out on TechCrunch, it seems unlikely that any money they get out of this even if they win will be enough to slow Blackberry's slide into obscurity...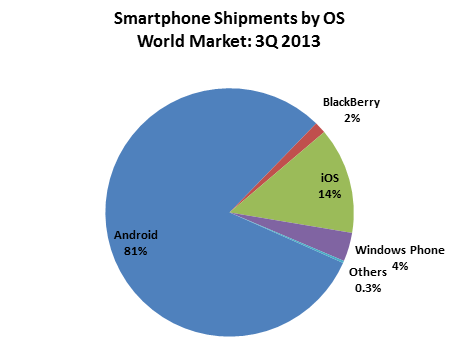 Latest 3Q2013 figures on the state of the global mobile phone market from technology market intelligence house ABI Research show Samsung chewing into other vendors' market share, and especially at the expense of proprietary OS platforms like Apple and BlackBerry. "Samsung retained its lead in handset shipments and grew its share of smartphone shipments to 35%, while Apple share remained flat at 14%," stated the report. Thanks in part to Samsung, Android remains by far the most popular OS, and is also increasing its lead. "Supported by strong Android shipment growth from Huawei, Lenovo, Xiaomi, and Samsung, Android reached a new...
Kobo has announced via their blog that Blackberry 10 users can now download a Kobo app of their very own. Users of the Z10 and Q10 models have a new app available to them with all of Kobo's signature features, including cross-device syncing, day and night modes and Reading Life stats. They also get a free book (Jessica Hagy's "How to Be Interesting After You Graduate" just for downloading. Happy reading!...
Bloomberg's Hugo Miller and Nadja Brandt quote Blackberry CEO Thorsten Heins contending that the popularity of tablet computers may wane, a strong hint that there will be no BlackBerry tablet successor to the company's ill-fated PlayBook device. Miller and Brandt cite Mr. Heins saying in an interview at the Milken Institute conference in Los Angeles that in five years he doesn't think there'll be any reason to have a tablet anymore, adding that tablets themselves are not a good business model—his presumed implication being that smartphones are getting so feature-packed and powerful that they will be capable of fulfilling nearly everyone's mobile computing...
When looking for a new tablet, it seems consumers have Apple on the brain. The Yankee Group recently disclosed the results of a December survey in which it asked, "What brand of tablet do you intend to buy [next]?" For Apple, it was good news as nearly half of the 506 questioned picked the iconic brand. Apple Insider contends this is bad news for the rest of the tablet market, as 47 percent of surveyed consumers mentioned their intention to purchase an iPad. That left 26 percent of respondents going for an Android-based tablet, and 23 percent saying they were unsure, or didn't know. Just one percent...
Although the Kobo e-reading app shipped preloaded on the BlackBerry PlayBook, for the last couple of weeks it hasn't been working properly for some PlayBook users. However, Kobo has just updated the app to version 1.3.1. There's no hint of a change log in the release notes, but at least some of the affected PlayBook users report that this seems to have fixed the problems they were having. (Though others say that they are still having problems.) (Found via our sister blog, Gadgetell.)...
Barnes & Noble is dropping support for the eReader app for the BlackBerry. The software will still work on BlackBerries, but it will no longer allow new content to be purchased through it, and any old or new content purchased will have to be sideloaded onto the BlackBerry rather than downloaded through the app. I wonder if this means they'll be replacing it with a "Nook" app, the way the B&N eReader for iOS transformed into a Nook app? Most of the commenters on the story don't seem to think so, and I would think if it were the...
With the Amazon Fire suddenly burning at the front of bargain-conscious consumers' minds, other cheap tablet news has been coming out of the woodwork. Let's look at some of it. Not sure how I missed noticing this. In a desperate effort to stem the tide of its stock slumping yesterday, Barnes & Noble knocked $25 off the price of its Nook Color tablet in an e-mail promotion immediately after the Amazon presentation, along with offering free shipping. It seems to be at full price on the website, however. But I'd expect the price to dip for everyone when the...
HP's Touchpad might have flamed out on launch, but it may not be the only tablet in danger of doing so. Reports suggest RIM's PlayBook tablet is not selling in anywhere near the numbers analysts had expected. DigiTimes reports (via AppleInsider) that Playbook manufacturer Quanta has cut back production lines for the tablet and may lay off 1,000 workers. In April, RIM forecast sales of 4-5 million PlayBooks in 2011, the sources noted. However, RIM shipped fewer than 800,000 units during the first half of 2011 and monthly shipments dropped to about 100,000 units in...
I'm always on the lookout for challengers to my iPad, but it seems that the new BlackBerry Playbook isn't one - at least in its released incarnation. Most of the reviews have been poor and now Tom's Guide has one of their typically excellent reviews with the title The 6 Best Things About BlackBerry PlayBook Aren't Good Enough. The 6 best things are: brand new operating system; nice, compact size; multitasking? No problem; very impressive HD display; Microsoft Office, other business apps pre-installed; Blackberry Bridge. The article then goes on to say: nice...
From an email I received: Public, school, and college libraries now provide direct EPUB eBook downloads on BlackBerry® mobile devices with the free OverDrive® Media Console™ app for BlackBerry. Users at more than 13,000 libraries worldwide can wirelessly download and enjoy EPUB eBooks, as well as MP3 audiobooks, on their BlackBerry devices. Libraries offer best-selling titles, such as "The Social Animal" by David Brooks and "The Help" by Kathryn Stockett, which can be borrowed and enjoyed using OverDrive's app for BlackBerry. Popular business eBooks and audiobooks, as well as titles in virtually any subject, are...