Posts tagged
Barnes & Noble
JRR Tolkien falls off children's most popular books list (The Guardian) Annual What Kids Are Reading report sees dystopian fantasy and larger-than-life comedies dominate, with John Green's The Fault in Our Stars the most popular title in secondary schools and David Walliams's Demon Dentist the favourite book of primary schoolchildren. *** Barnes & Noble Crawls Into Bed with Author Solutions (Ink, Bits & Pixels) David Gaughran just posted a screenshot of the agreement between B&N and its writers using the service. *** 10 Bookish YouTube Tutorials (Book Riot) Feeling the itch to get your craft on, or just want to change up your routine? Get some inspiration...
Barnes & Noble announced it will separate its retail and e-book businesses from its college offering, making it a standalone company. Barnes & Noble Education will be come a separately publicly traded company in August, the company announced this week. With negative news surrounding B&N over the last couple of years due to its declining business with its store fronts and Nook division, the college segment has been a bright spot for the company seeing gains in revenue. Currently, B&N is working on a plan to expand its college bookstores to 1,000 units as part of a five-year plan. According to the Wall...
Barnes & Noble Spins College Bookstores Into Separate Company (GoodeReader) Barnes and Noble has announced their intention of spinning off their college bookstore division into its own autonomous unit called Barnes and Noble for Education. *** Assessing the Health of Independent Bookstores (NYT) In a 1936 essay, George Orwell recognized one of the main difficulties of owning an independent bookshop: turning a profit. *** JA Konrath Joins Kindle Worlds, Lets Contributors Keep More Control (Ink, Bits & Pixels) And best of all, the contributing authors get to keep the rights to the characters they create. *** Should We Care About Douglas Coupland? (Torontoist) The Canadian artist-novelist came up with...
Amazon and Barnes & Noble Reveal Black Friday Deals (GoodeReader) Amazon and Barnes and Noble are gearing up for one of the biggest shopping days in the US with some mighty deals. *** Global Net Neutrality Coalition (Boing Boing) The Electronic Frontier Foundation has teamed up with organizations around the world to fight for net neutrality everywhere, because this isn't an issue that just affects Americans. You can help by finding a group in your country and joining in. *** The 12-Book Program: A Holiday Survival Guide (Book Riot) Lucky for us, there are books to advise us, guide us, and help us get away. (Nothing says...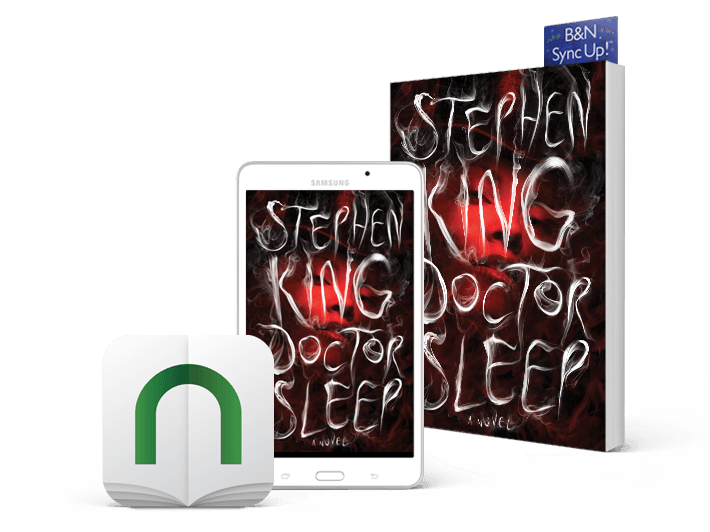 Barnes & Noble has introduced another service to lever off its bricks-and-mortar presence into greater ebook market share with the rollout of B&N Sync Up, which offers ebook pairings with a selected series of paperback titles - but for an additional $4.99. "Buy the paperback, get the eBook for $4.99. Keep both or gift either," explains the B&N site. "Choose from select paperbacks including The Secret Life of Bees, The Brief Wondrous Life of Oscar Wao, A Discovery of Witches, and dozens more — all at your local B&N store. Keep one, share one — great for gift-giving." Titles in the program...
We Need a New 'Church and State' in Digital Publishing (Media Shift) Much of the digital content industry is lost today in discussions about the blurred line between publisher and advertiser — otherwise known as the divide between church and state. *** Harlequin, Divergent Drive HarperCollins (PW) The purchase of Harlequin, combined with the continuing strong sales of the Divergent series, resulted in a 24% sales increase at HarperCollins in the first quarter of fiscal 2015, which ended September 30. *** Barnes & Noble Launches New Audiobook App (GoodeReader) B&N has just unveiled their new Nook Audiobook App for Android. It is currently in beta and...
More Publishers Join Comixology's DRM-Free Program (PW) Digital comics marketplace Comixology, which launched a DRM-free program in July, announced that a second wave of 14 publishers will now allow their customers to download and store DRM-free copies of comics they have purchased. *** Barnes & Noble Suspends Ability to Download Nook eBooks (GoodeReader) The Barnes and Noble customer care division has sent out a tweet, letting people know that this is their new policy and not a bug. "The ability to sideload NOOK purchased content has been discontinued. We apologize for any inconvenience this may cause." *** HarperCollins to Help Indie Bookstores With Express Shipping...
I'm hesitant to believe this story Nate's reporting, even after clicking the links and reading the sources for myself. How could anyone in the modern e-book market be this dumb? But the writing seems to be on the wall. Barnes & Noble has removed the "Download" button from its e-book library,  [Update: Nate's posted another piece indicating B&N cited "security" as the reason for the change.] It's no longer possible to download a book directly from the B&N web site to your hard drive by saving it from your B&N e-book library through your browser. And that...
On Mourning the Passing of Barnes & Noble (An American Editor) After this week's news that Barnes & Noble has lost money yet again, I decided that perhaps I should begin thinking about writing B&N's obituary. After all, I am a B&N member and I buy a lot of books from B&N and I will miss it when the last store and website is finally shuttered. *** Conan Doyle Estate Asks Supreme Court to Put Sherlock Holmes Back Under Copyright (Techdirt) Back in June the 7th Circuit appeals court ruled that Holmes was in the public domain, followed up by a more thorough slamming...
Four Books That Changed How I View the World (Book Riot) Whenever I open a book to read, I do it with a wish that when I reach the end, its story will have left me a different person. Here are four books that changed how I view the world. *** The Curious Case of Ellora's Cave (Dear Author) Long before there was the Kindle, long before self publishing, long before the emergence of Fifty Shades, a digital first publisher by the name of Ellora's Cave began to deliver sexy reads that would transform the face of romance publishing. *** Barnes & Noble Treads Water (PW) There...
A widely quoted report in the New York Times details a partnership between Barnes & Noble and Google to create a same-day book delivery service utilizing Google Shopping Express. According to the report, "book buyers in Manhattan, West Los Angeles and the San Francisco Bay Area will be able to get same-day deliveries from local Barnes & Noble stores through Google Shopping Express." Barnes & Noble is already up on the icon panel of Google Shopping Express partners. With the Amazon/Hachette spat still unresolved, the NYT unsurprisingly chooses to put an anti-Amazon spin on this news, claiming that "Amazon poses a...
Smashwords is giving more information to self-published authors. The publishing and distribution company announced daily sales reporting for iBooks, Barnes & Noble, Kobo, OverDrive and the Smashwords store. It also includes daily and total order accumulation numbers for iBooks preorders. "The reports provide authors and publishers unprecedented insight into recent sales performance across the largest Smashwords retailers," Smashwords CEO Mark Coker wrote on his blog. "Authors can use the reports to gain rapid feedback on the effectiveness of marketing and promotion campaigns." This type of information will help authors and publishers learn what marketing campaigns work best. Blog tours, discounts and or...