More on TechnologyTell: Gadget News | Apple News
Posts tagged
Apple
The series of product announcements from smartphone manufacturers coming from and around Mobile World Congress 2014 in Barcelona look likely to push smartphone penetration even further across all markets and price points, and to make smartphones more attractive and affordable than ever before as ereading platforms. Manufacturers seem to be queuing up to offer larger screens with higher resolutions at lower prices. Typical of these announcements, Lenovo, has announced a new series of smartphones, the S series, which "start at $349, $269 and $229, respectively." In this series, the S860 has "a large 5.3-inch HD screen," the S850 has "a large...
The Apple anti-trust affair proceeds apace. In the wake of the appeals court decision allowing the monitor's work to go ahead, Andrew Albanese reports at Publishers Weekly, Judge Cote has assigned a magistrate judge to act as a first-line mediator to resolve any disputes between Apple and anti-trust monitor Michael Bromwich, subject to appeal to her. (It's the same magistrate, Michael Dolinger, who was also assigned to arbitrate the matter of Bromwich's fee, so apparently his brief has been widened.) Cote also told Apple it needs to go ahead and fork over all the documents Bromwich requested by February 26th....
[caption id="attachment_95923" align="alignright" width="209"] Nice concept, not quite there yet.[/caption] With data on smartwatches  reported on often of late, it's interesting to start seeing some numbers against all the buzz. According to a bulletin from International Data Group (IDG), smartwatch shipments worldwide hit 1.9 million units in 2013 for the first time, versus just a few hundred thousand units in 2012. Around 61 percent of the budding platform runs Android, according to Strategy Analytics. Much of the Android lead is attributed to Samsung's Galaxy Gear, but in such a still limited market space, there is of course still plenty of chance...
The appeals court has issued its ruling on Apple's request to have the anti-trust monitor stayed in the e-book price-fixing anti-trust trial. Perhaps unsurprisingly, Apple's appeal has been denied. That being said, the appeals court did issue what it saw as instructions "narrowing" the monitor's focus. The monitor is, the court said, supposed to make sure Apple has an anti-trust compliance program in place and that employees are being taught about what it means and how it works. He is not supposed to rummage around looking for violations of anti-trust or other laws. In the two-page document (PDF), court...
One of the things that bemuses me about the Apple antitrust trial is the polarization you get from observers of the case. It seems like everyone (including, admittedly, me) either believes Amazon is a saint and Apple and the publishers are the devil, or vice versa. Nowhere is that more clear than in the coverage of the hearing today on whether to stay the external compliance monitorship. Depending on who you read, either "Apple gain[ed] no sympathy" at the hearing (WSJ, paywalled; get around it with Google News) or "The odds are in Apple's favor today" (Fortune, with Apple partisan...
The Apple e-book case proceeds apace. The class plaintiffs filed a brief asking for summary judgment of damages and putting forward their estimate of the final damage to consumers as being between $231 and $280 million—18.1% of the revenue taken in from e-books during the period in question. With the treble damages, that means Apple could be on the hook for as much as $840 million altogether. Apple has, of course, objected to the estimate, and seeks to bar the testimony of Stanford economist Roger Noll who came up with it. Though, as plaintiffs' lawyer Steve Berman pointed...
The latest figures from the International Data Corporation (IDC) Worldwide Quarterly Tablet Tracker indicate that, despite a strong fourth quarter of 2013, with total tablet shipments that represent "62.4 percent growth over the previous quarter and 28.2 percent growth over the same period a year ago," the tablet market may be slowing its breakneck growth. "While the market's growth rates remain impressive, they're down dramatically compared to the year-over-year rates of the same quarter one year ago (87.1 percent) and indicate a significant slowing of the overall market," observes IDC. "It's becoming increasingly clear that markets such as the U.S. are...
New 4Q 2013 data from Kantar Worldpanel ComTech backs up earlier IDC figures for 2013 smartphone sales that suggest Android is continuing to extend its lead across global markets, especially outside the U.S. According to the Kantar analysis, "the three-month period ending December 2013, shows that Android closed out the year strongly across 12 global markets including the United States.  The operating system ended 2013 with a sales share of 50.6 percent, a gain of 4.4 percentage points from the final three months of 2012." Android remained especially strong in Europe, "with 68.6 percent share, while Apple held second place with 18.5 percent."...
The latest data report from International Data Corporation (IDC) in its Worldwide Quarterly Mobile Phone Tracker series has highlighted the record-breaking figure of just over 1 billion smartphones shipped worldwide in 2013, "up 38.4 percent from the 725.3 million units in 2012." Also spotlighting "a difference of less than 1 percent" from its forecast for full-year shipments in 2013, IDC noted that this growth in smartphone demand is cannibalizing the broader mobile phone market, which grew only 4.8 percent over 2013 to a total figure of almost 1.822 billion units. [caption id="attachment_106479" align="aligncenter" width="475"] Source: IDC Worldwide Mobile Phone Tracker, January...
The filing doesn't seem to be on PACER yet, and I haven't been able to find any other link to the filing, but in keeping with the declared deadline of close of business Friday, the Department of Justice has filed its opposition to Apple getting a temporary stay of the anti-trust monitor. CNET and the Wall Street Journal have the coverage and some quotes from the filing. CNET: "In any event, the district court did not exceed its authority in ordering an external monitor for Apple or abuse its discretion in declining to disqualify the...
A recent and widely quoted report from the Wall Street Journal makes a couple of interesting calls about Apple iPhone developments supposedly in the works, quoting the customary "people familiar with the situation." (Those people sure get familiar with a lot of situations.) And according to the report, "facing competition from rivals offering smartphones with bigger screens, Apple Inc. ... is planning larger displays on a pair of iPhones due for release this year." WSJ doesn't spare much effort in ramming home the message. " Apple is losing market share to rivals who offer bigger screens," it insists, and wheels out...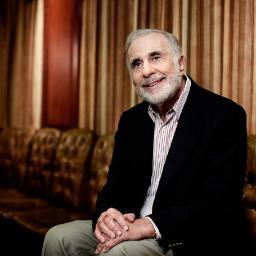 Activist investor Carl Icahn has put Apple fairly in his sights with a tweet and subsequent interviews that confirmed he has taken up a large position in the Cupertino giant's stock - in the expectation of pushing it into escalating its share buyback program, which would deliver a handsome return to shareholders. "Having purchased $500 million more $AAPL shares in the last two weeks, our investment has crossed the $3 billion mark yesterday," he tweeted, following this with: "We feel $APPL board is doing great disservice to shareholders by not having markedly increased its buyback. In-depth letter to follow soon." As quoted...