More on TechnologyTell: Gadget News | Apple News
Posts tagged
Apple
The latest data report from International Data Corporation (IDC) in its Worldwide Quarterly Mobile Phone Tracker series has highlighted the record-breaking figure of just over 1 billion smartphones shipped worldwide in 2013, "up 38.4 percent from the 725.3 million units in 2012." Also spotlighting "a difference of less than 1 percent" from its forecast for full-year shipments in 2013, IDC noted that this growth in smartphone demand is cannibalizing the broader mobile phone market, which grew only 4.8 percent over 2013 to a total figure of almost 1.822 billion units. [caption id="attachment_106479" align="aligncenter" width="475"] Source: IDC Worldwide Mobile Phone Tracker, January...
The filing doesn't seem to be on PACER yet, and I haven't been able to find any other link to the filing, but in keeping with the declared deadline of close of business Friday, the Department of Justice has filed its opposition to Apple getting a temporary stay of the anti-trust monitor. CNET and the Wall Street Journal have the coverage and some quotes from the filing. CNET: "In any event, the district court did not exceed its authority in ordering an external monitor for Apple or abuse its discretion in declining to disqualify the...
A recent and widely quoted report from the Wall Street Journal makes a couple of interesting calls about Apple iPhone developments supposedly in the works, quoting the customary "people familiar with the situation." (Those people sure get familiar with a lot of situations.) And according to the report, "facing competition from rivals offering smartphones with bigger screens, Apple Inc. ... is planning larger displays on a pair of iPhones due for release this year." WSJ doesn't spare much effort in ramming home the message. " Apple is losing market share to rivals who offer bigger screens," it insists, and wheels out...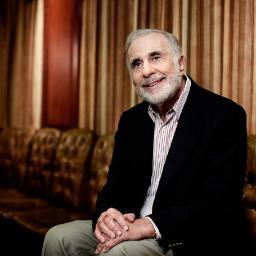 Activist investor Carl Icahn has put Apple fairly in his sights with a tweet and subsequent interviews that confirmed he has taken up a large position in the Cupertino giant's stock - in the expectation of pushing it into escalating its share buyback program, which would deliver a handsome return to shareholders. "Having purchased $500 million more $AAPL shares in the last two weeks, our investment has crossed the $3 billion mark yesterday," he tweeted, following this with: "We feel $APPL board is doing great disservice to shareholders by not having markedly increased its buyback. In-depth letter to follow soon." As quoted...
Apple iTunes U Expands Into 50 New Countries (GoodeReader) Apple iTunes U is the outfit responsible for thousands of interactive eTextbooks that are aimed at the educational sphere and learning inclined. *** China Tightens Control Over Online Video, Book Publishing (Variety) Chinese authorities have announced new controls on the posting of content to online video sites. Separately, there is to be additional scrutiny of Chinese-language book publishing. *** Now That Publishing and Circulation Are Free, What Can Media Companies Do to Create Scarcity? (Forbes) Since the introduction of the Gutenberg Printing Press, circulation and printing technology have determined the business models that succeed in print media. *** Instapaper Launches...
The Second Circuit Court of Appeals just issued a temporary stay (PDF) of the antitrust monitorship over Apple pending further review by a three-judge panel. As I understand it, this isn't really a full victory for Apple so much as it is a standard part of the process of appeal; they're staying the monitorship only until they can hear the appeal in full. At that point they will decide whether it gets a permanent stay. There's really not more to report than that right now. Even news sources like the New York Times simply follow it up with a...
Ever try to give a cat a bath? That's the experience Judge Cote seems to be having trying to get Apple to play nice with its court-appointed antitrust monitor. She finally filed her opinion (PDF) on the decision she issued concerning Apple's move for a stay and removal of Michael Bromwich yesterday. Computer problems at her court had prevented it from being filed earlier (PDF). The decision weighs in at a whopping 64 pages. As with her original decision in the matter, Judge Cote clearly didn't want to leave anything to chance in the appeal. Over the course...
Well, that went about as expected. Judge Cote made her ruling yesterday turning down Apple's request for a stay of, and preferably the dismissal of, its court-appointed anti-trust monitor, Michael Bromwich. She hasn't issued her opinion yet; I'll keep checking throughout the day to see when it appears and update the story accordingly. [Update: Rather than update this post, I wrote a whole new one about it.] Reuters has a fairly sparse writeup, but Andrew Albanese at Publishers Weekly comes through with considerably more detail. The judge essentially demolished Apple's arguments, noting that Bromwich's actions were indeed in...
Report Sheds Light on Apple iWatch Hurdles (GigaOM) Apple is hard at work on the iWatch, but has encountered plenty of obstacles along the way, according to a report. *** If the eBook Market is Flattening Out, then Why did Smashword's Revenues Grow by a Third in 2013? (The Digital Reader) If their data covered only half of the market then and covers an unknown percentage of the market now, do you really think it's valid to draw conclusions from it? *** New Public Library in Texas Has No Print Books (GalleyCat) Bexar County, Texas has opened a new library that has no books inside. *** 2014 Reading Bingo...
Thanks go to Mike for alerting me to Apple's latest filing, supporting its request for a stay and requesting the removal of Michael Bromwich from the duty of antitrust compliance monitor. Since the filing is too new to have been covered in detail by anyone else yet, I went to PACER and snagged the relevant filings. In Apple's cover letter (PDF) and motion supporting its request for a stay (PDF), the company's counsel lay out its objections to Bromwich's continued tenure as a compliance monitor. It complains that, by filing the declaration laying out his problems getting to speak...
Business Insider has another article on the enmity between Apple and Michael Bromwich, including PDFs of Apple's filing requesting a stay and Bromwich's declaration detailing his interactions with Apple over the last few months. According to Apple's attorneys, the corporation apparently shares some characteristics with Bruce Banner. It's angry, and you wouldn't like it when it's angry. Seriously, that is what Bromwich says Apple's lawyers told him: that "Apple executives would 'never get over the case' and that they were still extremely angry." And that it might be a good idea for Bromwich to wait to talk to them...

As a user of both Android and Apple products, I found this Apple design infographic particularly interesting, especially the Simplicity and Craft sections. Source: TopWebDesignSchools.org With few exceptions, I do find the iProducts simpler to use. For example, I was hunting for a setting this morning, and it was faster and easier to find on the iPhone. Android devices are more customizable, especially with widgets, but whenever I need to show I client how to do something, it's always easier on Apple products than Android. The power user in me loves my Android tablet. The teacher much prefers the iPad. Craft is also...