More on TechnologyTell: Gadget News | Apple News
Posts tagged
Apple
The new version of the Voice Dream reader app, a superb iOS text-to-speech app for the iPhone, iPad and iPod Touch, can now play audiobooks, too. Even at $10, costlier than the typical app, Voice Dream is a Buy, capital B, at the Apple App Store. Voice Dream 2.9.2 can handle zipped MP3s as well as audiobooks in Daisy, thanks to help from a Swiss library organization, and navigation and general usability are excellent, just as in the regular text-to-speech mode for ePub files and others. Dozen of optional voices in common languages work with the app, and my favorite is the UK-accented "Peter" voice...
As revealed by Baidu, China's homegrown version of Google, via Net4Tech, we now have some of the first fairly reliable statistics out of the China market on Android's penetration into the PRC. And the data, based on third-quarter usage figures in China, shows around 270 million Android users in China - or exactly 20 percent of the entire 1.35 billion population of China. And all this in a market where lack of a centralized Google Play store or frequently of formal activation makes precise tracking difficult. [caption id="attachment_102005" align="aligncenter" width="578"] Baidu's alarming numbers for Apple - in Chinese or any other...
Oh noes! They're killing the PC! Mass computing devices face the dark future of tablets with restricted operating systems that limit what you can do and what apps you can install! We must all run about in panic! Except…no, I don't think that's right. The article I linked above on ZDNet notes: Here's what I see happening: Amazon, Apple, Google, and Microsoft all want us to buy appliances, not PCs. An appliance is a closed box. It can only run the operating system they stick you with. It will only run the applications they approve for it. Apple and Microsoft are particularly strict...
I wondered what had ever become of Bob Kohn, the plucky founder of RoyaltyShare who has been complaining all through the Agency Five/Apple antitrust hearings that nobody was paying enough attention to Amazon's practice of deep discounting bestselling e-books. Kohn has consistently demanded (in comic book form at one point) the government be forced to turn over evidence relating to its probe into Amazon's pricing, and that Amazon be required to open its books and show exactly what kind of profits or losses it was taking on e-books—and Judge Cote has consistently turned him down. Now Andrew Albanese reports at Publishers Weekly...
I wrote earlier this year about my upcoming need for a new computer. My aging Macbook is, well, showing its age, and I was no longer sure if the price premium on Macs was worth it for me given how much of my day-to-day work I have offloaded onto my iPad these days. I also wasn't sure if I would not be better served by ditching all the Mac gear and buying a tablet solution with a full Microsoft OS... Well, I have been doing a ton of comparison shopping, and here is my verdict---I am buying Mac again. Here's why: 1)...
I hadn't expected them this early, but the new iPad Mini with Retina Display is on sale now. I don't expect them to stay in stock long, however, so if you've been waiting for one, hop on over and get it now, while you still can. With all the reports over the year with supply chain problems for the new screen (including this latest report), we've got to expect that supplies are limited. Assuming you can get one, they do look like great tablets. With the same processor as the iPad Air and a slightly smaller form factor, it's going to be...
Apple co-founder and latter-day peripatetic tech guru Steve Wozniak pronounced, courtesy of the BBC's Click technology program, on how he thinks his old buddies at Apple should learn to share - as should Google, Samsung, and all the rest. "I wish everybody just did a lot of cross-licensing and sharing the good technology, all our products would be better, we'd go further. I do wish they were more compatible," said Woz. And obviously, the putative iWatch and wearable devices were top of his mind. "I want a full smartphone type capability on my wrist," he said. But Woz also remarked that...
Adding to the slew of quarterly market data, the latest issue of International Data Corporation (IDC)'s Worldwide Quarterly Tablet Tracker showed worldwide tablet shipments up 36.7 percent on the same time last year and 7 percent on the previous quarter. And, notes IDC, "Android products once again drove much of the shipment growth in the market as iOS growth stalled and Windows tablets continued to struggle to win over consumers. With no new iPad product launches in the second or third quarter to drive volume, Apple experienced a quarter-over-quarter decline in shipments from 14.6 million in 2Q13 to 14.1 million...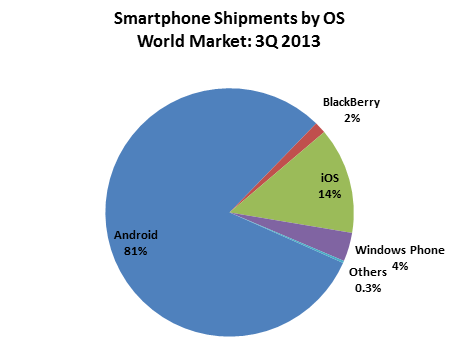 Latest 3Q2013 figures on the state of the global mobile phone market from technology market intelligence house ABI Research show Samsung chewing into other vendors' market share, and especially at the expense of proprietary OS platforms like Apple and BlackBerry. "Samsung retained its lead in handset shipments and grew its share of smartphone shipments to 35%, while Apple share remained flat at 14%," stated the report. Thanks in part to Samsung, Android remains by far the most popular OS, and is also increasing its lead. "Supported by strong Android shipment growth from Huawei, Lenovo, Xiaomi, and Samsung, Android reached a new...
So earlier this year, I wrote a post on iPad rumors and made a couple of (mostly) tongue-in-cheek predictions. Now that we've had Apple's latest iPad event, shall we see how I did? iPad Predictions "I think we can definitely state that we will see a new iPad sometime later this year, probably before the Christmas shopping season." I also predicted that it would be slimmer, lighter, have the iPad Mini style bezel and a faster processor. Score all for me. The new iPad Air certainly covers all of those. It's got a pretty nice feature set, including a thinner, slimmer design that reduces...
Kobo Responds to Complaints About Deletion of Self-Pub Titles (The Digital Reader) Kobo has finally shared a partial explanation for why they removed self-published titles from their ebookstore. It may have taken them well over 48 hours to respond, and their explanation leaves many questions unanswered, but at least we now have something solid to go on. *** Three Simple Censorship Rules Can Safeguard Self-Published Books (Digital Book World) It all seemed so sweet; anybody can get their book published on Kobo or Amazon without having to endure a zillion rejections from picky publishers, and what's more they can pocket the lion's share of...
Nate at The Digital Reader has posted a good little recap of the 'iPads in schools' debacle that's been making the news. The short version is that the Los Angeles Unified School District spent a whack of money buying iPads for student use, then had to recall them when the students hacked them to get around the security controls which prevented them from doing anything unauthorized. I've sat on this story for a few days because, as an educator myself, I wasn't quite sure how I was meant to respond. When I wrote about a similar issue earlier this year---it was...