More on TechnologyTell: Gadget News | Apple News
Posts tagged
Android
As TeleRead readers will be well aware, Chromecast, Google's neat HDMI-compatible AV streaming dongle and its associated programs,  has been around for a while now; but it's only just made it to certain European markets, and courtesy of my parents, I may still be Hungary's pioneering Chromecast owner. And though I love the technology, my first impressions are mixed - in a way that might be down to the usual Big Media interference in simple user-friendly propositions. Yes, it's straightforward no-brain plug-and-play. Yes, it streams content to your TV screen or HDMI-compatible monitor over your WiFi network - (mostly) pretty seamlessly....
Nook Android Update Lets Everyone Sample (GoodeReader) According to the Google Play store, Nook has been updated to fix bugs, allow users to browse and sample books without an account and to get deal and book notifications. *** How I Made the Move from iPhone to Android with Few Regrets (Dear Author) I began to spend time with people who had these larger Android devices. In January I finally broke down and bought one of my own. It's been three months now and I'm not sorry that I've switched. *** Readmill...
The newest figures from the Android Developers Dashboards, released on April 1st but apparently no kind of April Fool's Day joke, confirm that KitKat, Google's latest version of its Android OS, is steadily carving out a bigger and bigger slice of the Android market pie, now at 5.3 percent of the total user base, compared to only 1.8 percent in early February. Meanwhile, the different versions of Jelly Bean now occupy 61.4 percent in all of the user base, with Ice Cream Sandwich at another 14.3 percent, yielding a total uptake of Android OS 4+ versions of 81 percent. The demise...
Research firm Gartner Inc.'s latest prognostication on sales of combined digital devices of all formats and operating systems, "Forecast: PCs, Ultramobiles, and Mobile Phones, Worldwide, 2011-2018, 1Q14 Update," has some pretty uncomfortable reading for Apple execs, or fanboys. For it found that worldwide device shipments of all kinds running Android OS, currently around one third of digital device shipments overall, are likely to rise to around half of all shipments of all OS types by 2015. The overall numbers of all types, and of Apple devices, though, are likely to grow only incrementally. "Google's objective is to increase Android's footprint, and...
Also, the sky is blue, water is wet, and the sun is warm. That's probably what some of you are thinking upon reading that headline. But I'm pretty sure there must be plenty of people out there who aren't aware of this yet, just because it's not what you would assume a (non-Windows) tablet is made for. So this is a reminder to people who like to use their Android tablets for productivity purposes: there's an easier way than tapping on the screen when you need to highlight things or move the cursor. I had known about this ability...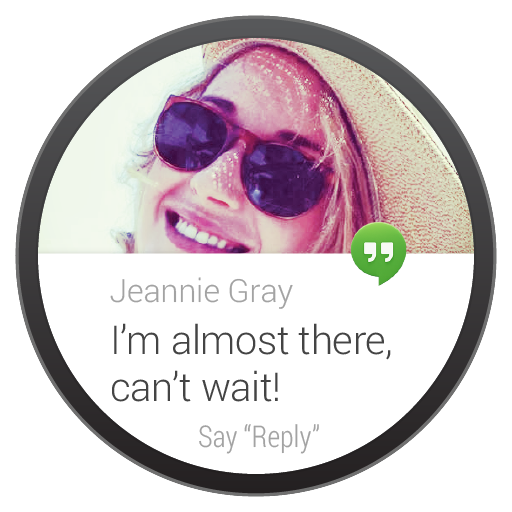 The full-force all-channel multi-announcement multi-product rollout of Android Wear and its supporting devices looks to have conquered the emerging smartwatch product category. Chris Meadows tagged the emerging Google smartwatch platform as the one to watch in this space a while back, and it looks like his call has been vindicated. And meanwhile, the much-vaunted iWatch is nowhere. " Today we're announcing Android Wear, a project that extends Android to wearables," announced Sundar Pichai, SVP for Android, Chrome & Apps, on the official Google blog. "And we're starting with the most familiar wearable—watches." Google already has a developer preview up and running with...
Well, sort of. There are at least a couple of catches. Through March 31, TigerDirect is offering a 4 GB 7-inch Android 4.1 tablet bundled with an anti-virus software suite, Total Defense Premium Internet Security. The bundle costs $79.97, but includes a $60 rebate, effectively lowering the price to $20. Of course, to obtain the rebate, you must first activate the antivirus software, which involves giving the antivirus software company your credit card. Your first year of anti-virus service is free and you may cancel at any time, but you have to activate it before you get that...
Two sequential research reports paint a stark - if you're a Microsoft exec or an Apple fan - picture of how the personal computer and digital device market is evolving. A Gartner Inc. report dated March 3rd found that "Worldwide Tablet Sales Grew 68 Percent in 2013, With Android Capturing 62 Percent of the Market," and with a conspicuous year-on-year market share decline for Apple. A day later, on March 4th, International Data Corporation (IDC) released its findings that PC market shipments are expected " to Fall by -6% in 2014 and Decline Through 2018." The Gartner figures show Apple's iOS-based tablet...
Ashton Kutcher is taking his resemblance to Steve Jobs to a whole new level. Re/code reports that Lenovo has hired Kutcher on as a user interface engineer for its new tablet and smartphone products. Lenovo is buying Motorola from Google to beef up its mobile device chops, so it stands to reason they'd want a little extra help. The partnership isn't actually as silly as it sounds. Kutcher did study biochemical engineering before getting into acting. While you can't call a mobile device "biochemical," to some extent the engineering skills will still carry over. And hey, if Ryan Seacrest...
One of the most interesting single pieces of news to come out of the Mobile World Congress 2014is the announcement that Nokia has thrown itself under the wheels of the Android juggernaut by rolling out its own line of Android-powered smartphones in the form of Nokia X, "a family of smartphones that run Android(TM) apps, Microsoft services and signature Nokia experiences," just before new acquirer Microsoft is due to pick it up. Announced under the somewhat disingenuous headline "Nokia connects the next billion with affordable smartphones," Nokia's announcement details both the individual phones to be brought to market under the new...
Inspired by Joanna's article on reading French, I decided it was time to brush up on my long-neglected college-level French. I was looking for a good book or app when I stumbled across Duolingo. It's free (with no in-app purchases), and more important, it's fun. I like their approach to learning. Unlike my long-ago (and much despised) French classes, the app doesn't start you out with conjugating verbs. Instead, they use an immersive approach and let you dive right in. The exercises are varied and teach reading comprehension, writing and speaking, assuming you're using a device with a microphone. My favorite...
[caption id="attachment_95923" align="alignright" width="209"] Nice concept, not quite there yet.[/caption] With data on smartwatches  reported on often of late, it's interesting to start seeing some numbers against all the buzz. According to a bulletin from International Data Group (IDG), smartwatch shipments worldwide hit 1.9 million units in 2013 for the first time, versus just a few hundred thousand units in 2012. Around 61 percent of the budding platform runs Android, according to Strategy Analytics. Much of the Android lead is attributed to Samsung's Galaxy Gear, but in such a still limited market space, there is of course still plenty of chance...