Posts tagged
advertising
Web ads are an evil, but to some extent one that publishers consider necessary. Stratechery has an interesting post on the rise of programmatic ad networks—networks that track viewers across multiple web sites to build an interest profile, so that they can then serve ads targeted toward that profile on any site those users visit. The biggest problem with these networks is that the Javascript code they run on makes websites that use them obnoxiously clunky—but the publishers see them as just about the only way to make money on their content. Advertisers' strong preference for...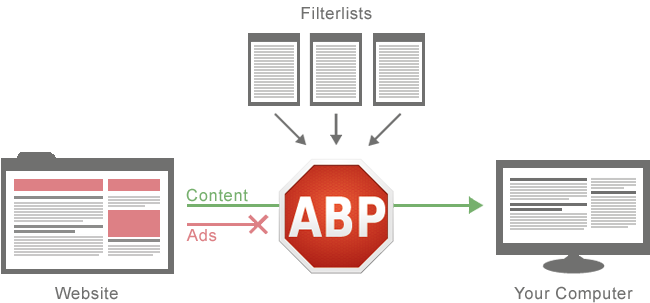 A case in France being contemplated by Le Geste, the professional organization of online publishers, and IAB France, which dictates the standards for online advertising in France, against AdBlock Plus, the internet ad blocking software, and its parent Eyeo GmbH. As reported in Les Echos, the case is on the basis that AdBlock Plus threatens their business - and that Eyeo is effectively extorting money from them by offering partnerships that circumvent AdBlock. Actually, it appears that criticism of Eyeo is fully justified - and doubtless it doesn't hurt in France that the culprit is German - but that does little...
Something curious showed up on the screen saver of my Kindle this morning. It was a free book, [easyazon-link asin="B00PD2MQRA" locale="us"]The Vanishing Game[/easyazon-link], and at the bottom of the ad was the Land Rover logo. Curious, I downloaded and read it while waiting for a meeting to begin. (It's a quick read). When I got home, I saw the press release about the book on The Digital Book World. Not knowing exactly what it was, I was expecting a pretty bad book, with long, technical info dumps about the Land Rover and its capabilities. I was pleasantly surprised by a decent story, of...
The Opera mobile web browser has been around for 14 years, the 2G standard dates back to 1991, so it really shows how on top the mobile revolution and internet stuff in general UK print media are that after all this time, at least according to a survey by cross-platform advertising firm Vibrant Media, nearly half of the top titles don't have sites that work properly on mobile devices. And this despite, according to Vibrant Media, a 90 percent expected increase in money spent on mobile advertising in the UK, to  £2.26 billion ($3.84 billion). Daily news publications are the best optimized for...
Over the last few years, a number of minor scandals have come to light concerning wiki editors who were paid by publicity firms to edit articles in Wikipedia. Now, the Wall Street Journal reports, the Wikimedia Foundation has changed the encyclopedia's terms of use to require that anyone paid to edit an article must disclose that arrangement. This comes only a week after a coalition of major PR firms announced a pledge not to edit their clients' Wikipedia pages surreptitiously. This is a good move by Wikipedia; the only thing that surprises me is that it had gone...
Here's an article from Science Daily that posits that all the claims that the Internet (or, more specifically, Internet advertising) is responsible for newspapers' downfall are false…but then it doesn't propose any alternative reasons to replace it. The article cites a research paper by University of Chicago Booth School of Business Professor Matthew Gentzkow, published in the American Economic Review. Gentzkow looks at the differences in rates and views between on-line and newspaper ads. The perception that the Internet is responsible for newspapers' downfall, Gentzkow posits, is based on the idea that on-line ad revenues are lower than print...
Maybe it's not so impossible to get people to watch ads on the Internet after all. Last night, curious to see if Joss Whedon's recent adaptation of Much Ado About Nothing was available for streaming anywhere, I checked CanIStreamIt and found the only place it was listed for free was ad-supported with "HitBliss." Curious, I clicked through and found a service that essentially pays you—or, rather, lets advertisers pay you—for watching ads. (Then, after I finished writing this article, I noticed Juli covered it here, too, when it first launched in March of last year.) The way it...
Already under fire for its incoherent policy on tablets and e-readers and its continuing missteps versus Amazon, Barnes & Noble has just been formally criticized by the UK's Advertising Standards Authority over its recent promotion of discounts on the Nook e-reader to £29.00 ($45.23), for failing to ensure "sufficient availability of the product at the advertised price." The silver lining, if any, for B&N is that at least the unanticipated response shows how high the demand for e-readers can be—at the right price point. The original—shown here courtesy of The Guardian—ran in the last week of April 2013 in the UK press, stating: "Only £29 RRP...
I'm all for creative marketing from the indie folks—it's a crowded market, and you want to stand out, no? What I don't understand? Spending money on this marketing without taking steps to make sure it's effective. Take today's little case study: I was on my way downtown and saw my first ever e-book subway poster ad. The poster was the little half-size kind they mount up at ceiling level, not unlike the Swatch ads shown in the photo above. A given subway car might have 10 to 15 of these per side, and often someone will rent out a whole car for a...
Sir Martin Sorrell, Chief Executive of WPP, "the world's largest communications services group," was quoted a short time ago in a video interview in The Guardian filmed at the Cannes Lions International Festival of Creativity, castigating—by implication—Google, Yahoo! and Facebook, for not owning up to their position as media rather than technology companies. "I can remember the first  Cannes debate that I did here about five years ago, we had someone from Google, Yahoo!, Facebook and AOL ... The first question I asked them ... was: Are you a technology company, or a media company? To which they all answered, and...
Looks like no social media channel is immune to ads. Today, Tumblr joins the ranks with ads on their mobile devices. Here's the announcement on their blog. They seem similar to Twitter promoted posts, and the Tumblr staff assures us we'll only see them "every now and then." Naturally, I fired up Tumblr on my iPad to see what they look like. Here's an example: That's not too bad. It's animated, which didn't come through in the screen shot. If I hadn't been looking specifically for it, I might have missed it since this is the sort of thing the blogs I follow...
Last month I wrote about eBookPlus, a startup that wanted to make books free, with ads. To say I wasn't thrilled would be an understatement. Most of you who commented on the post agreed with me. Forbes had an article today on another startup, HitBliss, that might actually have it right. From Forbes: The Lexington, Mass. company, run by husband and wife team Andrew Prihodko and Sharon Peyer, operates a Netflix-like app for iOS and Android that gives users access to a whole slew of TV shows and movies. But all that's a sideshow; the payment method is what's interesting here. Customers can...