More on TechnologyTell: Gadget News | Apple News
Posts tagged
Adobe
Magazines have taken a hit over the years on sales in the marketplace. But we're talking about physical magazines, the ones where you leaf through actual pages. Companies have moved toward digital magazines as a way to get consumers back, and even find new ones. According to research by Adobe, which produces the software that most professional print and digital magazines are created with, the outlook is positive. "The momentum we're seeing in digital publishing is that publishers are actually able to make money off these magazines," Lynly Schambers-Lenox, Adobe's group product marketing manager for digital publishing, told TabTimes. "They are coming...
  By James Sturdivant | for Publishing Business Today In September, Amazon announced several new tablets, including the 7-inch and 8.9-inch Kindle Fire HD, which, along with Microsoft's new Surface tablet, are expected give Apple's iPad mini a run for its money this holiday season. Appearing along with the Kindle Fire HD at launch were new tablet editions of Better Homes & Gardens, Reader's Digest, National Geographic, and several Condé Nast titles, all powered by Adobe's digital publishing software and optimized for the Fire's 4G LTE wireless and Wi-Fi, HD display, high-performance processor and dual stereo speakers. Publishing Business Today asked Lynly Schambers-Lenox, Group Product Marketing Manager, Digital...
Nook Simple Touch is supported with Adobe DRM Before you start buying books in a particular ebookstore, check what kind of DRM is used there. DRM (Digital Rights Management) is intended to prevent from unauthorized use. To put it simply: it means you can't freely share the ebook file you bought. No matter how insane it sounds, we have to live with that. For instance, if you shop in Kindle Store, you can only access your ebooks via devices and applications developed by Amazon. If in iBookstore – via iBooks/iTunes. Both vendors are using their own DRM systems. That means: you can't read Kindle...
Many ebook distributors use Adobe DRM – not only popular ebookstores like Barnes & Noble, Kobo, Google, and Sony, but also a lot local level vendors. We have to live with the fact that Adobe DRM-ed ebooks can be used on a limited number of devices. In the worst case scenario, if you don't authorize the device with Adobe ID, you will be able to read the book only on that device. It's because the downloaded file can't be associated with any ID, therefore it can't be opened on devices with: (1) no ID, (2) different ID. If you want to have more control and flexibility,...
From the Adobe Digital Editions blog: Today, we're posting a how-to guide that explains how to convert eBooks authored using Adobe InDesign for compatibility with the Amazon Kindle and the Kindle Store. Because Amazon uses their proprietary AZW format, the Kindle doesn't natively support the open EPUB standard. However, with a bit of open source software, it's fairly easy to convert the EPUB files exported with InDesign into the Amazon-compatible MOBI format. Converting InDesign documents for Kindle compatibility requires the following steps: 1. Export InDesign document to EPUB2. Convert EPUB to Amazon-compatible MOBI format3. Preview on Kindle device (optional)4. Upload to Amazon store For...
From Planet PDF comes word of Kdan Mobile releasing an updated PDF reader for iOS: Kdan Mobile, a developer of mobile applications, has released version 3.8 of PDF Reader, a major update to its powerful mobile PDF application for iPhone and iPod Touch. The new version includes a new user interface, optimized annotation tools, PDF form-filling capability, support for new file types and it integrates with online storage applications Kdan's PDF Reader has the following key features: Powerful file viewing engine Supports various file formats including RAR, ePub, CBR and CBZ File transfer capabilities through WiFi, USB and Cloud storage Document...
At FutureBook, "namenick" has a post explaining why he sees Kobo as being much better-suited than Amazon or Apple for international expansion. In short, Kobo has much better international content availability. Where Amazon has been opening separate stores for various different countries and languages (most recently a French store), Kobo makes all content for all languages available from the same store. One example which shows why Kobo is ahead of iBookstore or Kindle Store – Smashwords. Books from Smashwords are theoretically available at Kindle Store, Kobo and iBookstore. The deal with Amazon doesn't seem...
That's the title of an article in Infoworld by Galen Gruman.  Here's an excerpt: The age of the mobile reader is upon us, thanks to iPads, Kindles, and smartphones. So why is it so hard to create mobile content? There's a shocking lack of tools to craft books, monographs, magazine articles, white papers, and other content for use on mobile devices for the ePub format deployed in e-book reader apps such as Apple's iBooks and Amazon.com's Kindle, much less for the kind of scalable presentation seen in the few good magazine and newspaper apps like...
Received the following email from Gary Young: Most of the eBooks that I buy these days are "protected" with DRM using the Adobe Adept system. Does anyone know how much this adds to the cost of a single copy of an eBook? Obviously, Adobe wants to make money, and they will charge publishers a fee for the right to use their DRM software. How much is that fee? ...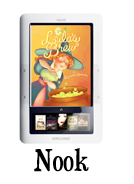 You can find the rest of the post at E is for Book: So last week I announced that I converted my picture book app, LULA'S BREW, into a .pdf for download to The Illustrated Section and various electronic devices... and a Nook color picture book. I got you started on preparing your files for the process. Here's the rest...  The latest buzz is that Adobe InDesign 5 (CS5) can convert files to .epub. VonLogan's tutorial will walk you through this step-by-step, so you'll need to download it from Will Terry's blog. My first glitch was that I only have...
Today Wolfram launched CDF, a new document format that incorporates interactive charts, infographics, tables, and anything else that you can produce in the company's own Mathematica (or that you can import as MathML expressions from Excel and Word). Conrad Wolfram writes, "The idea is to provide a knowledge container that's as easy to author as documents, but with the interactivity of apps—for CDFs to make live interactivity as everyday a way to communicate as spreadsheets made charts." Although Wolfram is positioning this as an open document format, the readers over at Slashdot are skeptical about the EULA and potential issues down...
German ebook software company txtr has updated its Android app with several new features. Some, such as bookmark and note syncing, are familiar to users of the Kindle app, but the update surpasses Amazon's offering by including cloud storage for personal docs as well as purchased books. The company also offers a white label version that can be customised or branded by third parties, and claims to have the largest selection of German language titles in the German market. From the press release: Besides searching for books and browsing by genre, users can now discover books through channels, such as Featured Books...