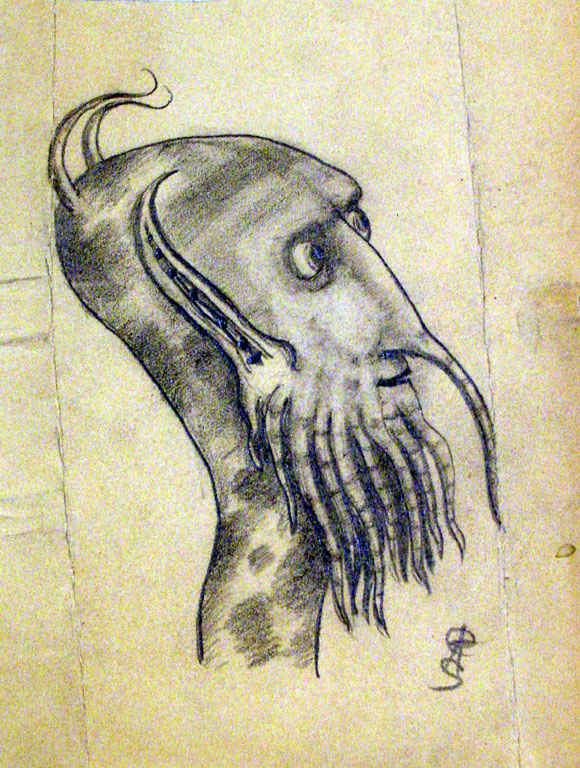 I was moved to wonder how much added value a really fine print edition of out-of-copyright work can bring by a Facebook post about a pre-publication offer on a new collection of the work of American fantasy great Clark Ashton Smith,  entitled The Eldritch Dark: Collected Prose Poems and Artwork of Clark Ashton Smith. In hardcover, this retails for $163.84 on Amazon, but against an original list price of $250.00. For that price, Centipede Press will offer you 460 pages including "all of Smith's known artwork and sculptures" and "his complete prose poems as well as a revealing introduction and bonus essays and memoirs on Smith by other writers," when the book is finally published in June 2014. That's quite a markup.
All well and good. But much, possibly all, of the book's content, and certainly a respectable percentage of the artwork, is available on the website The Eldritch Dark, created by Boyd Pearson and "dedicated to one of the greatest and least recognized literary talents of the 20th century — Clark Ashton Smith. A labour of love that started in July 1997 and has been updated monthly ever since." It contains just about every story that he wrote that I am aware of, and certainly the fantasy and dark fiction classics that made his reputation, as well as his prose poems. And just in case you were wondering, "Permission has been granted for the non-profit use of Clark Ashton Smith material on The Eldritch Dark website by – CASiana (the Estate of Clark Ashton Smith) and Arkham House."
Centipede Press specializes in extremely high-quality collectible editions of notable fantasy and science fiction works. Their cloth slipcased edition of Tim Powers's 1986 classic The Anubis Gates, for instance, will set you back $295.00. There is absolutely no question here of them trying to supplant or replace existing cheap print or ebook editions – they supply an entirely different market with its own special requirements. The Tim Powers edition, for instance, runs for only 500 copies, each signed by Tim Powers.
All the same, the fact remains that the Clark Ashton Smith volume groups material that is available entirely for free elsewhere. And some of the enthusiasts posting about the upcoming Centipede Press volume on Facebook seemed unaware of that fact. So what do you think of the added value of fine print for out-of-copyright work? Is it worth this level of markup? I'd be interested to hear everyone's opinion.