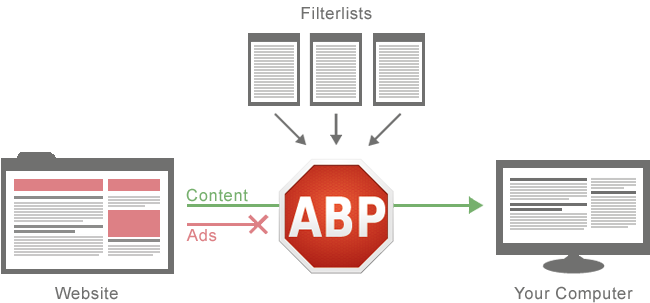 A case in France being contemplated by Le Geste, the professional organization of online publishers, and IAB France, which dictates the standards for online advertising in France, against AdBlock Plus, the internet ad blocking software, and its parent Eyeo GmbH. As reported in Les Echos, the case is on the basis that AdBlock Plus threatens their business – and that Eyeo is effectively extorting money from them by offering partnerships that circumvent AdBlock.
Actually, it appears that criticism of Eyeo is fully justified – and doubtless it doesn't hurt in France that the culprit is German – but that does little to undercut the real reasons for its sucess. Les Echos quotes figures of 5 million users of AdBlock Plus already in France alone, Content audiences are simply turning off – and being turned off – ads, and the content companies are suffering accordingly.
Unfortunately, French media and advertising companies at least do not yet seem to be ready to rise to the challenge of creating new forms of marketing, or ads that people might actually watch and enjoy. Product placement, site sponsorship, or other forms of advertising just do not seem to be getting the job done. But, in a trend all too common in France, the producer interests seem ready to shoot the messenger rather than hear the bad tidings or move themselves to do something.