More on TechnologyTell: Gadget News | Apple News
Writing
Following my original post on the pedophile practices of Marion Zimmer Bradley, a victim of another notorious literary pedophile has shared their own experience in the comments section of that article. I won't post her handle here, but her original comment should be easy enough to find by following the link above. She refers to the award-winning English children's writer William Mayne, who, according to his Wikipedia entry, was in 2004, "imprisoned for two and a half years and placed on the British sex offenders registry for life after admitting sexual abuse of 'young girl fans." Mayne died six years...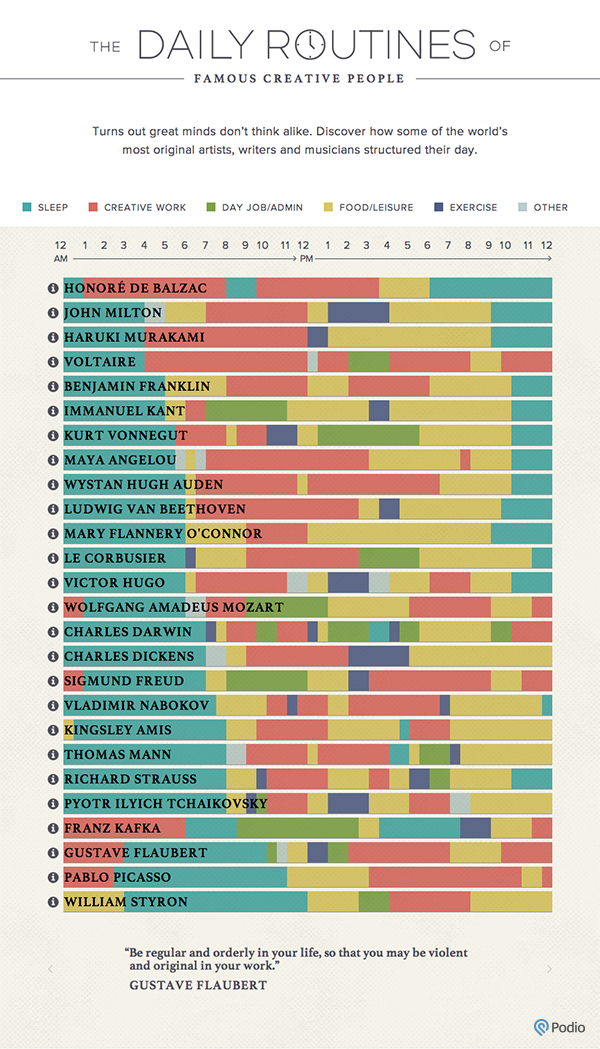 Podio, a Citrix-based platform which focuses on digital teamwork solutions, has shared an interesting infographic on "The Daily Routines of Famous Creative People." And for all budding yet highly insecure writers out there (and what writer isn't underneath?), there are plenty of authors on the list for you to benchmark yourselves against. Customizable in its original web presentation, the infographic ranges from John Milton to Haruki Murakami, and from Flannery O'Connor to Gustave Flaubert. Plenty of non-writers get a look-in too, including Sigmund Freud and Pablo Picasso, but authors appear to have the (literary?) lion's share of the attention. And the...
Bustle, which describes itself as "A new force in media that delivers everything you want to know, see and read - right now," has delivered a very funny and all too telling roundup of "13 of the Most Annoying Writers You'll Ever Meet." Courtesy of Tori Telfer, this bulletin from the wilder and woolier frontier of literary endeavor brings together 13 of the authorial types you most hope never to see staring back at you from the bathroom mirror. "Alas, a terrible writer must fall into every struggling writer's life, and these are 13 of the worst ones out there," says...
Following the release of the UK Authors' Licensing & Collecting Society (ALCS) survey on author earnings, already covered in TeleRead, I contacted the UK Society of Authors to ask for their view on the report. Here are the responses of Nicola Solomon, Chief Executive of the Society of Authors. TeleRead: The ALCS findings state that average author incomes have fallen by almost 30% in the past decade. Creative Industries Council data shows UK creative industries growing at 5× the broader GDP growth rate. Can you comment on this contrast? Nicola Solomon: We are concerned but not surprised by the findings in this...
The National Library of Ireland has partnered with the Zurich James Joyce Foundation to put a previously inaccessible collection of papers, manuscripts, and personal documents by and about James Joyce online, now publicly available here. The archive includes: Letters of a personal nature to Joyce's son Giorgio, daughter-in-law Helen, and Georgio and Helen concerning everyday matters such as health and weather, offers from publishers as well as Lucia Joyce and her illness. Joyce's marriage to Nora Barnacle in London and the Frankfurter Zeitung affair are also addressed. There are also some letters to Joyce's grandson, Stephen, and to the Joyce family...
In the Amazon vs. Hachette feud, the PR moves and countermoves are coming out. Laura Hazard Owen has coverage at GigaOm and the Wall Street Journal also has a piece (paywalled; google the headline to view) on a proposal Amazon has floated to Hachette authors to pay them 100% of all revenue from sales of their e-books—cutting out both its own 30% and Hachette's 70% share—if Hachette agrees. The revenue split on paper books would be unaffected. The letter is particularly interesting in that, for the first time, Amazon is shedding some light on how the negotiations with...
Some alarming numbers about the falling number of full-time career writers in the UK, and the falling incomes of writers of all kinds, have emerged courtesy of the Authors' Licensing & Collecting Society (ALCS), Britain's central clearing house for authors' rights and payments. Their study "What Are Words Worth Now?,"  a survey of almost 2500 working writers commissioned from Queen Mary, University of London, found that "in 2013, just 11.5 percent of professional authors (defined as those who dedicate the majority of their time to writing) earned their incomes solely from writing. In 2005, 40 percent of professional authors said...
Passive Guy over at The Passive Voice reports receiving an email from SFWA headed "SFWA doubling down," clarifying its position on signing onto Douglas Preston's open letter decrying Amazon's hardball tactics in its negotiation with Hachette. (Odd that they didn't also send it to me, given that TPV carried the story I posted about it in the first place.) The letter reads as follows: SFWA's support of Douglas Preston's open letter reflects our concern about Amazon's tactics in their dispute with Hachette and the way those tactics are impacting writers and their careers. We are,...
An article a friend posted on Facebook got me thinking. It involves recently-discovered evidence about a historical figure, Prince Edward of Woodstock, suggesting that a putative "massacre" he committed might not actually have happened at all. It occurred to me that, in this modern era, we tend to assume we can know anything about someone just from what we find in a quick Google. It's sometimes hard to wrap our brains around the idea that much of what we know from ancient times could be wrong, as all we have is what managed to get saved through sheer dumb...
Scotland goes to the polls this year in its national referendum on independence from the United Kingdom. How fitting, then, that 200 years ago to the day, Waverley, the first great historical novel of the Jacobite rising of 1745 - and, according to some critics, the first true historical novel in the Western tradition - was published, anonymously, by Walter Scott, probably the second greatest Scottish writer after Robert Burns. Waverley not only kicked off Scott's Waverley novels cycle, and made him a European celebrity, it also inaugurated a political project which culminated in his stage-management of the visit of...
As avid TeleRead readers will know, I'm an onscreen handwriting nut. I'm also a writer. And like many writers, I'm almost fetishistic about the tools of the trade. The writing instruments, paper (or device), writing desk, accessories, all make a difference to me. So it's been a continuing annoyance that the great pen manufacturers, whose lacquered and tortoiseshell wonders I used to treasure back in the days when I worked mostly on paper, haven't taken a small logical step into the digital era and started introducing pen designs with touchscreen styluses for smartphones and tablets. I'm sure there must be plenty...
Well, he's at it again. Long-time TeleRead readers might remember Douglas Preston as the author who complained about readers' "sense of entitlement" for wanting cheap e-books, only to backpedal rather hastily when the complaint sparked a reader backlash. Yesterday, Jeffrey Trachtenberg reported in the Wall Street Journal that Preston has been circulating an open letter among various authors complaining that Amazon has been unfairly targeting Hachette authors in its recent contract negotiations with their publisher. He has reportedly received support from a number of big names (including, predictably, James Patterson) and will be posting the letter to his...