Writing
OK, we know that "Becca" is probably a friendlier name for the author of a kid's book than is "Rebecca."  But what about other factors, such as shelf position, not to mention the possibility of even marrying right? Oh, the possibilities. Kindle Boards has a lively discussion on writers' names, with thoughts from authors of various genres. Related: Google links to pen-name generators.   ...
An online job ad posted by UK creative writing charity Arvon, "renowned for its residential creative writing courses for schools, groups and individuals," points to an interesting new creative writing platform in the UK. The ad is for a Digital Communications Officer "to assist in the delivery of a major new digital project for Arvon, an online resource section about the craft of writing, with premium content for members, and a new Tumblr website that highlights writing expertise across the web." The ad continues: "The principles of the programme are about opening up access to opportunities in the arts, and talent...
As many literati will know, Bloomsday is the annual celebration of James Joyce's Ulysses, and of Joyce himself in general, fixed on the same day, June 16th, that the events of the novel take place on in 1904. Now, thanks pioneering French cinematographers the Lumière Brothers, footage of Dublin dating back to 1897, showing O'Connell Street and St Stephen's Green just a few years prior to the events of the book, has been put into a new work. The footage has been incorporated into a 30-minute film, "Ireland - Birth of a Nation," produced by filmmaker Gerard McCarthy "to mark the...
If you haven't already found enough ways to boost James Patterson into the Celebrity Net Worth top league and swell his $90 million p.a. income, here's another one. Rather than read his potboilers or watch his spinoff movies, why not pony up 90 bucks to learn to write like him? Because, lucky aspirants, now you can, with the online Masterclass "James Patterson teaches writing." "Set out to write a best-selling book," runs the blurb. "James Patterson, the author of 19 consecutive No. 1 New York Times Best Sellers, reveals his tricks of the trade for the very first time. In this...
This is a personal love letter to the Armenian written language, for looking so amazing. After all, we're talking about a script for an Indo-European language with fairly close affinities to Greek and Albanian (though also to the Indo-Iranian family of northern India and Central Asia), that originated from a Christian country (albeit one identified with the unique Armenian Apostolic Church), which was invented by a Christian theologian, Mesrop Mashtots, in AD 405. And yet ... it looks more like Thai than anything in the European linguistic family. It may have derived from one of the Pahlavi scripts of ancient Parthia, or...
Following my earlier coverage of the latest Authors' Licensing & Collecting Society (ALCS) study on writers' earnings and contractual terms, "The Business of Being an Author: A Survey of Author's Earnings and Contracts," I contacted the ALCS, the UK Publishers Association, and the Society of Authors for their reactions. Nicola Solomon, Chief Executive of the Society of Authors, was first to reply, as follows: Teleread: The ALCS numbers show author incomes in a state of continuous decline at a time when the UK publishing industry appears to be enjoying great success. Why is this? Nicola Solomon: While it has always been the case that a handful of...
Following its previous survey of the income and work prospects of UK professional authors, entitled "What Are Words Worth?", the Authors' Licensing & Collecting Society (ALCS), Britain's central clearing house for authors' rights and payments, has released a fresh study based on 2014 data for writers' earnings and contractual terms, rather than 2013 data. The survey, "The Business of Being an Author: A Survey of Author's Earnings and Contracts," found, as the BBC highlighted, that UK author incomes are "at breaking point." The survey, conducted with Queen Mary College in the University of London, which as the ALCS correctly states, "is one of...
With Sad Puppies already trailing enough dirt around the landscape, I hesitated a long time before eventually deciding to write this up. One reason I hesitated - and also one reason I finally decided to write - is that much of the to-and-fro in this particular spat was done on a no-name basis, with Tweeters and Facebook posters not naming the people concerned. It also doesn't help that one of the main instigators/protagonists was briefly off Facebook - in what I hope wasn't a hack attack motivated by the controversy. And I certainly hesitated because there was right and wrong...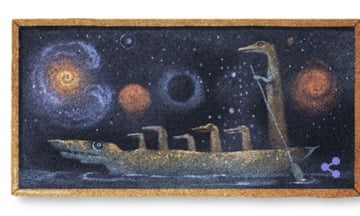 Leonora Carrington (April 6, 1917–May 25, 2011), subject of a Google doodle (above) on the anniversary of her birth, which unfortunately happened to coincide with the Easter Monday holiday, was one of those multitalented figures whose character and life make the cliche "truth is stranger than fiction" a pale shadow of the ... ahem ... truth. She also has a track record as a novelist as well as artist that many modern imaginative writers would give their eye teeth for. Almost the prototypical wild child, Carrington rebelled against her wealthy English background from the start, moving to Paris soon after her débutante...
Stephen King is anything but my favorite horror writer - and after all, he can afford to ignore my snark. Literally. And that's precisely the point. But in that regard, he just substantially redeemed himself in my eyes - with a scathing and passionately profane article in The Daily Beast on just what he thinks the taxation policy towards his c.$400 million celebrity net worth ought to be. Just as a reminder, the context was a radio address by Paul R. LePage (R.), Governor of King's home state of Maine, claiming that the celebrated author had moved out of state because...
As I've said before, Gen Con's reputation as the largest gaming convention in North America eclipses its status as one of the largest writing conventions in North America, offering guidance on all aspects of writing and publishing. On Monday, March 23, Gen Con's CEO sent a letter (PDF) to Indiana's Governor Mike Pence, warning that a controversial religious freedom bill he was about to sign into law would affect Gen Con's decision whether to stay in Indianapolis past the expiration of its contract in 2020. This morning, Governor Pence signed that bill. I covered the particulars in a post...
Pop Chart Lab has come up with a chart that should probably be on any writer's wall: "A Plotting of Fiction Genres," with the genres themselves represented by ... ahem ... representative works, as Pop Chart Labs explains: Peruse literature's myriad modes with this plotting of fiction's prominent genres. From broad story classifications to some truly punctilious partitioning, each genre is represented here by a hand-illustrated book cover, then branches further into subcategories and sub-subcategories as merited—providing at least two representative works for each. The prints themselves are actually signed and numbered editions, printed on 100 lb. archival stock. And there's some...