UK
Unsurprisingly from the country that gave the world the concept of philistinism, the 2015 Report by the Warwick Commission on the Future of Cultural Value, Enriching Britain: Culture, Creativity and Growth - otherwise known as the Warwick Report - has found that "the government and the cultural and creative industries need to take a united and coherent approach that guarantees equal access for everyone to a rich cultural education and the opportunity to live a creative life. There are barriers and inequalities in Britain today that prevent this from being a universal human right. This is bad for business and...
Ebooks, the internet, computing, and just about everything else in modern digital technology owe their existence in anything like their current form ultimately to Alan Turing. So it's a significant event when some of his original, undiscovered documents are unearthed - even if they've been used as cavity loft insulation. This is what happened in the course of restoration of Bletchley Park, Britain's codebreaking center where Alan Turing worked during World War 2. The documents found were reportedly "Banbury sheets," a type of codebreaking key developed by Turing to help crack the Nazi Enigma code. They were found being used to stuff...
As a timely reminder that his paintings are about far more than chocolate box lids, John Constable has been in the British news lately, thanks to a lucky find of a painting that proved to be an unknown work by the master. Bought at Christie's in London for £3,500 ($5,000), the painting, an oil sketch for Constable's great composition "Salisbury Cathedral from The Meadows," fetched about £3.4 million ($5 million) at Sotheby's in New York 18 months later, after its attribution had been confirmed. But this is also a good time to recall that Constable left words as well as paintings...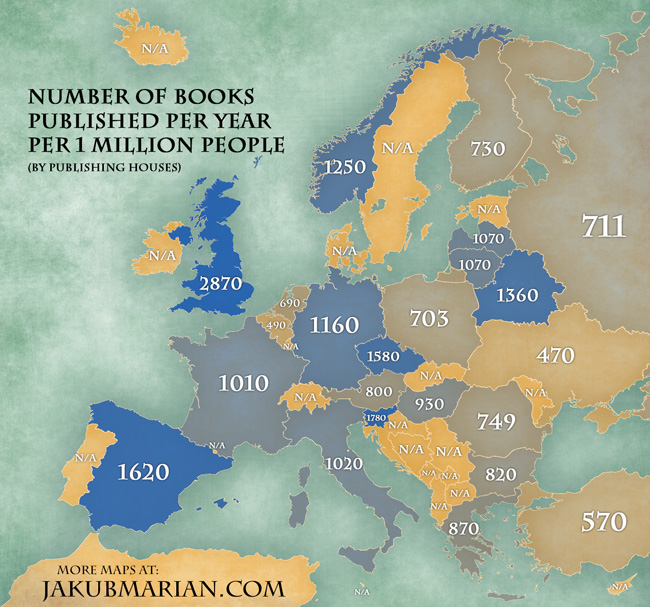 Two very interesting, and contrasting, maps just put online suggest some fascinating conclusions about current UK publishing, book selling, and reading habits. The first, apparently a one-man production from Jakub Marian, a Czech mathematician, linguist, and musician currently living in Germany, illustrates the "number of books published per year per capita by country in Europe." As Marian says, "I wasn't able to find a good source of information, so I decided to make one myself." Based on this map, you'd expect the Brits to be the most literate, cultivated nation in Europe. After all, their publishing turnout dwarfs the supposedly intellectual...
The British media are full of reports on the 50th anniversary of the death and state funeral of Sir Winston Churchill, who died on January 24th, 1965, and was interred in a state funeral service at St Paul's Cathedral on January 30th, the largest state funeral in modern history to that point. Churchill's memory lives on practically untarnished in the UK, and I'm happy to be able to remind everyone just how much of his achievement was tied up with his command of the written and the spoken word. Winston Churchill's receipt of the Nobel Prize for Literature in 1953 was...
London is proverbially one of the great literary cities, even if it hasn't matched Edinburgh or Dublin with UNESCO City of Literature status yet. So it's sad to see all that made it a truly unique world-historical capital being abandoned, and its urban fabric and skyline ruined, in the name of a futile bid for Manhattan-style financial predominance, and of an absentee rentier class with little care for their second (or third, or tenth) home. London was once the physical expression, the embodiment of one of the world's great intellectual, literary, scientific, commercial, and political cultures. And in case you need...
The notorious policy introduced by UK Lord Chancellor and Justice Secretary of restricting access to books for prisoners in England has been withdrawn after December's court decision that it was unlawful - despite the insistence by its instigator that there never was such a policy in the first place. But not before Grayling's department spent £72,000 trying to defend it, a recent report revealed. Frances Crook, CEO of the Howard League for Penal Reform, which co-led the Books for Prisoners campaign against the ban, described this to the UK Independent as: "a scandalous waste of public money." At the time of the original...
Diane Duane's e-book store is running a 50% off sale for Black Friday/Cyber Monday. All e-books in the store are half-off, no discount code required. But as Duane explains in a blog post, this could very well be her last Cyber Monday sale, because of the new VAT MOSS regulations coming into effect as of the New Year. As Duane points out via a quote from a Huffington Post article on the matter, the new regulation—and its removal of the minimum threshold at which UK businesses need to worry about VAT—is going to hit many UK small businesses particularly...
New European Union regulations regarding value-added taxes (a sort of European equivalent of sales tax) will take effect January 1, 2015 that could cause problems for businesses selling electronic goods and services. Referred to as VAT MOSS (for "Mini One-Stop Shop," the web portal each member state will run to make payments easier), the new regulations put the onus on businesses that provide "telecoms/broadcast/electronic services" to EU customers to keep track of and charge each customer VAT at the rates that apply to the country where that customer lives. Previously, businesses were free to charge at the rate that...
The UK "database of all UK literary agents, their agencies and publishers" Agent Hunter has released research, summarized in the form of the infographic included here, on the state of the UK agenting environment that has already attracted complaints and objections. As quoted by The Bookseller, the president of the Association of Authors Agents, Sam Edenborough, has protested that Agent Hunter is making "shrill criticisms." Agent Hunter's claim is that "We've taken the massive amount of data on our site and produced the first ever comprehensive analysis of Planet Agent." The negative comments in the analysis focus on the exclusivity, lack...
At this year's Edinburgh International Book Festival to speak and to promote his latest book, The Sex Lives of Siamese Twins, iconic modern Scottish novelist Irvine Welsh, who has probably done more to push contemporary Scottish society into public awareness than any other writer, diverted from the American theme of his new book to address the whole Scottish independence referendum debate - in terms that cast a spotlight on the entire UK as a whole. Asked simply "Yes or No, and why?" Welsh replied: I can't vote so I'm not telling anybody how they should vote, just  giving what I believe, but...
At the Edinburgh International Book Festival 2014, I spoke to Sarah Morrison, Communications Executive of the Edinburgh UNESCO City of Literature Trust, about how Edinburgh pioneered the UNESCO Cities of Literature programme, and what this has done for the city itself....