More on TechnologyTell: Gadget News | Apple News
Tech
The recent HP announcement of the debut of its HP Pro Slate Android tablets included the detail that they would come bundled with the HP Duet Pen, "the first to use Qualcomm Snapdragon digital pen technology on both a tablet and regular paper." For a stylus buff like me, any news about new digital pen technologies is interesting, and this Qualcomm innovation looks to be one of the more striking wheezes to break cover lately. According to Qualcomm's technology partner on the new device, GlobalLogici, the Qualcomm Snapdragon Digital Pen "represents the next generation of the stylus popular with tablet devices. With the size...
TechRadar has just shared a post which should be of interest to all users of ereading devices - even if it mostly concerns smartphones. Of course, many keen consumers of ebooks these days are reading on their smartphones anyway, but even those readers who stick to Kindles or Kobos only can still learn from this. In answer to the perennial question "should we unplug our chargers each night?," TechRadar's David Nield compiles up-to-date tech opinion and the results of recent efforts to push battery life and power management. He instances, for example, the International Energy Agency's 1-Watt Plan, which "proposed that all...
RIP Pixel Qi?
January 14, 2015 | 12:25 pm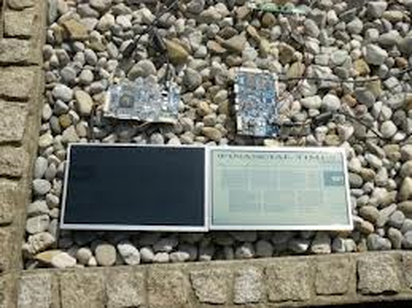 A report on Good eReader seems to have twigged the web to the demise of Pixel Qi, the once-feted low-power display producer. I'm puzzled as to exactly why this is seen as news, since as Michael Kozlowski points out, the key events in the de facto dissolution of the company - the departure of husband-and-wife founders Mary Lou Jepson and John Ryan - happened back in 2013. And as Chris Meadows reported back in mid-2013, even then Pixel Qi was already in the "where are they now" crowd. All the same, it seems to have jogged the memories of an awful lot...
E Ink made quite an eye-catching appearance at this year's CES - literally. The pioneering electronic paper display company debuted some of its most striking color epaper technology to date in the shape of E Ink Prism, a series of "unique and dynamic materials for architecture and design incorporating its new color changing electronic ink technology." This move confirms E Ink's shift out of the dedicated ereader display space, where it has seen falling demand, and into rather more physically ambitious solutions. "E Ink Prism bridges the gap between traditional static materials and digital technology with dynamically changing materials," the company explains. "Architects...
The Polaroid brand has been enjoying a sort of second life for a while now as a budget Android tablet line, with Chris Meadows reporting on a mini-tablet from them roughly a year ago. With this year's CES, the legacy brand managers Southern Telecom have come out with two new Android tablets that may rebuild its cachet further, as both ship with Lollipop 5.0, the latest version of the Android OS, making them some of the first budget devices to do so. As announced by Polaroid, the Polaroid L Series "is comprised of the L7 (7" tablet), and L10 (10.1" tablet). Both sizes...
Debates can continue to circle forever as to how far Microsoft wanted to take back ground from Android through Windows 8. Intel, though, has just launched a push into a form factor that Android, and to a lesser extent, Linux, really created: the computer on a stick. Intel's introduction for its new Intel Compute Stick device doesn't exactly mince words about the point. "The Intel® Compute Stick is a new generation compute-on-a-stick device that's ready-to-go out-of–the-box and offers the performance, quality, and value you expect from Intel," it declares. "Pre-installed with Windows 8.1 or Linux, get a complete experience on an...
Tech vendors seem to be giving fresh impetus to handwriting input and onscreen writing/drawing solutions, perhaps inspired by the success of the Samsung Galaxy Note series with its S-pen. For one thing, there's Toshiba's new series of Encore 2 Write Windows 8.1 tablets, debuted at CES 2015 in both 8"and 10" formats, with Wacom stylus technology implemented via the bundled accessory dubbed the TruPen. This platform builds on Toshiba's previous forays into the pen-enabled tablet space, such as the Android-packing Excite Write tablet, and reportedly comes with complementary apps called TruNote and TruCapture to support the hardware. Prices are reportedly $349.99 and...
Not content with owning the innards of many name-brand Android tablets and other digital devices, NVIDIA has just raised its mobile processor game a notch or few more, using the Consumer Electronics Show 2015 as the platform to debut is new Tegra X1 "superchip." NVIDIA describes this as "the most advanced mobile processor we've ever created," with "powerful new NVIDIA Maxwell™ architecture, 256 GPU cores, a 64-bit CPU, unbeatable 4K video capabilities, and more power-efficient performance than its predecessor make it perfect for even the most challenging mobile and automotive applications." NVIDIA's official blog boils this down into "a full...
Apple has been granted a renewal on a 2010 patent for: "a stylus comprising: a body with a first end and a second end; a tip located at a first end of the body; one or more position sensors disposed on the body, wherein the position sensor is in communication with the tip; and a transmitter operative to transmit position data generated by the one or more position sensors to a remote computing device." The fairly detailed outline goes on to spec out more fully a design that involves accelerometers and other motion sensors to implement a stylus that can transmit...
It takes a geek or a Scot, or better still, both at once, to obsess over cheap touchscreen styluses, and I plead guilty to one charge and embrace the other. And I reported on this issue a short while back, styluses are now pushing into an increasingly bargain category of everyday stationery, rather than premium tech accessories. Now even those price points have been breached, however, with the advent of truly rock-bottom styluses that still get the job done. The three styluses pictured above all cost less than two Euros ($2.35) each. And the two plastic upper ones, although from the...
Digitimes, the popular though occasionally unreliable Taiwanese technology news platform, has shared fresh intelligence that Japanese mobile device display manufacturers are finally managing to bring significant pricing pressure to bear on their Chinese rivals. According to the Digitimes report, which cites local "industry sources," Sharp and the government-supported Japan Display conglomerate, the world's largest manufacturer of smartphone screens, are finally managing to match or beat the prices commanded by Chinese and Taiwanese peers for TFT LCD screens and other digital device display technologies. Chinese smartphone manufacturers Huawei, TCL and ZTE are cited as some of the makes implicated in the pricing offensive....
Some readers may remember my previous gripes about the Google ChromeCast for Android, and its halfway-there functionality, which allowed individual Android apps to stream to an HDMI-capable monitor or TV, but not screen mirroring. Well, finally with the latest update for the Android ChromeCast app, this has been implemented - for my Nexus 2012 anyway. It's not perfect, but it's a start. The 1.9.6 version of the app requires Android 2.3 or above on a device for basic functionality, but for screem mirroring, Android 4.4.2 KitKat or above is needed. Scren casting is available as an option from the pull-down menu...