More on TechnologyTell: Gadget News | Apple News
Tech
Some readers may remember my previous gripes about the Google ChromeCast for Android, and its halfway-there functionality, which allowed individual Android apps to stream to an HDMI-capable monitor or TV, but not screen mirroring. Well, finally with the latest update for the Android ChromeCast app, this has been implemented - for my Nexus 2012 anyway. It's not perfect, but it's a start. The 1.9.6 version of the app requires Android 2.3 or above on a device for basic functionality, but for screem mirroring, Android 4.4.2 KitKat or above is needed. Scren casting is available as an option from the pull-down menu...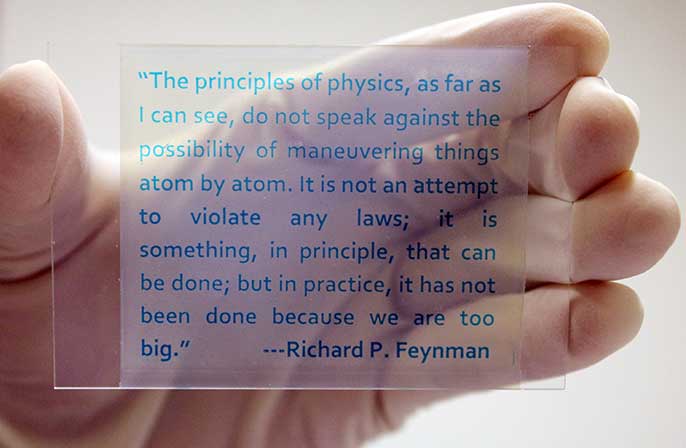 The University of California, Riverside has just announced another contender in the increasingly competitive rewritable paper technology stakes to rival Eink displays and other reprintable/rewritable/changeable solid-state reading solutions currently in production or under development. According to the announcement: Chemists at the University of California, Riverside have now fabricated in the lab just such a rewritable paper, one that is based on the color switching property of commercial chemicals called redox dyes. The dye forms the imaging layer of the paper.  Printing is achieved by using ultraviolet light to photobleach the dye, except the portions that constitute the text on the paper.  The new rewritable...
Reports of a new wearable technology called Cicret raise an interesting possibility for future ereading devices - although right now this looks like very much a vaporware thing and any actual product is years away, if it ever emerges. The device supposedly works by using a wraparound wristband to project a readable interactive screen onto your wrist or forearm - and the demo video looks very persuasive. Cicret has a website, which currently is inaccessible for some reason, and a Facebook page. The Facebook page does carry warnings from Cicret of other fake providers on eBay or elsewhere: "WARNING: we are...
Arguably one of the big drivers for iPad and Android tablet adoption, besides the new form factor, has been price. Just like netbooks back in the day, tablets offered Internet and digital media access for a price far below that of traditional laptops and desktop PCs, and the home computer market has suffered accordingly. But what if Microsoft was able to drive down the prices, as well as multiply the form factors, of Windows machines, to compete head to head in the tablet/small portable device space? What is that going to do for the balance of OS uptake in the...
The latest quarterly forecast of global PC demand, the International Data Corporation (IDC)Worldwide Quarterly PC Tracker. has shown a slight reduction in market shrinkage, down to -2.7 percent contraction in 2014, following the previous forecast of -3.7 percent. However, IDC reports market consensus that this is a short-term uptick "rather than as a sign of stronger growth in the medium- or long-term." Despite the apparent leveling off of tablet market penetration, IDC reports that "competition for disposable income from smartphones and phablets is rising. In addition, the market was boosted in the third quarter by factors such as a rise in low-cost...
One of my favorite pieces of kit - since its latest upgrade and a network reboot sorted out its wifi connectivity problems at least - is my Chromecast, ideal for streaming music or movies to my big screen while I toil at my desktop. But with my setup at least, there are still some crucial hooks missing that would turn it into a full-on productivity killer, as well as a great entertainment device, and would even make it ideal for widescreen reading as well. Crucially, Chromecast is still held back when working with Android devices. That makes total counter-intuitive non-sense, but...
Idaho- and Texas-based company Rohinni has demonstrated an innovation that could revolutionize one key feature of onscreen reading - backlights.  The company's innovation, Lightpaper, is described as "the world's thinnest LED lighting," and is essentially just what it says it is, a paper-thin white LED illuminated surface, that according to Rohinni can be manufactured in volume by the roll. "With Lightpaper technology, you can just print light on what you want," the company claims, although the only technology implementation on hand is a printed logo on the back of a Sony smartphone. The company's current website is decidely light on detail...
A research team from the Department of Electronic and Computer Engineering at Hong Kong University of Science and Technology has announced a technological development that could deliver "optically rewritable 3D liquid crystal displays" that do "not need any power to hold the image after being uploaded." In other words, they are pioneering a technology that can produce a color, 3D equivalent to epaper, with the same durability and low power consumption. The abstract focuses (sic.) mostly on the development of an auto-stereoscopic method of producing goggle-free 3D images involving "holograms or the projection of the two images directly in to the...
An interesting product came up on my radar yesterday. And I'm not one to diss genuine creativity and inventiveness gratuitously, but I do wonder. The Hemingwrite, you see, is designed as "A Distraction Free Writing Tool," offering the functionality of an old-style word processor, the ergonomics of a typewriter, and the freedom from distractions of a hermit's cave. And designed for decades of use. The Hemingwrite's features include a mechanical keyboard, an e-ink display with backlight, and Evernote cloud backup - for despite its retro styling, the Hemingwrite is a connected beast. What it is not, however, is connected to the...
For those lumbered with mobile devices without interchangeable batteries - like Kindles, for example - Singapore's Nanyang Technology University has come up with what could be a very welcome innovation. According to the University's press materials, a team there has "developed ultra-fast charging batteries that can be recharged up to 70 per cent in only two minutes. The new generation batteries also have a long lifespan of over 20 years, more than 10 times compared to existing lithium-ion batteries." The lithium-ion batteries normally found in mobile devices usually last about 500 recharge cycles ... equivalent to two to three years of...
As part of my somewhat abandoned (well, modified, anyway) 2014 Reading Challenge, I have been finishing off some half-read non-fiction, and one of the books I just finished off was an interesting case study for me in why the self-helpy stuff doesn't do it for me the way it used to. The book was called [easyazon-link asin="0446563595" locale="us"]Simple Abundance[/easyazon-link] by Sarah Ban Breathnach, and when I started it last year, I loved its message. The third third or so of the book was wonderful---it was all about slowing down the pace of your life, taking walks outside, focusing on what was going...
I'm back to school now, and as usual I spent some of my summer vacation time 'spring cleaning.' I always feel like since I am not working and the Beloved is, I need to have something to show for my day, so I clean like a fiend. And I have been busily working some family heirlooms into our home since the passing of my grandfather. It struck me, as I made my finishing touches for back-to-school, how much things have changed since my mother's time. There are products, services and routines my parents considered par for the course which people my...