More on TechnologyTell: Gadget News | Apple News
Smartphones
When most of us aren't satisfied with the current state of mobile technology, we don't have any recourse but to hope that someone comes up with something better. But if you're a high-powered, wealthy Hollywood go-getter, you have a few other options. GigaOm and AllThingsD are reporting that Hollywood exec Ryan Seacrest was fed up with having to carry two cell phones with him all the time—one for typing and another one for everything else. He just couldn't get used to the on-screen keyboard in his "everything else" phone, and needed a physical thumb board to type usefully....
I've had my Google Chromecast for a couple of days now. I've unboxed it for YouTube, and I've written up a lengthy review for Answers.com. To summarize, by and large, it's a great little device. In some ways not as useful as the Roku yet (in particular, no Amazon Prime or local media streaming), in other ways it blows the little black box right out of the water. One of the Chromecast's biggest advantages is when it comes to searching media. With the Roku, and many other devices like it, you have to plink your title into the search...
A couple of years ago, I wrote about how there was no good Android iPod Touch alternative. Then a couple of months ago, I discussed the possibility that the best iPod Touch alternative might be cheap Android smart phone. Shortly after that, I finally took the plunge into going Android all the way. I had experimented with Android before that, of course. I had an inexpensive Zeepad for several months before breaking the screen. It was almost unusably slow, but intriguing enough that I wanted to try a real Android experience. So, as chronicled here already, I picked up a cheap...
The International Data Corporation (IDC)'s latest Worldwide Quarterly Mobile Phone Tracker data shows that smartphone shipments are due to clear 1 billion by year end, the highest level ever, and "representing 39.3% growth over 2012," according to IDC. "Despite a number of mature markets nearing smartphone saturation, the demand for low-cost computing in emerging markets continues to drive the smartphone market forward. By 2017, total smartphone shipments are expected to approach 1.7 billion units, resulting in a compound annual growth rate (CAGR) of 18.4% from 2013 to 2017." Falling prices for Android handsets, as well as the computer functionality already mentioned,...
I'm in the process of cleaning and packing up my room, preparatory to move to Indianapolis. Along the way, I ran across a few old toys, and they got me thinking about the way hand-held gadgets have been portrayed in a couple of TV science fiction shows. The one that really got me thinking was the Star Trek: The Next Generation tricorder. The tricorder always was my favorite gadget, because it was a hand-held computer device that told you everything. You could interface with the starship and download data, or copy information and beam it up…et cetera. TNG's tricorder sort of took...
The world has been changing a lot. In the 98 years my grandmother has been alive, we've gone from cars as rickety novelties on dirt-track roads to polished metal eggs on highways that span the globe; the Wright Brothers' first flight to putting people on the moon and machinery on Mars. And we've gone from mechanical clocks and automated looms as state-of-the-art in information technology to having powerful computer/photo/video terminals in most peoples' pockets. Even over the course of my own lifetime, the rate of advance has been remarkable. When I was in grade school. having computers in the...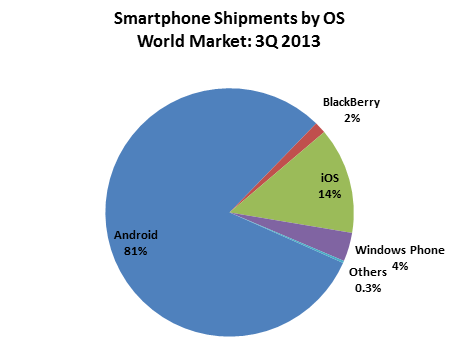 Latest 3Q2013 figures on the state of the global mobile phone market from technology market intelligence house ABI Research show Samsung chewing into other vendors' market share, and especially at the expense of proprietary OS platforms like Apple and BlackBerry. "Samsung retained its lead in handset shipments and grew its share of smartphone shipments to 35%, while Apple share remained flat at 14%," stated the report. Thanks in part to Samsung, Android remains by far the most popular OS, and is also increasing its lead. "Supported by strong Android shipment growth from Huawei, Lenovo, Xiaomi, and Samsung, Android reached a new...
Smartphones already expanded into a bigger form factor with tablets, but shrinking into a smaller form factor has been giving it a little more trouble. While the Pebble e-ink smartwatch did well as a kickstarter and has been garnering good reviews, Samsung's Galaxy Gear—a twice-as-expensive watch which only syncs with Samsung phones and whose internal battery is not sufficient to operate for even one entire day—has faced a return rate as high as 30% at Best Buy. But perhaps the best smartwatch may be yet to come. Gizmodo reports on the smartwatch that Google is developing, based on designs from a...
Remember that Phonebloks idea I covered last month, in which someone proposed a LEGO-style creation system for smartphones, in which people could build their preferred phones out of just the parts they wanted? The consensus at the time was that it seemed clever and creative on the surface, but wasn't entirely feasible as suggested. But Motorola seems to have found something useful in the concept. It was apparently working on this idea before the Phonebloks people came along, but they certainly seem to have found some common ground. After taking a truck full of rooted smartphones and 3D...
Want to hear text to speech from free library ebooks on your 50-mile commute? Even if you own an Android machine and the usual OverDrive app can't do "read-aloud" unless audiobooks count? Also, what if you haven't even bought an e-reading gizmo for library use, but want to? Which model to go with? In those cases and others, the guidance here is for you. Most tips will work even with low-cost, no-name tablets. But let's pay special attention to the new Kindle Fire HDXes. They are among the top choices if you care more about reading than about tech and can stomach...
Here's an interesting and creative idea: Phonebloks, a smartphone design that is entirely modular. You start with a base with a lot of pinholes in it, and attach components to it—a screen to the front, and components for storage, battery, GPS, camera, etc. to the rear. They stick in just like LEGOs. Components would be standardized and available from different companies so you could build your own phone out of the bits and pieces you wanted, and when a part goes bad or gets too outdated, you trade it out. No more throwing away a phone because you broke...
New data on the U.S. cellphone market released by Nielsen shows smartphone penetration rising over the June-August period to 64 percent of all U.S. mobile phone owners. And longer-term trends show an even brighter future for the smartphone, with 80 percent of new acquirers in the same period opting for smartphones. The U.S. smartphone penetration level pales in comparison to locations like the United Arab Emirates, which claims a 73.8 percent rate of smartphone usage among all local mobile phone users, based on Google figures, supposedly the world's highest level.Still, according to Pew data from June, 91 percent of U.S. adults...