More on TechnologyTell: Gadget News | Apple News
Science fiction
I'm in the process of cleaning and packing up my room, preparatory to move to Indianapolis. Along the way, I ran across a few old toys, and they got me thinking about the way hand-held gadgets have been portrayed in a couple of TV science fiction shows. The one that really got me thinking was the Star Trek: The Next Generation tricorder. The tricorder always was my favorite gadget, because it was a hand-held computer device that told you everything. You could interface with the starship and download data, or copy information and beam it up…et cetera. TNG's tricorder sort of took...
Frederik George Pohl, Jr. (Nov. 26, 1919 – Sept. 2, 2013) was almost a living artifact of a bygone era in science fiction, as well as one of the genre's most fertile and perennially refreshed talents. Born in the immediate aftermath of World War I, he died in the epoch of Google Glass and the Large Hadron Collider, without ever losing his imaginative spontaneity or intellectual curiosity, or his ability to upset and disturb the genre consensus. For all its radical technological vision, science fiction has a reputation for frequently being socially and politically conservative, whether it's Orson Scott Card's anti-marriage equality...
Okay, I know I'm feeding the troll here, and I feel bad about that, but I do feel it's worth calling attention to this level of complete stupidity when I see it. Patrick Nielsen Hayden had this to say about the subject of my rant: "It's rare that one gets to see somebody being a complete and total idiot. But Amazing Stories comes through!" The article in question is by Paul Cook, and it goes by the provocative title "When Science Fiction is Not Science Fiction." Cook, it seems, is upset that writers such as Lois McMaster Bujold and...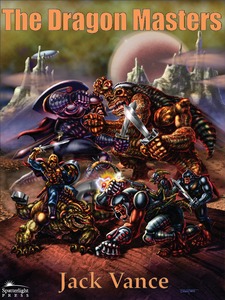 Thanks to Jack Vance, my early teens were haunted by dragonish monstrosities with such names as Termagants, Striding Murderers, Juggers, and Blue Horrors. These weren't drawn from a young adult story, but from one of Vance's most concentrated, intensely imagined and effective evocations of a place and above all, a society, very remote from ours, in time, space, and mindset. "The Dragon Masters" was one of the classics that consolidated his early reputation, and it has worn very well with time. Note that this book is an example of how mutable the standards of story length can be, as well as the...
During the sweltering British summer of 2013, Foyles bookstore in London did something that was a long time coming: It set up a dedicated ''cli-fi'' table with a simple yet eye-catching sign promoting fiction and non-fiction books with climate themes. Among the books seen on the table in the photograph to the right above are Rachel Carson's "Silent Spring" and James Lovelock's "The Revenge of Gaia" as well as Stephen Emmott's current bestseller "10 Billion" sitting alongside such dystopic scenarios as J.G. Ballard's "The Drowned World," John Christopher's "The Death of Grass," Joe Dunthorne's "Wild Abandon" and Liz Jensen's "The Rapture." Most...
Wow, what a daily deal! Amazon has sixteen Ray Bradbury e-books on sale for $1.99 each, including Something Wicked This Way Comes, Dandelion Wine, The Illustrated Man, and eleven others. The late Bradbury, notorious hater of e-books that he was, must be rolling in his grave. The e-books were published earlier this year, and this is the first chance fans will have to get them at a really low price. (There are the usual other Daily Deals around, too.)...
The identity of the Twelfth Doctor has just been announced, Doctor Who's 50th anniversary is coming up, and e-book donation bundling site StoryBundle is striking while the iron is hot with a collection of six Doctor Who nonfiction e-books. Four of them are available for a donation of at least $3, and two more come at the $10 level. The base four books include Doctor Who fan memoir Dalek I Loved You by Nick Griffiths, Dining with the Doctor: The Unauthorized Whovian Cookbook by Chris-Rachel Oseland, the memoir of Doctor Who producer Barry Letts Who & Me, and TARDIS...
In a Mad Men postwar MAD world of New Look housewives (and national security policy) and spic-and-span American Dream homes bloomed a sick, fecund flora of tainted growths with gorgeous, cloying scents, redolent of Clark Ashton Smith, Weird Tales and the last American offshoots of European decadence. The Dying Earth cycle of stories by Jack Vance, unfolding under a red ailing sun in a far distant future where technology has long grown indistinguishable from magic, carried the heritage of fantasy literature forward into the 1950s and set the scene for almost every subsequent development in the genre before Tolkien. Vance published...
Today marks—belatedly a day late—the birthday of Edward John Moreton Drax Plunkett, 18th Baron of Dunsany (1878–1957), better known as Lord Dunsany, the weird fiction, fantasy, and science fiction writer whose own Irish roots and aristocractic pedigree are as fanciful as—well, almost —anything in his tales. Thanks to his long, and exceptionally rich and varied, life, many of his key works are out of copyright and freely available on Project Gutenberg and elsewhere. In physique and in life, Dunsany was practically the direct opposite of his contemporary, H.P. Lovecraft, who praised him in his essay "Supernatural Horror in Literature," as: "unexcelled in...
In honor of its fifth anniversary, Tor.com is offering a free e-book of all the original fiction published on its site in one handy edition. All you have to do is register with the site (painless), and you can download it. It's DRM-free (here's looking at you, Joanna) and available in EPUB, Kindle and PDF. Fair warning: It's a monster. The EPUB is the smallest file, at 68 MB. Eyeballing the table of contents, it looks like you'll be getting 150 stories and some amazing authors, including Gregory Benford, Elizabeth Bear, John Scalzi, Stephen Brust, Brandon Sanderson and more. Each story includes cover...
Writers can hardly have missed the recent spat at the Science Fiction and Fantasy Writers of America about sexist attitudes, statements, and behavior at that organization, and in the broader community of cosplay, fan conventions, and general genre buffs. Now, a female publishing professional has taken up the gauntlet. Writing in the Tor Books Blog from Tor UK, Julie Crisp, Tor UK editorial director (pictured at right), has addressed the issue 'Sexism in Genre Publishing: A Publisher's Perspective' in terms that have already provoked irritated counterpoints from some other genre fiction editors. "In the last few years I have seen numerous articles...
Happy Fourth, to those of our readership who observe it! Rocketnews has a comprehensive English-language report on some new Nintendo-related e-book news. Nintendo is launching an e-book program for its 3DS handhelds aimed at grade-school kids, with 300 Japanese children's books available. Whereas Nintendo used to be the undisputed king of console and mobile gaming, and still does well in Japan, its numbers have been declining abroad as more and more kids turn to smartphones and tablets and the gaming possibilities they represent. Hence, it's starting to explore new markets. On The Digital Reader, Nate Hoffelder mentions...