More on TechnologyTell: Gadget News | Apple News
Review
I finished reading Fred Vogelstein's book Dogfight: How Apple and Google Went to War and Started a Revolution, which I mentioned in my post yesterday. I quite enjoyed it. Even though I read the news reports of the events it describes as they happened, you don't get the big picture until you read a book like this, that looks back and puts everything together in the proper context. The book covers the development of the iPhone and Android phones, touches on the iPad and what it meant, goes over the Apple vs. Samsung patent lawsuit, and then wraps up...
One of the choicest literary feuds of 2013 that Rachel Arons lit on in The New Yorker's casualty report from the cultural battlefield was the multi-round faceoff between Tom Scocca and the proponents of smarm, as typified by BuzzFeed, with its appointment of Isaac Fitzgerald as its first books editor. Fitzgerald, former director of publicity at West Coast publisher McSweeney's and (clearly) all-round nice guy, committed to not saying bad things about books. " "Why waste breath talking smack about something? ... You see it in so many old media-type places, the scathing takedown rip." [caption id="attachment_102877" align="alignright" width="325"] BuzzFeed staffers...
While not being immersed in Norse mythology since middle school, I've found myself surrounded by it lately between a number of different books and movies. In a matter of a few months, I've read or seen several different versions of Thor, Loki, Odin and the Norse fringe characters. The latest was in [easyazon-link asin="B00AEDPNFA" locale="us"]Ragnarok: Book 1: The Hammer[/easyazon-link] by Brian James where the gods have been thrown out of Asgard and have made lives for themselves on Earth. There is a fight to control Thor's hammer with nearly a dozen characters appearing throughout the first book. The story is enticing with a...
Undead & Unbound: Unexpected Tales From Beyond the Grave, put together by the horror and dark fiction authors and serial anthologists Brian M. Sammons and David Conyers, is anything but your usual grab-bag of selfies from the zombie apocalypse that fill the horror aisles these days. No surprise when it comes from Chaosium Inc., a publishing house that won its stripes producing rulebooks for the Call of Cthulhu roleplaying game before expanding further into horror fiction. The various revenants and walkers in these 19 tales include some of the most outre and genuinely disturbing I've encountered lately, though inevitably one...
[easyazon-image align="right" asin="0385743564" locale="us" height="160" src="http://ecx.images-amazon.com/images/I/51rtkjsXacL._SL160_.jpg" width="105"] Brandon Sanderson is one of my favorite authors. While almost everything he writes would be classified in the fantasy/sci-fi genre, he manages to make everything he write fresh. So when I saw he was going to tackle superheroes, I knew I was in for a good ride. And he didn't disappoint. In Steelheart he addresses the question, "What if there were no superheroes? Just villains?" It's an intriguing idea, and he didn't disappoint. The main character, David Charleston, witnesses the murder of his father when he's eight at the hands of Steelheart, one of the...
I received a promo code for an intriguing iOS app yesterday. It said that it would take posts from a WordPress or Blogger blog and turn them into an e-book, readable in iBooks and easily converted to Kindle. Let me say that the description and reality have something in common. But not everything. It's a simple enough interface and easy enough to figure out. You input the URL of the blog in question, add optional Categories and a Max number of posts. There's a Settings tab where you can also specify sort order and a date range. So far so good. I thought...
I'm late coming to John Gilstrap, which is too bad. He's an excellent thriller writer. I burned through a couple of his Johnathan Graves books, and just finished Nathan's Run, which was his first published novel. Until I read the Afterward, I hadn't realized it has been a Banned Book, which made a review this week well-timed. The premise is that a 12-year old boy, Nathan Bailey, escapes from a juvenile detention center, killing a guard during the escape. What's interesting is that there's never any doubt about the murder. We know Nathan killed the guard. What we learn throughout the...
When did we stop writing negative reviews? I am not talking about degrading a writer, but being critical of their work. Again, not to the point of bashing and putting someone down. But reviewing someone's work with truthfulness whether that be good or bad. For the second time in what feels as many weeks, a writer has said they will not review a book they do not like. They will only review a book they have enjoyed. That feels like a half effort. The books you do not like deserve reviews as well. I understand it can be a tough world with retaliation...
That favorite urban legend of the modern book world, the paid-for fake review, has surfaced again in a manner that looks likely to discredit the discreditors. One website alleges a certain female author farmed reviews wholesale, then scatters a whole slew of other author names supposedly engaged in the same business. All without substantiating evidence, or even a name for the source. Indeed, if you include that author and a certain well-known self-publishing star, 35 authors are accused of paying for fake reviews through Fiverr.com ("the world's largest marketplace for services") and other similar platforms, all in one single post. Oh, and all...
You've probably guessed from some of my previous articles that I'm a fan of Marvin for iPad. I follow their blog, and I knew a version for the iPhone was coming out. I updated the app on my iPad just before I left for the C3 Conference, and was delighted to receive a code while I was at the conference. Yes, a code. Which does mean that Marvin for iPhone isn't free. It's $4.99, which makes it relatively expensive for an iPhone reading app. Is it worth the price? Read on. This app is a complete redesign for the iPhone. They've done...
A few days ago, Woot had a $90 special on refurbished 8 GB 7" Nook HD tablets. Since I accidentally cracked my Zeepad screen a few weeks ago and felt the need for a handy little 7" Android tablet, I figured why not. I ordered a case and screen protectors (from Amazon Prime!) and the whole thing arrived today. Installing the screen protectors turned out to be an exercise in frustration. I went through both of them, and still managed to get specks of dust trapped under the protector. ARGH! The case I ordered was white, as I was...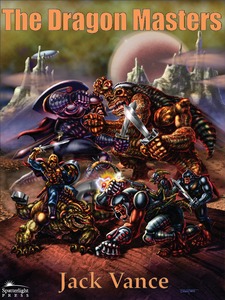 Thanks to Jack Vance, my early teens were haunted by dragonish monstrosities with such names as Termagants, Striding Murderers, Juggers, and Blue Horrors. These weren't drawn from a young adult story, but from one of Vance's most concentrated, intensely imagined and effective evocations of a place and above all, a society, very remote from ours, in time, space, and mindset. "The Dragon Masters" was one of the classics that consolidated his early reputation, and it has worn very well with time. Note that this book is an example of how mutable the standards of story length can be, as well as the...