More on TechnologyTell: Gadget News | Apple News
Review
I'm late coming to John Gilstrap, which is too bad. He's an excellent thriller writer. I burned through a couple of his Johnathan Graves books, and just finished Nathan's Run, which was his first published novel. Until I read the Afterward, I hadn't realized it has been a Banned Book, which made a review this week well-timed. The premise is that a 12-year old boy, Nathan Bailey, escapes from a juvenile detention center, killing a guard during the escape. What's interesting is that there's never any doubt about the murder. We know Nathan killed the guard. What we learn throughout the...
When did we stop writing negative reviews? I am not talking about degrading a writer, but being critical of their work. Again, not to the point of bashing and putting someone down. But reviewing someone's work with truthfulness whether that be good or bad. For the second time in what feels as many weeks, a writer has said they will not review a book they do not like. They will only review a book they have enjoyed. That feels like a half effort. The books you do not like deserve reviews as well. I understand it can be a tough world with retaliation...
That favorite urban legend of the modern book world, the paid-for fake review, has surfaced again in a manner that looks likely to discredit the discreditors. One website alleges a certain female author farmed reviews wholesale, then scatters a whole slew of other author names supposedly engaged in the same business. All without substantiating evidence, or even a name for the source. Indeed, if you include that author and a certain well-known self-publishing star, 35 authors are accused of paying for fake reviews through Fiverr.com ("the world's largest marketplace for services") and other similar platforms, all in one single post. Oh, and all...
You've probably guessed from some of my previous articles that I'm a fan of Marvin for iPad. I follow their blog, and I knew a version for the iPhone was coming out. I updated the app on my iPad just before I left for the C3 Conference, and was delighted to receive a code while I was at the conference. Yes, a code. Which does mean that Marvin for iPhone isn't free. It's $4.99, which makes it relatively expensive for an iPhone reading app. Is it worth the price? Read on. This app is a complete redesign for the iPhone. They've done...
A few days ago, Woot had a $90 special on refurbished 8 GB 7" Nook HD tablets. Since I accidentally cracked my Zeepad screen a few weeks ago and felt the need for a handy little 7" Android tablet, I figured why not. I ordered a case and screen protectors (from Amazon Prime!) and the whole thing arrived today. Installing the screen protectors turned out to be an exercise in frustration. I went through both of them, and still managed to get specks of dust trapped under the protector. ARGH! The case I ordered was white, as I was...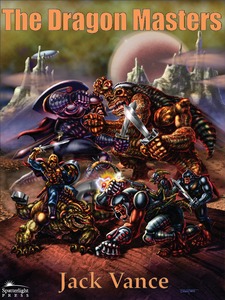 Thanks to Jack Vance, my early teens were haunted by dragonish monstrosities with such names as Termagants, Striding Murderers, Juggers, and Blue Horrors. These weren't drawn from a young adult story, but from one of Vance's most concentrated, intensely imagined and effective evocations of a place and above all, a society, very remote from ours, in time, space, and mindset. "The Dragon Masters" was one of the classics that consolidated his early reputation, and it has worn very well with time. Note that this book is an example of how mutable the standards of story length can be, as well as the...
I'm reviewing both of these apps together because they're so similar; there's just one feature difference between them. The developer was celebrating five million downloads and in honor of the occasion was offering free versions of the apps to bloggers. Lucky me! Anyway, at their heart, they are both e-reading apps. (Both are also available for iOS only.) Let's start with MegaReader. It has more features than most of the store reading apps (Kindle, Kobo, and Nook), but far fewer features than Marvin. That's either a good or bad thing, depending on the user. While I love Marvin, I can see its...
I've read a couple of articles this week on author bullying, fan culture and negative reviews, and I've taken a few days to let the ideas simmer before writing this essay. As an author, I'm sensitive to the subject. But I'm also a reader, and that allows me to see both sides of the issue. No, I don't approve of author bullying—or any kind of bullying, for that matter—and I've seen too much about the bullying culture on GoodReads to be happy about what appears to be going on there. It will be interesting to see what, if any, changes take place...
I got this book from the recent Humble Bundle, and I went into it expecting to like it. I was a huge "Star Trek" fan back in the day, and I never 'hated' Wesley Crusher the way some fans seemed to. I've also enjoyed his recurring bit part on "The Big Bang Theory," so I was expecting a fun read. And I got ... an OK read. My main issue was that although all of his stories were technically about separate incidents, the incidents all were about the same few themes, so they got tiresome. There was the "auditioning for a part if...
"Dust" is the final instalment in indie darling Hugh Howey's Silo Saga, which began with "Wool" in 2011 and concludes with this just-released title. I picked it up on release day because I enjoyed the previous two volumes and also because Hugh Howey sells his work free of DRM, and I am all for that! "Dust" picks up where the "Shift" omnibus left off, with Donald and his sister Charlotte hiding in Silo One and trying to unravel the end game for the silo folks, while Juliette struggles as mayor of an untrusting Silo 18. While Lukas, her lover, picks up...
I find it hard to believe "Chappelle's Show" debuted 10 years ago on Comedy Central. If you're a fan, you're like me and throw out one-liners from the show every now and then. It was thought provoking, entertaining and just damn funny. That's why many of us were surprised when Chappelle abruptly quit during the third season. He'd just received a $50 million contract from the cable network, but went to South Africa instead, purportedly to get away from the paparazzi and clear his head. ("I want to make sure I'm dancing and not shuffling," he famously told a reporter for...
[easyazon-image align="right" asin="0989369609" locale="us" height="160" src="http://ecx.images-amazon.com/images/I/515BmITRY8L._SL160_.jpg" width="100"] Sometimes a book needs to come with a warning. The publisher sent me a review copy of [easyazon-link asin="0989369609" locale="us"]"Chain of Evidence"[/easyazon-link], and I decided to start reading it over lunch. What she forgot to mention is that the villain is a necrophiliac. Good thing I have a strong stomach. Once I got past that, it was a good book. The antagonist was compelling, and the idea was intriguing. Harvey, the antagonist, is a medical examiner who uses his position to conceal his murders by making them look like the work of another killer. It's...