More on TechnologyTell: Gadget News | Apple News
Reading
My January reading was great---I read some great books, both in English and French, and didn't spend a dime. So, how did the 2014 reading challenge in February go? Well, not as great. I am a little behind on some things! I'll need to pick up the pace in March... Goal 1: Read 100 Books Here's what happened in February to put me behind on this: I read my first five-star book of the year, The Golem and the Jinni by Helene Wecker. It was a beautiful reading experience, and after I finished it, I froze. I turned on my Kobo, saw screen...
A financial blog I follow called The Simple Dollar had a great post yesterday called 'Does the Investing Advice of a Billionaire Help Ordinary People?' The post resonated with me because I have only in the last year or so outgrown my fascination with the self-help book. Don't get me wrong, there are some gems in that genre---Gretchen Rubin's The Happiness Project was a recent series that resonated with me, for instance---and, of course, I would not be following blogs like The Simple Dollar if I didn't think they had advice to offer me. But I think that what people often...
Thanks to Nate at The Digital Reader for posting the link to this blog post by author John Guillen. It's a fairly straightforward rehash of my least favourite theme of the ebook revolution: the paper 'versus' pixel straw horse. From the article: "The print vs. e-book question had never once been asked prior to the 2000s. But it's a question that every bibliophile has struggled with at some point in recent years. I know I have. Before I discuss which side of the stick I happen to fall on, let's delve into the battle a little bit first." Okay, where to start?...
This is a fairly old press release, but it only came to my attention recently. Last year, the Library of Congress released an iOS app to allow access to NLS BARD (Braille and Audio Reading Download) accounts. I did a quick search of our archives, and it doesn't look like we covered it. Since I'm sighted and don't have a BARD account, I couldn't test the app, but this feature piqued my interest. "With BARD Mobile, patrons can play talking books and magazines on their iOS devices. Patrons may also read electronic braille books, magazines and music scores using a refreshable braille...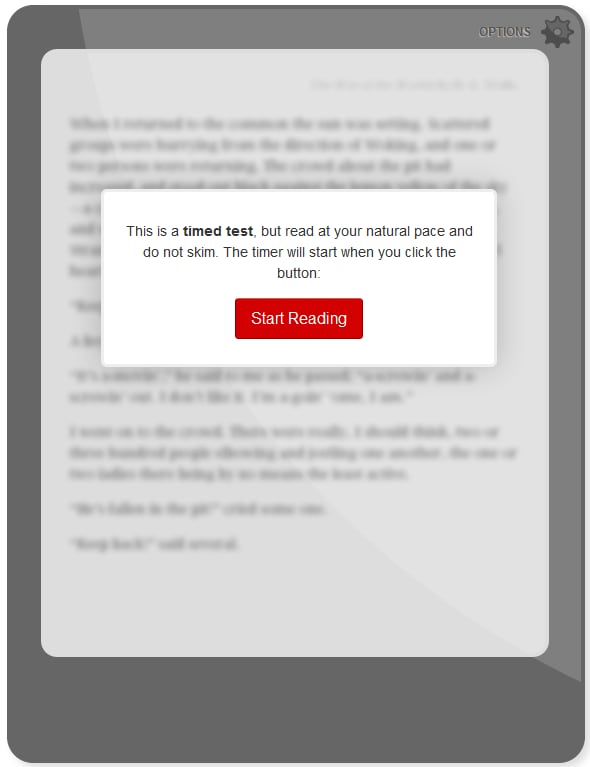 Staples has posted a fun little reading words per minute test. It gives you snippet of a popular book and then asks three questions to ensure you retained what you read. Then it will tell you how many words per minute you read. I got 541 words per minute, which put me someplace between "average college student" and "high-level executives." Let us know your score in the comments. Source: Staples eReader Department...
Hot on the heels of my January Reading Goals update comes this Book Riot post about this very topic. Rebecca Joines Schinsky exhorts readers to "throw away the lists" because there are no 'shoulds' in reading. A person should feel free to read what they want, when they want, without being 'beholden' to a list that someone---or they themselves---has written. It's a fair point, I guess. Some people do indeed enjoy reading more when it's a casual thing. My stepfather, for example, has never planned reading, per se, in his life. Whenever he feels like reading, he simply looks around the...
I wrote earlier about setting some reading goals for 2014. I wanted to organize my reading a little better so that I could both get through some stockpiled purchases, and target my reading toward developing my skills in certain areas. So, one month in, how am I doing? Goal 1: Read 100 Books I've read five so far, and Goodreads is telling me I am on target. I am regretting that Goodreads does not allow half-star rankings---the books I read were better than three stars, but not quite four stars. For instance, [easyazon-link asin="B008J48RA4" locale="us"]The Storyteller[/easyazon-link] by Jodi Picoult was quite a good...
Has anybody else been freezing this week? Thanks to the 'Polar Vortex,' which I had never heard about until this winter, we've been spending the last week shivering indoors. Regulations prohibit taking the kids at school outside if it's colder than -20 C (-4 F) and we've hit that benchmark more than once in the past few school days. Yesterday, we took them out for the first time, and my internal thermometer didn't completely recover from the jolt. I arrived home shivering, and when even my usual cosy fleece didn't help, I broke out the spare comforter and made myself a little...
There, thought that would grab your attention. And of course the answer is no. But I'm using that title to point up the somewhat asinine headline of a recent article by Dan Hurley in the UK Guardian: "Can reading make you smarter?" To which many might immediately answer: What else is reading for? And others might ask: Well, if reading can't, what the hell else can? [caption id="" align="alignright" width="238"] Dan Hurley: The smart money's on him - maybe...[/caption] But then, Hurley has quite a lot invested in the business of smartening up your smarts. He's the author of Smarter: The New...
Book Riot's wonderful 'Reading Life' feature has an essay this week responding to Woody Allen's recent Golden Globes tribute. Kit Steinkellner writes about reading the media commentary the morning after, including a tweet from the son of Allen's ex-wife Mia Farrow excoriating the GGs for paying tribute to an alleged child molester. From the article: "A lot of response pieces to this story have asked the question "Can we despise Woody Allen the person and still cherish Woody Allen the artist? Can we hate the man but love his movies?" Steinkellner, as much a book fan as a movie one, correctly points...
The Harvard Classics has been a reading literary project that has fascinated me ever since I first heard about it a few years ago. It was compiled in 1909 by the then-president of Harvard University, who boasted that he could put together a collection of books which would fit onto a five-foot shelf, which would contain everything a common person needed to read in order to obtain the rudiments of a classical liberal arts education. What a project to put together, and what a project to undertake to read! A complete set of them, long available via MobileRead thanks to a...
A link in today's morning roundup featured a great quote from productivity guru Merlin Mann---"Don't just play with your phone. Go out and produce something." It spoke to me because one of my goals for the year is to spend less time goofing around on my phone playing Temple Run, and more time reading, writing and doing useful (and satisfying) things. I've tried to structure my downtime a little more efficiently lately, and I've actually gotten into a pretty good groove with my reading routines. I love hearing about what and how other people read, too. I'll share mine. Feel...