More on TechnologyTell: Gadget News | Apple News
Reading
I never thought of stupidity as particularly macho. But then, maybe I've lived outside the UK for too long. Because apparently a lot of British men fit that mold. And I'm rather ashamed to link my own gender to this, but the statistics seem to speak for themselves. Or should I have softened it a bit? Saying, well, if you're male and British there is a greater tendency towards not taking a serious interest in books, rather than making such an emphatic statement? And let British society off the hook? And sidestep that disgraceful conclusion? Because here we have some hard...
I have read almost a dozen articles in the past few days that attempt to puzzle out the new hot question: do our brains process screen text differently from paper text? Does reading too much online somehow 'ruin' our brains for long-form reading? I'll state at the outset that from everything I've read on this, science does not have a definitive verdict on reading print vs screen, so I can't answer these questions. What I can do is apply my own decently well-educated common sense filter to some of the things I'm reading and come to my own conclusion. Firstly, this one...
I am humming along on my 2014 reading challenge! I got through just three books this month, which might seem odd given that I spent half the month on holiday for March break. But the Beloved was not similarly vacationing, and I felt weird just lounging around while he was working. So I went on my annual spring cleaning kick and endeavored to occupy my time productively. The books I did read were good ones though, and I met my goals in a few key areas. Here was how my month stacked up: Goal 1: Read 100 books Not even close. Goodreads is...
As you look at all those books on your to-read list, you might think to yourself that there has to be a quicker way to get through them all. Argh! If only I read faster. Spritz is hoping to help you with that. The Boston-based group is working on speed-reading technology, which I first read about on The Passive Voice. While Paul covered this story a few weeks ago, there's been lots more media coverage of it since. Seems it's quite popular on the tech blogs. Glancing through the comments on Passive Voice, however, it seems not everyone is thrilled with the new...
Here's an intriguing game I just learned about. Educational publisher Amplify, makers of the Amplify Android tablet we covered last year, has come up with a way to gamify classic literature, in the hopes of getting students interested in reading it. Story Cards is a turn-based character-driven CCG. Players unlock character cards with specific abilities by reading the books they come from, and can gain bonuses by answering trivia questions related to the books in question. The game supports both single-player and multi-player modes. Students can build their own decks and compete with the game or each other. The...
Too busy to read a book? There's an app for that. Plympton, a digital startup, unveiled Rooster on Monday, an iPhone app that will send short, timed installments to readers who are on the go, according to Mashable. Rooster will divide books into 15-minute installments. Readers can decide when to get the update and how often. One of the other settings is that Rooster will also recommend books to read. "Like your trusted friend who always has great recommendations, we take the guesswork out of choosing your next read," the company wrote on its website. "Each month, we pair our contemporary selection with a classic....
Anyone who knows the recent research that shows that a reader's brains are directly, measurably affected by reading fiction won't be surprised to learn that mathematics can have a similar effect - at least on mathematicians. A recent article in Nature citing research in Frontiers of Human Neurooscience describes how scientists at University College London used nuclear magnetic resonance imaging to track the response of mathematicians' brains to equations - but specifically those that the mathematicians regarded as "beautiful." Comprehension apparently plays a big part in the response - once again, something that won't surprise those familiar with similar instances in literature. The...
My January reading was great---I read some great books, both in English and French, and didn't spend a dime. So, how did the 2014 reading challenge in February go? Well, not as great. I am a little behind on some things! I'll need to pick up the pace in March... Goal 1: Read 100 Books Here's what happened in February to put me behind on this: I read my first five-star book of the year, The Golem and the Jinni by Helene Wecker. It was a beautiful reading experience, and after I finished it, I froze. I turned on my Kobo, saw screen...
A financial blog I follow called The Simple Dollar had a great post yesterday called 'Does the Investing Advice of a Billionaire Help Ordinary People?' The post resonated with me because I have only in the last year or so outgrown my fascination with the self-help book. Don't get me wrong, there are some gems in that genre---Gretchen Rubin's The Happiness Project was a recent series that resonated with me, for instance---and, of course, I would not be following blogs like The Simple Dollar if I didn't think they had advice to offer me. But I think that what people often...
Thanks to Nate at The Digital Reader for posting the link to this blog post by author John Guillen. It's a fairly straightforward rehash of my least favourite theme of the ebook revolution: the paper 'versus' pixel straw horse. From the article: "The print vs. e-book question had never once been asked prior to the 2000s. But it's a question that every bibliophile has struggled with at some point in recent years. I know I have. Before I discuss which side of the stick I happen to fall on, let's delve into the battle a little bit first." Okay, where to start?...
This is a fairly old press release, but it only came to my attention recently. Last year, the Library of Congress released an iOS app to allow access to NLS BARD (Braille and Audio Reading Download) accounts. I did a quick search of our archives, and it doesn't look like we covered it. Since I'm sighted and don't have a BARD account, I couldn't test the app, but this feature piqued my interest. "With BARD Mobile, patrons can play talking books and magazines on their iOS devices. Patrons may also read electronic braille books, magazines and music scores using a refreshable braille...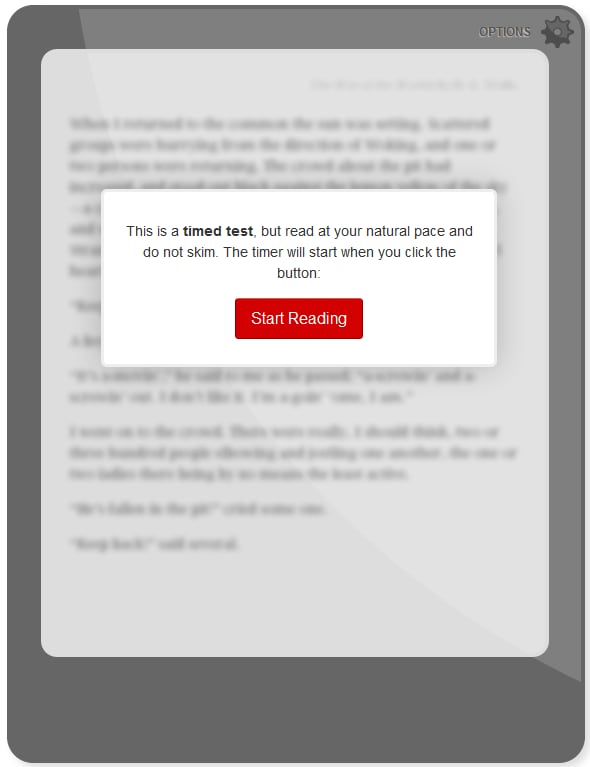 Staples has posted a fun little reading words per minute test. It gives you snippet of a popular book and then asks three questions to ensure you retained what you read. Then it will tell you how many words per minute you read. I got 541 words per minute, which put me someplace between "average college student" and "high-level executives." Let us know your score in the comments. Source: Staples eReader Department...